Class 7A - Week 14 - 2015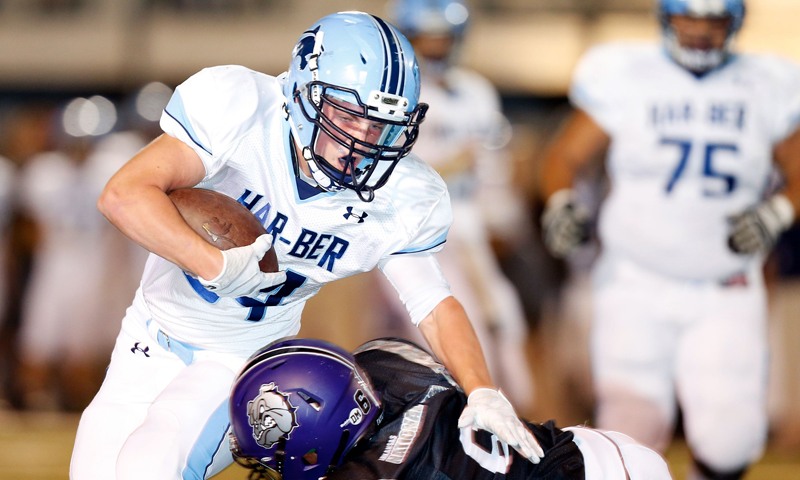 Hooten's Arkansas Football Rankings
Class 7A, Week 14, 2015
Copyright Hooten Publishing, Inc.
1. Springdale Har-Ber (11-1)
2. Fayetteville (11-2)
3. Bentonville (10-2)
4. FS Southside (8-5)
5. Bryant (9-2)
6. Cabot (10-1)
7. North LR (7-5)
8. Conway (6-6)
9. FS Northside (4-7)
10. West Memphis (5-6)
11. LR Catholic (4-7)
12. Springdale (2-9)
13. LR Central (3-7)
14. Rogers (1-9)
15. Van Buren (2-8)
16. Heritage (0-10)
HOOTENS.COM GAME OF THE WEEK
No. 1 Springdale Har-Ber vs. No. 2 Fayetteville.
It's an all 7A-West final for the second consecutive season and for the ninth time in 10 years.
Top-ranked Springdale Har-Ber makes its third state title game appearance in just its 10th year of varsity football. The Wildcats lost to Fayetteville 28-7 in the 2007 finals before beating FS Southside 27-6 for the 2009 championship.
Fayetteville, state champs in 2007, 2011 and 2012, makes its fifth title game appearance in six seasons. The Purple Dogs got four turnovers to win 31-21 last Friday at Bentonville, which had won at Fayetteville 37-26 Week 10 and was looking to make its sixth straight state title game appearance.
Har-Ber senior quarterback Fuller Chandler's short pass to Trey Smith with six seconds left beat Fayetteville 47-43 Week 7 of the regular season. Wildcat workhorse Luke Hannon was the MVP with five TDs and 318 yards rushing in the first meeting. Hannon gains 158 yards rushing weekly (1,882 yards this season), including nine games of more than 100 yards. Chandler completes 58 percent of his passes for 166 yards weekly, totaling 1,992 yards with 28 touchdowns and just six interceptions this season.
"We're healthy and focused," says Coach Chris Wood, who started the Har-Ber program and has compiled a 81-40 record at the school.
Fayetteville junior QB Taylor Powell (6-2, 200) completes 74 percent of his passes for more than 3,600 yards this season despite playing fewer than four quarters in most games. Powell has a remarkable 48 TD passes with just six interceptions and owns a scholarship offer from Arkansas State. "He's the best I've had at this age," Fayetteville coach Daryl Patton says. "(Brandon and Austin) Allen were unbelievable, but they were good in other sports, too. Football means so much more to Taylor. He is a football junkie. It's his number one. He's not as mobile as Brandon but has a stronger arm. We've put more on Taylor than we have quarterbacks in the past."
Fayetteville scores 51 points per game utilizing eight receivers (five with more than 20 catches). Fayetteville starts six seniors on defense and junior tackle Akial Byers (6-4, 260; 4.8 speed) has a scholarship offer from Mississippi State. Fayetteville senior kicker/punter Jon Fagg (5-10, 160) has hit all nine field goal attempts this season and averages 42.6 yards per punt, Patton says.
LAST WEEK
Hootens.com correctly predicted winners of both semifinal games. For the season, Hootens.com is 101-19 (84 percent) predicting 7A winners.
WEEK 14 PREDICTION (favored teams in ALL CAPS)
State Championship
Fayetteville vs. HAR-BER (1)