D2 teams stockpile in-state talent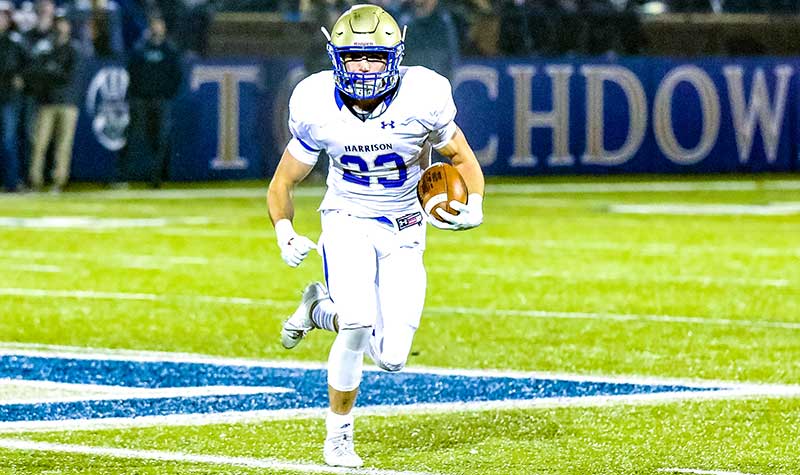 Ouachita Baptist has won five Great American Conference titles since the league formed in 2011, including three consecutive GAC crowns.
The OBU blueprint: recruit the state harder than anyone else.
Ouachita again plucked some of the state's top talent Wednesday on National Signing Day by signing 13 Arkansas high school products, including seven who played in at least one state title game the past three years. Searcy quarterback Bryce Dixon (6-0, 180) directed the Lions to the 2019 state title, their first in the modern era. Dixon passed for 3,989 yards and 43 touchdowns last season. Benton defensive lineman Brett Barbaree (6-3, 245) sacked Dixon in the state title game but joins him at Ouachita. Shiloh Christian defensive end Ethan Sluyter (6-0, 175) and fullback Hunter Mason (5-11, 210) helped the Saints to a state runner-up finish last fall, while Arkadelphia linebacker Cole Turner (6-0, 200) and defensive lineman Ricky Rogers, Jr. (5-11, 215) led the Badgers to state titles in 2017-2018. Two-time all-state running back Kendel Givens (5-8, 225) took Little Rock Christian to the their first-ever state title in 2018 and back to the title game in December.
Harrison tailback Gabe Huskey (5-11, 175) never played for a state title but could develop into Ouachita's most heralded signee. Huskey (in Sheldon Smith photo above), a two-time all-state performer, ran for 1,632 yards and 31 touchdowns last fall, leading the Goblins to their third straight conference title. Huskey helped Harrison win 31 games the past three seasons.
Arkansas Tech struggled to a 3-8 finish last year after Coach Kyle Shipp promoted to head coach late last spring. But the Wonder Boys made a splash in Shipp's first recruiting class, stealing quality players from around the state, including a trio who helped Arkadelphia win back-to-back state titles. Running back/linebacker Kyren Harrison (5-11, 180) started four years at linebacker for the Badgers, and in 2019 was one of the state's premier running backs with 1,526 yards and 33 TDs. Harrison racked up 313 career tackles while starting for teams that won 40 games and two state titles. "He's the most violent player I've ever coached," Arkadelphia coach J.R. Eldridge says. Arkadelphia defensive end Jayson Campbell (6-3, 210) and offensive lineman Lorenzo Lawson (6-0, 260) also signed with Arkansas Tech. Campbell registered 52 tackles, six sacks and recovered three fumbles a year ago. Warren running back Vincent Steppes (5-9, 175) signed with Tech after rushing for more than 2,000 yards last season. The Wonder Boys also inked Heber Springs dual-threat QB Adam Martin (5-11, 190), who passed for 1,627 yards and 13 TDs last year, while running for 864 yards and 11 TDs.
Harding finished as GAC runner-up last year, losing to Ouachita in the opener 16-14. The private school in Searcy usually seeks quality over quantity on signing day. Bryant defensive tackle Austin Bailey (6-1, 275) highlights the Bisons 2020 signing class. Bailey, the Farm Bureau Insurance Awards Class 7A Defensive Player of the Year, started three years on teams that won 34 games and a pair of state titles. He made 49 tackles and nine sacks last year as the anchor of a defense that gave up 8.8 points per game. Bailey (30 ACT) collected 12 stops in Bryant's state title game win over North Little Rock. "He made plays side to side and in the backfield," Coach Buck James says. "He showed everyone that night he's a high-caliber guy." Harding Academy running back Stone Sheffield (5-11, 160) signed with the Bisons after winning a state championship in 2019. Sheffield, a true dual-threat, ran for 1,505 yards and 28 TDs, while catching 38 passes for 786 yards and 13 TDs. He tallied 220 yards and scored a TD in Harding Academy's 51-26 state title victory over Osceola.
Henderson State signed 16 in-state prospects, including Malvern offensive tackle Jason Lambel (6-4, 315), who turned down a scholarship from Texas State. Vilonia running back Draven Smith (6-1, 180) ran Vilonia to the 5A West runner-up this fall, logging a whopping 220 carries for 2,149 yards and 29 TDs in 11 games. Smith exploded for at least 200 yards six times, including 313 yards and six TDs in a 57-21 Week 3 win over Beebe. Ozark cornerback Ethan Foster (6-2, 170) clocked 4.5 speed last spring at the Rivals Combine, then made 32 tackles and intercepted five passes in 2019 for the Hillbillies who reached the semifinals for the first time in eight years.
Southern Arkansas signed two players from Arkansas: Ashdown defensive end Anthony "A.J." Hopkins (6-2, 200) and LR Central linebacker Kylan Jones (6-3, 205).
University-Arkansas Monticello signed Parkers Chapel QB/ATH Caleb Jacobs (5-9 ,150) and Crossett QB Justin Stokes (6-2, 155). Jacobs, the Farm Bureau Insurance Awards 2A Offensive Player of the Year, generated more than 2,000 yards last season while taking the Trojans to the second round of the playoffs. Stokes propelled Crossett to the 8-4A title and its first semifinal appearance since 2003 by passing for 2,383 yards and 24 TDs. One of UAM's top playmakers should be Osecola receiver Greg Hooks, Jr., (6-1, 180), who helped the Seminoles earn  consecutive state runner-up finishes by catching 89 passes the past two years for 1,739 yards and 20 TDs. Carter Hawkins (5-11, 225), a two-time all-state linebacker at McGehee, topped 400 career tackles. Hawkins likely plays fullback for the Boll Weevils.
National Signing Day (list subject to change)
ARKANSAS TECH
Jude Bartholomew WR Van Buren
Brandon Bunton DB Dardanelle
Jayson Campbell DE Arkadelphia
Jordan Edington QB LR Catholic
Bryce Fox OL Dierks
Jayvien Franklin OL Russellville
Kyle Green DE Bryant
Kyren Harrison LB Arkadelphia
Tyler Ivy DB Benton
Lorenzo Lawson OL Arkadelphia
Adam Martin QB Heber Springs
Korlin McKinney DL Conway
Damarius Newton WR Van Buren
|Mason Ross WR Rogers
Carmerius Rucks LB El Dorado
|Drew Rust TE Pottsville
Micah Seawood WR Har-Ber
Travarus Shead Jr. ATH Drew Central
DeWayne Smith LB Conway
Vincent Steppes RB Warren
John Washburn OL Hoxie
Connor Watson DB Valley View
Jayden Wimberly DE Vilonia 
HARDING
Weston Amos QB Clinton
Austin Bailey DL Bryant
Zach Lee WR Bentonville 
HENDERSON STATE
Grayson Bailey WR Alma
Ty Basiliere WR Nashville
Brandon Bishop OL CAC
J.J. Coopwood OL Earle
Jamaul Crayton WR West Memphis
Treyton Dawson WR Greenwood
Ethan Foster DB Ozark
Devin Hill DB Hot Springs
Ty Johnson OL Bryant
Jason Lambel OL Malvern
Ross Lisemby OL Woodlawn
Keilib Pree LB Joe T. Robinson
Darrick Rose, Jr. DB Bryant
Beau Stevenson OL Conway Christian
Draven Smith RB Vilonia
Kyland Terry OL Helena 
OUACHITA BAPTIST
Brett Barbaree DE Benton
Joey Benson TE Jessieville
Bryce Dixon QB Searcy
Xaylon Falls WR Camden Harmony Grove
Connor Flannigan WR Fayetteville
Kendel Givens RB LR Christian
Gabe Huskey RB Harrison
Trenton Kolb WR Bentonville
Melvin Kumwenda DL Fayetteville
Hunter Mason FB Shiloh Christian
Ricky Rogers, Jr. DL Arkadelphia
Ethan Sluyter DE Shiloh Christian
Cole Turner LB Arkadelphia 
SOUTHERN ARKANSAS
Anthony Hopkins DL Ashdown
Kylan Jones LB LR Central 
UA-MONTICELLO
Carter Hawkins FB McGehee
Greg Hooks, Jr. WR Osceola
Tolliver Hunt OL Watson Chapel
Caleb Jacobs ATH Parkers Chapel
Justin Stokes QB Crossett