RECRUITING: No. 3 Parkview at No. 4 Sylvan Hills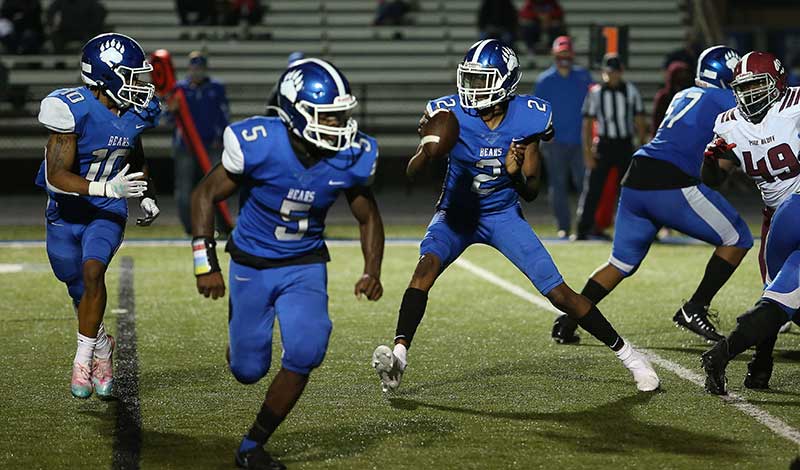 Fans of old-school football should enjoy a Class 6A quarterfinal Friday night when No. 3 Little Rock Parkview travels to fourth-ranked Sylvan Hills.
Sylvan Hills (in Justin Manning photo above) switched to the Flexbone this fall under first-year coach Chris Hill and ran to eight wins, its most since 2016. The Bears surrender 15 points per game, second-best in Class 6A.
Sylvan Hills hired Hill in March, and less than a week later the coronavirus pandemic shuttered schools the rest of the school year. Hill faced resistance when the Bears started summer workouts.
"There were some battle of wills early, but once they bought in and understood what we were trying to do, things got a lot better," Hill says. "I can't remember the last time we had a kid miss practice."
Senior Taevion Cunningham (#10 in Justin Manning photo above) sparks Sylan Hills' rushing attack and could play in college. Several offensive linemen could play in college, "but with all the restrictions in place, it's hard on the Division II coaches to look at them," says Hill, who spent the past three years as an assistant at Harding University.
Hill credits Sylvan Hills' defensive prowess to "a bunch of blue-collar guys. We don't have many guys who will play in college."
The unit rotates linemen to keep players fresh for the fourth quarter. Senior linebacker Xavier Aldridge and safety Amarion Watson statistically lead the unit.
A matured defense coupled with a stout rushing attack helped Sylvan Hills capture its first league crown since 2004.

"We have our guys lift weights at 5:55 a.m. three times a week," Hill says. "I'm not very smart, so when things don't work, all we know is to work harder. We aren't loaded with Division I players."
Hill and LR Parkview coach Brad Bolding assisted Ronnie Peacock in the late 1990's at Greenwood. 
"We have similar philosophies in how to win ball games," Bolding says. "This game will be decided with defense and whoever wins the battles up front."
The Patriots boast the top scoring defense in Class 6A (give up 11 ppg) and deploy a stout running attack.
The Patriot attack starts with senior quarterback Landon Rogers (6-5, 220), who recommitted to Arkansas in July. Rogers, with more than a dozen DI offers, owns the explosive measurables colleges crave (4.5 speed, 315-pound power clean).
Rogers (#15 in Justin Manning photo) has completed 88 of 141 (62 percent) passes this year, "and our receivers have dropped a lot of catchable balls," Bolding says. He has thrown for 1,158 yards and six TDs.
But Rogers' forte is making plays on the ground. He has carried 128 times this year for 1,048 yards and 20 TDs. "He's a beast running the ball," the coach says.
Rogers ran for 173 yards and five TDs in a 35-point, first-round playoff win against Searcy. He accounted for three TDs in the season opener against LR Southwest, then two weeks later ran in four TDs in a 28-6 triumph over Pine Bluff.
Rogers' best game in 2020 came in the regular-season finale where he dashed for 195 yards and passed for 190 yards in a 45-21 win over upstart Mountain Home.
This fall, Rogers works on special teams and only comes off the field on defense.
When Rogers isn't running the ball, he's usually handing it to James Jointer (6-0, 215). The junior has 152 carries for 1,079 yards and 10 TDs. "He's our workhorse," Bolding says. "We let him pound it between the tackles, and he's a great athlete to get in space."
Jointer, who earned a scholarship offer from Arkansas as a freshman, missed the final eight games of 2019 with an ACL injury. He returned this fall and after a slow start hit stride Week 7by rushing for 174 yards and a TD in a 28-20 victory at Van Buren. Jointer ran for 103 yards and a TD in the playoff win against Searcy.
Jointer provides a threat as a receiver (17.3 yards per catch) and blocks well. "He has the best hands of any running back I've coached," Bolding says. "Teams want to scheme to stop Landon. When they do, James can go off. If they try to stop him, Landon will have a big game. It's a pick your poison situation."
Sophomore Willie Eackles (5-10, 160) offers yet another threat in the backfield. Eackles (4.4 speed) owns scholarship offers from Kansas and Memphis "and has legitimate SEC speed," Bolding says. "Everyone will be after him the next two years."
Eackles promoted to the varsity as a freshman when Jointer was injured and averaged almost 15 yards per carry. "He's a special athlete, a gifted talent," the coach says.
Eackles deeps snaps and plays on most of LR Parkview's special teams. The superb athlete runs 100 meters in 11.2 seconds.
Senior tight end Erin Outley (6-4, 240) started every game at tight end from 2017 through Week 1, 2020 when he injured his knee. Outley caught two passes for 90 yards and a TD against LR Southwest before his injury. Outley caught 41 passes last fall for 651 yards and eight TDs. He's committed to Arkansas, and along with Rogers, plans to sign in December.
LR Parkview's stingy defense doesn't surprise Bolding. "We like to play physical and get after it," the coach says. The Patriots pattern their style from senior linebacker Montavious Goins (5-11, 220), who "is very, very physcial," Bolding says. "He's in the same category as (former North Little Rock, Arkansas Razorback and Washington Redskin linebacker) Martrell Spaight."
Goins has amassed 121 stops this fall, including 14 tackles for loss and a pair of sacks. The hard-hitter has forced three fumbles and broken up a pair of passes. "I had an opposing conference coach tell me Goins can change a game," Bolding says.
Goins owns offers from every D2 team in the state, along with Texas Southern and Missouri Southern. The University of Central Arkansas continues calling about him, and Bolding sent Goins' highlight tape to Arkansas State.
Junior safety Trent Bennett (6-1, 200) owns multiple FCS offers and should develop into a DI prospect over the next year, Bolding says.
Junior basketball player Jaylon White (6-4, 205) starts at safety with 4.5 speed and should develop into a college prospect. White could take over as Parkview's QB next fall.
Junior two-way lineman Kyndall McKenzie (6-3, 300) could emerge as a college prospect. McKenzie focused on defense early in the year, but the coaches put him on offense at midseason. He recorded 15 pancake blocks against Mountain Home.

Watch extended highlights from earlier this season of LR Parkview's win at White Hall HERE and Sylvan Hills' victory over Searcy HERE