Hogs vs Dogs: MSU favored, desperate for win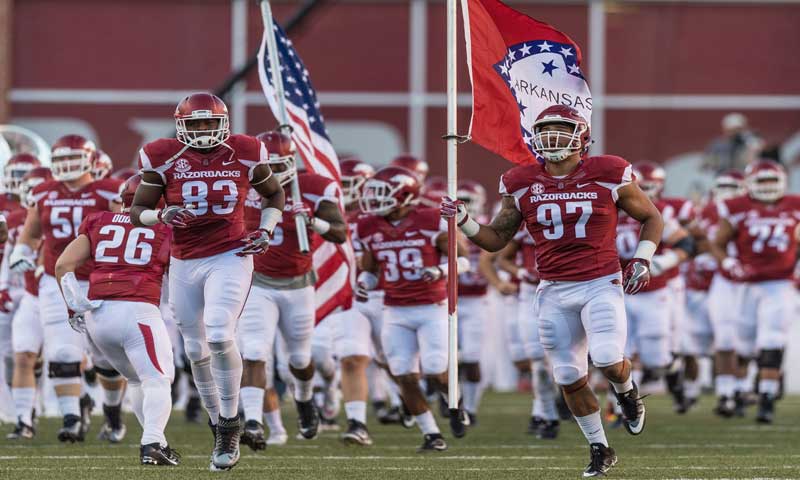 FAYETTEVILLE - After six straight SEC games against teams ranked from No. 1 to No. 21 when they played Arkansas, the Razorbacks' remaining SEC two-game diet should be more easily digestible.
Maybe so but the odds are against it. At least for this first one Saturday night at Mississippi State. In their last four  visits to Mississippi State, the Razorbacks have won just once. And in their last four annual  SEC West games with Mississippi State, two in Starkville, one in Little Rock and one in Fayetteville, the Razorbacks haven't won any.
So despite Arkansas' 6-4 overall record to Mississippi State's 4-6, Las Vegas oddsmakers look at both teams' 2-4 SEC records going into  Saturday's 6 p.m. ESPNU televised game in Starkville and generally surmise that the Bulldogs are one- to two-point favorites.
Neither would be favored based on its last game.
On senior night, Arkansas got manhandled 38-10 by the LSU Tigers at Reynolds Razorback Stadium. The Bulldogs were  bludgeoned 51-3 in Tuscaloosa, Ala., by Alabama, already the 2016 SEC West champion, 10-0 and ranked No. 1 in the College Football Playoff rankings.
"Obviously they didn't have success on Saturday against Alabama," Arkansas coach Bret Bielema said, "but Alabama can do that to you."
The Tide  did that to Arkansas but to a less extent. The Crimson Tide rolled 49-30 by Arkansas Oct. 8 in Fayetteville with Arkansas quarterback Austin Allen amassing 400 yards passing.
That marks the only Arkansas and Mississippi State common opponent score that favors Arkansas.
LSU, then still with Les Miles rather than interim coach Ed Orgeron, survived Mississippi State 23-20 on Sept. 17 in Baton Rouge, La. Auburn blasted Mississippi State 38-14 on Oct. 8 in Starkville, but Auburn beat visiting Arkansas 56-3 on Oct. 22.
Arkansas responded by upsetting SEC East leader Florida 31-10 two Saturdays ago in Fayetteville.
Meanwhile those same Texas A&M Aggies that vanquished Arkansas 45-24 on Sept. 24 at the Dallas Cowboys' AT&T Stadium, lost 35-28 to Mississippi State.

Mississippi State coach Dan Mullen believes coming off being rolled by the Alabama and fighting for 6-6 bowl eligibility will have his Bulldogs inspired.

"Our message this week is our back is to the wall," Mullen said. "We have a home game this week, and we have to win at home. Senior Week doesn't have much to do with it.  We just  have our backs in a corner, and we have to find a way to win."

Bielema's Razorbacks seek to enable a senior class that lost its farewell to Fayetteville game to finally beat Mississippi State in its last go-round.