Recruiting: Field tilts with big-time talent Friday night when Hope visits PA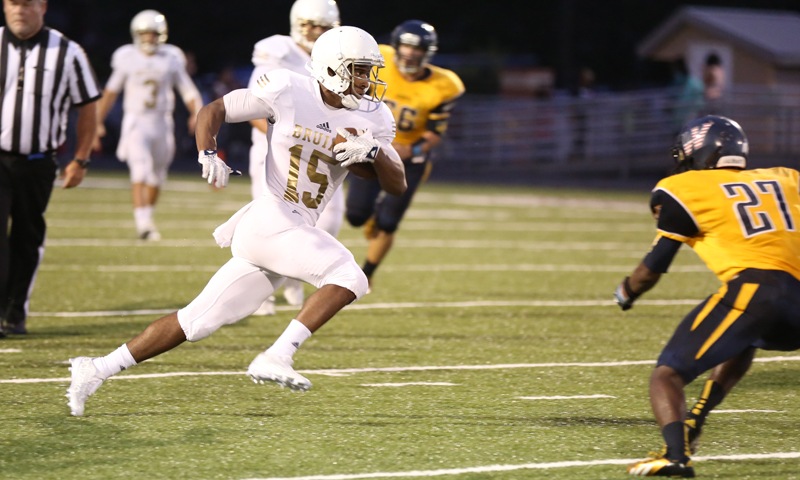 LITTLE ROCK - Undefeated Pulaski Academy whipped Texas powerhouse Highland Park 40-13 in the season opener. Highland Park, one of Texas' larger school districts, hasn't lost since. The Scots play Waco Midway this week in the second round of the Texas playoffs.
Pulaski Academy hasn't let up, either. The undefeated Bruins (11-0) throttled (current playoff teams) Wynne and Warren in non-conference games before crushing the 5A Central (applied the 35-point sportsmanship rule in every conference game).
The talented Bruins average 567 yards weekly and outscore opponents by 32 points per game. Surprisingly, Pulaski Academy's top recruit (in terms of Division I interest) isn't a skill player. Senior center Caden Haws (6-3, 290) started 37 straight games for the Bruins. Haws (350-pound bench press, 500-pound squat) "is the best lineman in the state," Kelley says. "He just dominates every play."
Haws, the son of former Washington Redskin linebacker Kurt Haws, owns scholarship offers from BYU, Utah, Army, Air Force and Navy. Many PAC 12 schools are evaluating Haws, and Kelley recently sent video to Auburn coaches. "They were wowed," the coach says. "They want him to visit so they can make sure he's that big."
| | |
| --- | --- |
| | |
| | PA RB TRE BRUCE |
Pulaski Academy's top playmaker, Tre Bruce (6-1, 200), lines up at receiver, running back and quarterback. "We move him all over the field because he's so versatile," Kelley says. "He's a matchup nightmare."

Bruce (4.6 speed) has 97 catches for 1,157 yards and 13 touchdowns this season. He's rushed for 222 yards and five TDs and passed for 360 yards and three scores. Bruce caught 12 passes for 103 yards and two TDs at Highland Park and 14 for 169 yards and a score at Jacksonville a 48-13 win Week 7.

Bruce's best performance this fall came Week 10, a 36-14 win at Sylvan Hills, where he threw an 8-yard pass, ran eight times for 101 yards and a stiff-arming TD and hauled in 11 catches for 119 yards and a score. Air Force, Army and Louisiana-Monroe offered Bruce scholarships in the spring. Arkansas State, Memphis and Missouri are evaluating Bruce.

Opponents focused on Bruce early in the season, but had to cover the entire field after senior receiver Zack Kelley (5-7, 155) returned in midseason from a summer ACL injury. Zack Kelley (4.4 speed) has 49 catches for 1,031 yards and 15 TDs in just eight games. He's produced 12 plays of at least 50 yards.

"He keeps the secondary honest because he can get behind them," dad and coach Kevin Kelley says. "That gives Tre more room to work underneath the defense." Zack Kelley owns scholarship offers from Henderson State, Ouachita Baptist and Southeast Missouri State.

Junior running back Jaren Watkins (5-7, 150) also benefits from Zack Kelley's return to the field. Watkins has carried 112 times for 1,485 yards (13.3 yards per carry) and 17 TDs this fall. He has 362 yards receiving. "He's one of the quickest players I've seen," Kelley says. "He gets to full speed in two steps." Junior left tackle Seth Martin (6-2, 225) could develop into a college prospect if he gets bigger, the coach says.

Quarterback Layne Hatcher (6-0, 180) should emerge as Pulaski Academy's top recruit in two seasons. The sophomore sensation has completed 235 of 347 passes (67.7 percent) for 3,707 yards and 44 TDs this fall with just six interceptions. "He's so impressive for a sophomore," Kelley says. "We like to throw the ball down the field as much as anyone. He's been through the fire and learned to make good decisions."

Hatcher completed 26 of 41 passes for 259 yards and four TDs with no interceptions in his varsity debut against Highland Park. Two weeks later he hit 26 of 29 passes (90 percent) for 600 yards and a mind-boggling eight TDs against Class 4A No. 3 Warren. Hatcher passed for 236 yards and four TDs in the first half of last week's 56-14 rout of Vilonia, driving the Bruins to 56 first-half points. "He's been in our system since third grade," Kelley says. "I helped coach him in fifth grade, and he already knew the watered-down version of our offense. His release is the quickest I've seen."

Hatcher, an avid wrestler and the son of former Alma (Mich.) College wrestler and Arkansas wrestling advocate Greg Hatcher, fends off defenders. "He is good in the pocket, has great balance and refuses to go down," Kelley says. "Wrestling helps him on the football field." Layne Hatcher ranks as one of the top wrestlers in the nation.

Sophomore receiver Trajen Johnson (6-2, 170) and sophomore tackle Luke Jones (6-3, 235) could develop into college prospects, Kelley says. Johnson averages 18 yards per catch this fall.
| | |
| --- | --- |
| | |
| | HOPE DE McTELVIN AGIM |
While Pulaski Academy features a stable of current and future college recruits, one of the bigger prospects in state history visits PA this week when the Bruins battle Hope in the second round of the Class 5A playoffs. Hope defensive end McTelvin Agim (6-3, 268) committed to Arkansas in September after garnering more than 20 major Division I scholarship offers, including Alabama, Oklahoma and Ole Miss. Agim has more than 70 tackles this fall after recording 76 in 2014 and 77 in 2013.

The athletic Agim (4.6 speed; 345-pound power clean) doesn't rest when he's not terrorizing opposing offenses. Agim plays QB, running back and excels as a kick returner. He returned an onside kick for a TD Week 6 at Hot Springs Lakeside, has two 80-yard kickoff returns and two more over 50 yards.

"He's so smooth and athletic for a big-man," Hope coach Jay Turley says. "I've had other coaches tell me he could be the best player to ever come out of the state."

Fellow Hope lineman, senior Kedarius Rowe (6-3, 290), was recruited by Arkansas State, Memphis and Missouri in the spring, but likely goes to junior college. Rowe, who just turned 17 years old, "could mature in junior college and be an SEC lineman in a few years," Turley says.

Hope junior QB Austin Stubber (6-2, 200) completes 65 percent of his passes for more than 3,200 yards and 34 TDs this fall, with just seven interceptions. He's also rushed for eight scores. "I'm shocked he's not getting recruited more," Turley says. "All the Division II schools say they are waiting on Division I offers before they offer him. I hope we can make a good playoff run and get him noticed."

While Turley hopes this week's high-profile game in Little Rock promotes his players, Pulaski Academy's Kelley views it as a chance for Central Arkansas fans to witness tremendous Division I linemen Agim, Haws and Rowe.

"I'm excited for our fans to get to see Agim and what a legitimate five-star recruit looks like," Kelley says. "It's not often you get to coach or play against someone like him."




"