Hogs vs No. 17 MSU game preview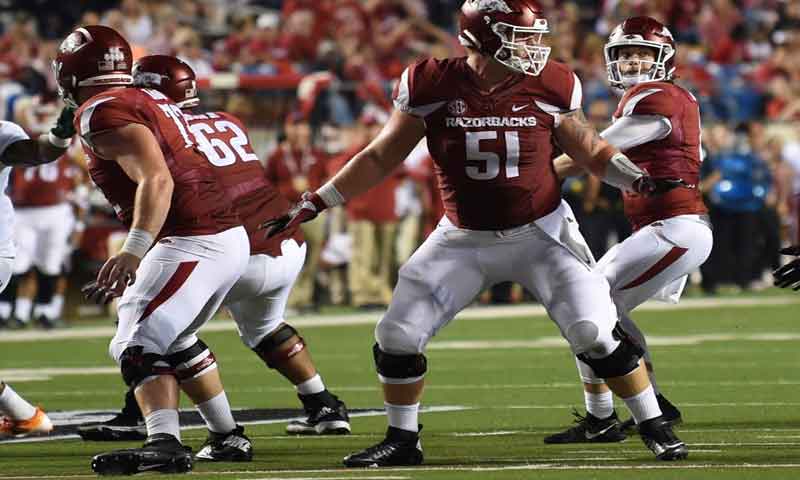 By OTIS KIRK
FAYETTEVILLE - Arkansas welcomes No. 17 Mississippi State to Reynolds Razorback Stadium at 11 a.m. Saturday in a must-win situation if the Hogs want to go bowling.
The Razorbacks (4-6, 1-5) must beat Mississippi State (7-3, 3-3) and then top Missouri on Friday after Thanksgiving Day to get to six wins this season. Anything short of that, and Arkansas' season will end on Black Friday with the Hogs at home during bowl season for the first time since 2013.

Following Wednesday's firing of Arkansas' Jeff Long, who was the vice-chancellor and athletic director, speculation about Coach Bret Bielema's future with the Hogs has grown. Bielema's Arkansas teams are 29-32 overall and 11-27 in the SEC.
"(MSU) played very, very well during the course of the year," Bielema said. "Probably have gotten better as good as anybody I've seen here down the final stretch. Offense, defense, special teams, their quarterback is a very, very accomplished player. (Nick) Fitzgerald has run for over 900 yards and has unique skills to run the football, throw the football, great composure. In Dan's (Mullen) system, it's easy to see why he keeps getting better.

"Defensively, they made a change out of season and their kids are playing better every week. They have a lot of playmakers on defense. We have a tremendous task in front of us, but one I think our kids will be wired into. We have an opportunity to come back home, which I know is a big deal to our kids in an environment of a really good home crowd that will make it as exciting as possible and look forward to the opportunity."
Mullen expects Arkansas to play like a team with its back to the wall.
"Obviously a huge challenge for us going on the road having to play in a tough environment against a very physical team that can score points offensively an explosive offense against Arkansas," Mullen said. "I know Bret does a great job of coaching those guys up. We've been in a situation where they have been in before. You have battled through injuries.
"Their quarterback has missed most of the year. And I think coming into the season everybody thought he was the top quarterback in the SEC. Now he's back healthy and kind of back against the wall and ready to finish strong trying to make a bowl game. And when you are getting your players back healthy on the field it can really be a lift for your team. So it's going to be a huge challenge for us this week. We have to play hard and perform better than we did last week."
The Bulldogs come off a tough 31-24 loss to Alabama last week in Starkville, Miss..
"They were pretty upset actually with not winning the game rather than pats on the back," Mullins said. "But obviously it's tough coming off a tough loss like that but that's life in the Southeastern Conference. Whether you win or lose, whether we had won the game on Saturday night or we came up just a little short, in this league you had better buckle it up and get ready to play because you are going to have another great opponent on your hands.
"So I think our guys understand that. Especially the guys who have been in the league for awhile. They know you had better be ready to go buckle it up and play the next week because you can't let a win or a loss affect you the following week. You don't want a loss to cause two losses and you don't want a great win to be ruined by you being too happy and don't prepare for the next week. So you've got to put everything behind you and find a way to improve upon your next opponent."
UA defensive coordinator Paul Rhoads and his defenders try to slow down the prolific Fitzgerald.
"He is a great football player," Rhoads said. "He has 800 or 900 yards rushing and 1,600-plus passing, and he is fast. I think people don't give him enough credit for that. They know he is big. They know he is physical. They know he churns it out, but he is fast in the process, too.
"Anytime you have to defend the quarterback run game, you are talking about an extra gap so you have got to change some things around to make sure you account for it on every single snap they have offensively. He provides us a great challenge and the running backs are no slouches themselves."
Fitzgerald has completed 13 touchdown passes with 10 interceptions.

"He is throwing some balls - and I just said this to the staff here in a the last hour - he throws some outstanding balls, tremendous balls and he has full control of where he wants to put them," Rhoads said. "They put the big tight end in the flex position and he throws a back shoulder fade and the cornerback is up field enough and he throws the ball exactly where he wants to.
"I think he throws it with more consistent accuracy than he did a year ago and I think he has completely developed as a collegiate passer."