Class 5A - Week 12 - 2015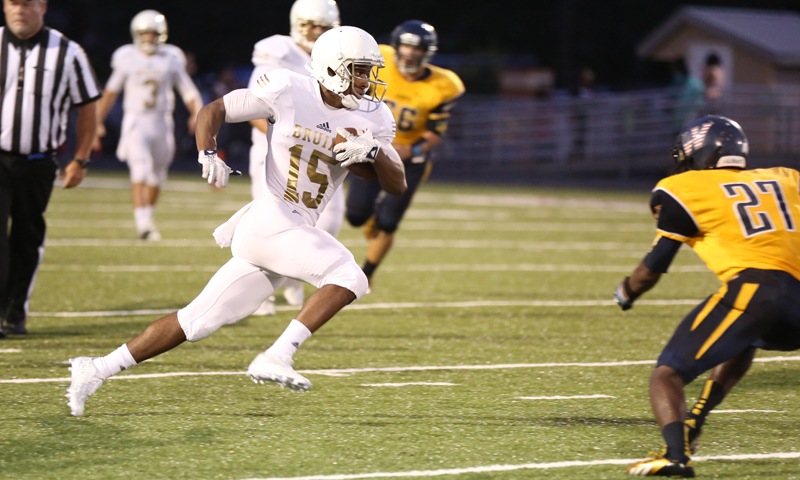 Hootens.com Rankings
Class 5A, Week 12, 2015
Copyright Hooten Publishing, Inc.

1. Pulaski Academy (11-0)
2. LR Christian (11-0)
3. HS Lakeside (9-2)
4. Hope (9-2)
5. Batesville (8-3)
6. Wynne (7-4)
7. LR McClellan (8-2)
8. Greenbrier (7-4)
9. Blytheville (8-3)
10. Morrilton (7-4)
11. Camden Fairview (6-5)
12. Watson Chapel (4-7)
13. Hot Springs (6-4)
14. Beebe (5-5)
15. Forrest City (6-5)
16. Sylvan Hills (6-4)
17. Vilonia (5-6)
18. Nettleton (5-5)
19. Farmington (5-5)
20. Harrison (4-6)
21. De Queen (4-6)
22. Maumelle (3-7)
23. Jacksonville (2-7)
24. Mills (2-7)
25. Magnolia (2-8)
26. Valley View (2-8)
27. Paragould (1-9)
28. Greene County Tech (1-9)
29. Clarksville (1-9)
30. White Hall (0-10)
31. LR Fair (0-10)

GAME OF THE WEEK
No. 4 Hope at No. 1 Pulaski Academy

This is the third meeting between these teams (but first in the playoffs), with Pulaski Academy winning the previous two. Pulaski Academy advances past the first round for the 17th straight season. The undefeated Bruins average a state-best 49.2 points per game, while holding opponents to 16.6 points a game. They've applied the 35-point sportsmanship in nine games this fall, and their most impressive wins were at Texas powerhouse Highland Park (40-13) and over Class 4A No. 3 Warren (71-40). The Bruins scored 56 points in the first half of last week's 56-14 win over Vilonia. Sophomore quarterback Layne Hatcher completes 235 of 347 passes (67.7 percent) for 3,707 yards and 44 touchdowns, with only six interceptions. "He's impressive because we throw the ball downfield as much as anyone," says coach Kevin Kelley. Senior receiver Zack Kelley tore his ACL in July but returned in mid-season. Zack Kelley has 49 catches for 1,031 yards and 15 scores, while classmate Tre Bruce has scored passing, receiving and rushing. Senior center Caden Haws owns scholarship offers from BYU and Utah "and he's the best lineman in the state," Kelley says. Senior linebacker Corbin Witham has 88 tackles, while senior safety Justin Charette has 47 tackles and two interceptions.

Hope returns to the quarterfinals for the second time in three years. The Bobcats only losses this fall were to Nashville (ranked No. 2 in Class 4A) and HS Lakeside by a combined three points. The Bobcats rallied from a 14-point deficit last week to beat Blytheville 31-21. Hope intercepted four passes, including two by senior cornerback Kamorian Monk. Senior defensive end McTelvin Agim (University of Arkansas commit) has 70 tackles this season. Agim rushed for 12 TDs this year, and he returned two kickoffs for scores. Junior QB Austin Stubber completes 65 percent of his passes for almost 3,200 yards and 34 TDs, with just seven interceptions. He's also rushed for eight scores. Senior receivers Cory Briggs (almost 1,000 yards) and Trey Lawson (almost 1,100 yards) are the top targets. Agim (6-3, 268) and senior Kadarius Rowe (6-3, 285) control the defensive end slots while senior noseguard Key Easter (5-9, 270) stuffs the middle. "They don't have to blitz because they can pressure you with three linemen," Kelley says.

LAST WEEK
Hootens.com correctly predicted 7 of 8 games (88 percent). For the season, Hootens.com has correctly predicted 153 of 194 games (79 percent).

WEEK 12 PREDICTIONS (favord teams in CAPS.)
TOP HALF OF THE BRACKET
Wynne at LR CHRISTIAN (14): LR Christian's 42-15 win over Sylvan Hills last week was its first in the postseason since beating Forrest City 29-27 in 2009. Warrior senior linebacker Stone Boshears (113 tackles) and defensive lineman Dylan Hays (82 tackles, five sacks) led a unit that gives up 18.5 points and 294 yards per game. LR Christian senior Damarea Crockett has 208 carries for 1,425 yards and 22 TDs this year, and he's caught four TD passes. LR Christian junior receiver/Austin Guymon (19 catches, 332 yards, two TDs and 32 tackles, four sacks) will miss the rest of the season after tearing his LCL in Week 10. Wynne travels to Pulaski County for the quarterfinals for the second straight season (beat Maumelle 27-17 last year). The Yellowjackets have four straight wins since losing at Batesville in Week 7 by 17 points. Wynne junior Jamar Dixon ran for three TDs in last week's 35-point win over Camden Fairview.
Hope at PULASKI ACADEMY (16): Hootens.com Class 5A Game of the Week.

BOTTOM HALF OF THE BRACKET
LR McClellan at HS LAKESIDE (3): HS Lakeside returns to the second round for the first time since 2011 and fourth time in the playoff era (1975 and 1974). HS Lakeside gives up 31 points per game but the opportunistic defense forced a pair of key second half turnovers in last week's five-point win over Forrest City. The Rams have won five games by five points or less, and they gain tough yards running behind a big, veteran offensive line. HS Lakeside senior Maurice Bradford has 173 carries for 1,202 yards and 25 TDs, while senior Colt Housley has 254 carries for 1,463 yards and 20 TDs. Bradford also has 35 catches for 596 yards and two scores, while junior Caleb Dean has 42 receptions for 791 yards and seven scores. Junior QB Fisher Alexander completes 102 of 204 passes for 1,900 yards and 12 TDs, with seven interceptions. Bradford has 87 tackles and his interception in the final minutes last week sealed the Forrest City victory. Senior Kennedy King (79 tackles) recovered a third-quarter fumble that set up a TD. LR McClellan won eight games this season, more than the previous six years combined. The 52-50 win over Morrilton last week was its first playoff victory since 2003. Lion junior Pierre Strong ran 12 times for 167 yards and four TDs and caught the game-winning 26-yard TD pass against Morrilton. Strong has 130 carries for 1,859 yards and 24 TDs this year.
Greenbrier at BATESVILLE (7): Batesville knocked Greenbrier out of the playoffs the past four years, including three times in the quarterfinals (41-18 in 2014, 38-21 in 2012 and 16-6 in 2011) and 48-6 in the first round in 2013. Batesville's defense stuffed Watson Chapel twice inside the 5-yard line last week, holding on a 42-35 win. Junior linebacker Garrett Bernard has 162 tackles this fall, while Sam Stalker has 113 stops. Junior end Blake Franks has 99 tackles, including 33 tackles for loss, 13 sacks and four forced fumbles. "They are so fast up front," Greenbrier coach Randy Tribble says. Pioneer senior Louis Sonnier ran in a pair of TDs against Watson Chapel, and he's rushed for 651 yards and 12 scores this fall. Greenbrier garnered the No. 2 playoff seed after beating Vilonia Week 10, and the Panthers downed Beebe by 14 points a week ago. Senior fullback Shawn Howard emerged as the go-to running back late this season, picking up more than 100 yards in five of the past six games. Senior QB Harold Ross threw five TD passes against Beebe, and he's thrown for 2,188 yards and 22 TDs in 10 games this year (missed one game with a bruised heel).