HOGS answer bell indoors; more notes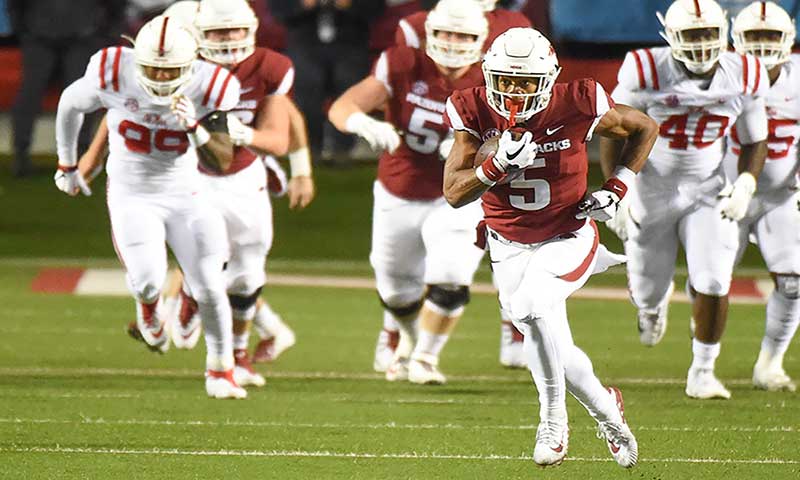 FAYETTEVILLE - The Arkansas Razorbacks practiced inside the Walker Pavilion on Wednesday to get acclimated to clanging cowbells awaiting them Saturday at Mississippi State's Davis Wade Stadium.

Arkansas (2-8, 0-6 in the SEC West) and Mississippi State (6-4, 2-4) clash at 11 a.m. Saturday on ESPN.

"Kind of close the environment and turn the music up a little bit and see if we can have a little crowd noise today," Arkansas coach Chad Morris said Wednesday.

Just the usual loud music or cowbells, too?

"A little bit of both," Morris said. "We'll see what we can do to turn it up and try to make it where we can't think."

GUIDRY DOUBTFUL
Sophomore backup defensive tackle Briston Guidry, battling injuries throughout the season but playing eight games with 14 tackles, 1.5 sacks and a fumble recovery touchdown, likely won't play in this one.

"Right now he's doubtful," Morris said. "That's kind of where we are with him."

GERALD TOOTH HEALS
Junior college transfer defensive end Dorian Gerald limited Tuesday because of a tooth extraction, practiced Wednesday.

Though they've worked in green restricted practice jerseys, Morris said he's counting on running backs Rakeem Boyd (ankle injury during Saturday's 24-17 loss to LSU), and Devwah Whaley (out since an Oct. 27 ankle injury during the 37-33 loss to Ole Miss) and banged up receivers Jared Cornelius and De'Vion Warren and reserve linebacker/special teamer Deon Edwards to play against Mississippi State.

In preseason, Morris touted the running back depth with Boyd joining returning junior starter Whaley and versatile running back/receiver T.J. Hammonds and sophomore Chase Hayden and redshirt freshman Maleek Williams.

BOYD, WHALEY IN TANDEM
Hammonds has been lost for the season with a knee injury.  Hayden and Williams have logged much practice time this week but Morris asserted again he's counting on Boyd and Whaley, too, against the Bulldogs.

"I think Devwah is really excited," Morris said. "He started running around Sunday a little bit more and went through practice yesterday and it was really good to see him out here. I think he and Rakeem make a great team together.  That's what Devwah has been wanting. We thought we were going to have that in the Ole Miss game, and we had a great one-two punch. Unfortunately, he got hurt but now we've got him back and we'll see how that goes."

ALEXANDER SURGERY
Redshirting freshman defensive end Courtre Alexander has undergone shoulder surgery and will try to recover by spring practice.

Scout-team quarterback Daulton Hyatt is sidelined by injuries.

Jack Lindsey, the holder for Connor Limpert's place kicks but also a quarterback, quarterbacks the scout team this week, Morris said.

YOU'RE HIRED
Like Morris, Mississippi State coach Joe Moorhead is in his first year head coaching in the SEC.

However, the circumstances for their hirings differ like the 19.5- to 21-point betting line favoring Mississippi State Saturday.

Morris succeeded Bret Bielema, fired after a 4-8 overall 1-7 SEC campaign last season, finished his five Arkansas years 29-34 overall and 11-29 SEC.

Former Penn State offensive coordinator Moorhead was hired  to succeed Dan Mullen, leaving Mississippi State with a 69-46 overall, record including 9-4 in 2017, to become Florida's head coach.

"Obviously, when you take over a program it's for one of two reasons," Moorhead said on Wednesday's SEC coaches teleconference. "Because the coach prior to you wasn't doing a good enough job or he was doing a very good job. I think Coach Mullen and his staff in the nine years they were here built a solid foundation. Obviously they made a bunch of bowl appearances. Coming in, we were looking to build off that success. You know talking about being a staff that can bring an SEC trophy to Starkville."

The Bulldogs are six-win bowl qualified and statistically boast the No. 1 defense in the SEC, but there will be no SEC trophy brought to Starkville this year with 28-7, 13-6 19-3 and 24-0 SEC losses to Kentucky, Florida, LSU and Alabama.

The Bulldogs beat Texas A&M and Auburn, both SEC West victors over Arkansas.