2021 Farm Bureau Insurance Awards watch list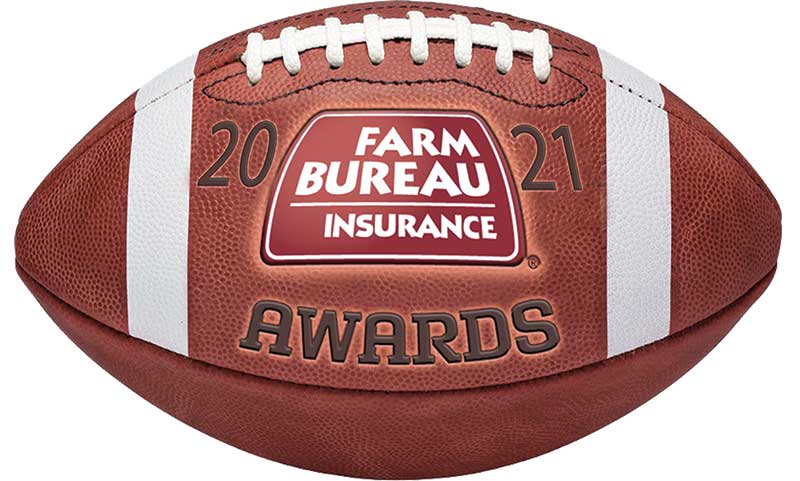 LITTLE ROCK - Farm Bureau Insurance is pleased to announce the watch list for the 2021 Farm Bureau Insurance Awards.
The Farm Bureau Insurance Awards honor Arkansas' top offensive player, defensive player and coach of the year for each classification. The veteran staff at Hooten's Arkansas Football selects three finalists for each category, and those 45 finalists and their families are invited to attend the Farm Bureau Insurance Awards on Dec. 13.
Kevin McKenzie, Executive Vice President-General Manager for Farm Bureau Mutual Insurance Company of Arkansas, Inc. said: "Some of the greatest student-athletes our state has to offer are reflected on this list, and Farm Bureau Insurance is proud to acknowledge their outstanding achievements as the title sponsor of this prestigious event. Farm Bureau Insurance would like to wish each athlete continued success in the upcoming postseason."
Farm Bureau Insurance has supported education and community involvement in Arkansas for over 70 years.
7A-6A OFFENSE
Cam Harris, Benton
Casey Johnson, Benton
Stran Smith, Benton
Chas Nimrod, Bentonville
Cooper Smith, Bentonville
Avery Styron, Bentonville
Carson Burnett, Bryant
Will Diggins, Bryant
Brooks Edmonson, Bryant
Braden Jay, Cabot
Manny Smith, Conway
Boogie Carr, Conway
Sharmon Rester, El Dorado
Isaiah Satenga, Fayetteville
Luke Brewer, Greenwood
Ty Massey, FS Northside
Sundquist Church, FS Northside
Walker Catsavis, FS Northside
Ryker Acebo, Jonesboro
Kavon Pointer, Jonesboro
Chase Jessup, Lake Hamilton
Tevin Woodley, Lake Hamilton
Prescott Scott, LR Catholic
James Jointer, LR Parkview
Jaylon White, LR Parkview
Cam Anderson, Marion
Noah Goodshield, Rogers
Josh Shepherd, Rogers
Hunter Talley, Siloam Springs
Landon Phipps, Springdale
Jack Struebing, Springdale Har-Ber
Peyton McKee, Springdale Har-Ber
Malachi Cramer, Springdale Har-Ber
Xavier Okafor, Sylvan Hills 
7A-6A DEFENSE
Cain Simmons, Benton
Beau Wright, Benton
Brandon Jones, Bryant
Eric Masterson, Cabot
Justin Sobczak, Cabot
Ashton Waller, Conway
Kaiden Turner, Fayetteville
Patrick Sixbey, El Dorado
Sebastian Crumb, Greenwood
Parker Gill, Greenwood
Colt Owenby, Greenwood
Kendall McKenzie, LR Parkview
Johnny Nichols, Marion
Braxton Johnson, North LR
Trevion Traylor, Russellville
Marion Slater, Rogers 
7A-6A COACH
Brad Harris, Benton
Jody Grant, Bentonville
Buck James, Bryant
Keith Fimple, Conway
Chris Young, Greenwood
Casey Dick, Fayetteville
Randy Coleman, Jonesboro
Chad Harbison, Rogers
5A OFFENSE
Connor Stacy, Alma
Kaden Matthews, Brookland
Ja'Coriae Brown, Camden Fairview
Brandon Copeland, Camden Fairview
Timothy Dawn, Camden Fairview
Caden Elsik, Farmington
Josh Robinson, Greenbrier
Thatcher Strack, Greenbrier
Cooper Wilcox, Greenbrier
Gage Snyder, Greene County Tech
Dylan Block, Harrison
Logan Plumlee, Harrison
Isaac Shelor, Hot Springs
Pierce Smalley, Hot Springs
Chase Cross, HS Lakeside
Jordan Mills, HS Lakeside
Eli Copper, LR Christian
Jayvean Dyer-Jones, LR Christian
Brian Gittens, LR Christian
Deraylen Williams, Magnolia
Andrew Chamblee, Maumelle
Jesse Knight, Maumelle
Julian Brockman, Morrilton
Koby Bradley, Nettleton
Cameron Scarlett, Nettleton
Charlie Baker, Pulaski Academy
Charlie Fiser, Pulaski Academy
Joe Himon, Pulaski Academy
Kannon Bartlett, Vilonia
Jamison Hinsley, Vilonia
Austin Myers, Vilonia
Zaire Green, White Hall
Matthew Martinez, White Hall
Carl Washington, Wynne
5A DEFENSE
Landon Burkhart, Alma
Dayshawn Brown, Batesville
Ayden Stinnett, Brookland
Davis York, Brookland
Elijah Tate, Camden Fairview
Mark Welch, Camden Fairview
Bryce Buckner, Clarksville
Braden Bullington, Farmington
Nick Huett, Greenbrier
Jacob Mathis, Greenbrier
Preston Riddle, Greenbrier
Dawson Spencer, Greenbrier
Jax Batten, Greene County Tech
Cy Madden, Harrison
Ammorrion Dempsey, Hope
Michael Jackson, Jr., Hot Springs
Chance Cross, HS Lakeside
Steven Cummins, HS Lakeside
Caleb Weed, HS Lakeside
Titus Colquitt, LR Christian
Slate Wilkerson, LR Christian
Andrew Wadsworth, LR Christian
Kenrick Carey, Magnolia
Nico Davillier, Maumelle
Javontae Wallace, Nettleton
Josesph Osment, Pulaski Academy
Ben Smiley, Pulaski Academy
Mario Crawford, Valley View
Jaden Wells, Valley View
Jake Fawcett, Vilonia
Seth Kirk, Vilonia
Campbell Osier, Vilonia
Rodrico Bowen, White Hall
Braylon Johnson, White Hall
T.K. Walker, White Hall
Steven Weston, White Hall
Trevon Holmes, Wynne
Tyrell Johnson, Wynne
5A COACH
Jake Monden, Camden Fairview
J.R. Eldridge, Farmington
Randy Tribble, Greenbrier
Darrell Burnett, Hot Springs
Eric Cohu, LR Christian
Mark King, Magnolia
Steve Hampton, Nettleton
Anthony Lucas, Pulaski Academy
Sean Cockrell, Valley View
Todd Langrell, Vilonia
Bobby Bolding, White Hall
Van Paschal, Wynne
4A OFFENSE
Braylon Bailey, Arkadelphia
Jaishon Davis, Arkadelphia
Alex Loy, Arkadelphia
Alex Keilbach, Ashdown
Leason Pierce, Bald Knob
Braden Arnold, Bauxite
Jaeden Tanksley, Berryville
Tyler Williams, CAC
Eli Taylor, Cave City
Ashton Hoyle, Clinton
Dwayne Ashford, Crossett
Tyrique Jones, Crossett
Dayton Cheatham, Dardanelle
Steve Dearmon, Fountain Lake
Lucas Guinn, Gentry
Garrison Jackson, Gentry
Barrett Phillips, Green Forest
Kolton Reynolds, Huntsville
Jack Cleveland, Joe T. Robinson
Eli Jackson, Joe T. Robinson
Daryl Searcy, Joe T. Robinson
Gkyson Wright, Joe T. Robinson
Spencer Long, Jonesboro Westside
Skylar Smith, Lamar
Spencer Pepper, Lonoke
Braylon Watson, Malvern
Jake Brotherton, Mena
Austin Rose, Mena
Doerian Allen, Monticello
Ethan Gunter, Nashville
Brock Burns, Ozark
Jordan Wilkerson, Pocahontas
Colin Faulk, Prairie Grove
Landon Semrad, Prairie Grove
Mike Sharp, Rivecrest
Cooper Hutchinson, Shiloh Christian
Jacob Solomon, Shiloh Christian
Jacob Dunne, Southside
Landon Haas, Southside
Cole Branson, Star City
Tymir Coppins, Stuttgart
Daniel Poole, Stuttgart
Rian King, Trumann
Cedric Calbert, Warren
Connor McDiarmid, Warren
4A DEFENSE
Landon Kuhn, Arkadelphia
Landon Rowe, Ashdown
Maddox Moreland, Cave City
Jacob Hutto, Clinton
Denzel Watkins, Crossett
Titus Spencer, Dardanelle
Ben Hackney, DeWitt
Owen Luebke, DeWitt
Will Pyburn, Gentry
Tucker Bradley, Huntsville
E'Marion Harrison, Joe T. Robinson
Joe Dalton, Lamar
Jabri Artis, Malvern
Carter Martin, Malvern
Jordan Light, Monticello
Britton Gage, Ozark
Ryker Martin, Ozark
Dylan McCormick, Ozark
Landon Mahan, Pottsville
Brandyn Brownlee, Rivercrest
Tray Jones, Rivercrest
Lath Latham, Rivercrest
Ben Baker, Shiloh Christian
Kaden Henley, Shiloh Christian
Trey Proctor, Star City
Bryer West, Stuttgart
Jacari Lee, Warren
4A COACH
Trey Schucker, Arkadelphia
Danny Brustrom, Cave City
Shawn Jackson, Crossett
Phil Vega, Dardanelle
Tommy Cody, DeWitt
Zach Watson, Elkins
Kenny Shelton, Fountain Lake
Todd Eskola, Joe T. Robinson
Josh Jones, Lamar
Jeremie Burns, Ozark
Charles Baty, Pocahontas
Danny Abshier, Prairie Grove
Johnny Fleming, Rivercrest
Jeff Conaway, Shiloh Christian
Brian Reardon, Southside
Josh Price, Stuttgart
Randy Phillips, Trumann
Bo Hembree, Warren
3A OFFENSE
Zach Berkemeyer, Atkins
Payten Sutterfield, Atkins
Braden Efird, Bismarck
Randon Ray, Booneville
Darryl Kattich, Cedarville
Hayden Partain, Cedarville
Josh Lawson, Centerpoint
Garrett Alexander, Centerpoint
Lawson Wilkins, Danville
Kenyon Carr, Dollarway
Kye Monroe, Fouke
Ryan Braden, Genoa Central
Conner Taylor, Glen Rose
Dalton Taylor. Glen Rose
Peyton Hester, Hackett
Ethan Slavens, Hackett
Andrew Miller, Harding Academy
Samuel Moore, Harrisburg
Cade Forrester, Hoxie
Carson Hair, Jessieville
Matthew Huff, Jessieville
Tristan Brown, Lavaca
Sam Polite, McGehee
Parker Morgan, Melbourne
Elijah Carlton, Mountain View
Don Littleton, Osceola
Duke Walker, Paris
Hayden Emerson, Piggott
Jaylon Hopson, Prescott
Jacaylon Zachery, Prescott
Mason Andrews, Walnut Ridge
3A DEFENSE
Barrett Schultz, Bismarck
Logan McCann, C. Harmony Grove
Jermaine Edwards, C. Harmony Grove
Dillon Fox, Centerpoint
Ransom Merechka, Charleston
J.J. Hollingsworth, Greenland
Cooper Welch, Harding Academy
Jace Benesch, Hoxie
Seth Brooks, Hoxie
Rafael Pena, Lincoln
Dustin Clark, Manila
Joe Easter, McGehee
Jedarius Reed, Newport
Jason Patrick, Jr., Prescott
Mason Roland, Perryville
Dalton Riggins, Rison
Will Wilson, Riverview
Tyler Siddons, Salem
Ethan Howerton, West Fork
3A COACH
Doc Crowley, Booneville
Ernie Horstkamp, C. Harmony Grove
Max Washausen, Cedarville
Cary Rogers, Centerpoint
Ricky May, Charleston
Mark Kehner, Glen Rose
Michael Meador, Hackett
Neil Evans, Harding Academy
Tom Sears, Hoxie
T.J. Burk, Jessieville
Cain White, Manila
Marcus Haddock, McGehee
Casey Moreland, Melbourne
Jeff Weaver, Paris
Brian Glass, Prescott
Clay Totty, Rison
2A OFFENSE
Hunter Alexander, Bigelow
Keithlin Brown, Bigelow
Quincey McAdoo, Clarendon
Kaleb Williams, Clarendon
A.J. Beale, Cross County
Jacob Roach, Des Arc
Carson Williams, Fordyce
Austin Duck, Hazen
Dakota Beavers, J.C. Westside
A.J. Ivory, Junction City
Ashton Droemer, Magazine
B.J. Marshall, Marked Tree
Cason Campbell, McCrory
Baylor Bates, Mount Ida
Noah Johnson, Mountainburg
Jay Stuard, Murfreesboro
Lancer Clark, Parkers Chapel
Colton Lowe, Poyen
Jayven Keymer, Yellville-Summit
2A DEFENSE
Keenan Hobbs, Bigelow
Joe Phillips, Bigelow
Kaden Terrell, Bigelow
Devin Brown, Clarendon
Wyatt Buckman, Conway Christian
Cooper Childers, Des Arc
Konnor Shelton, Dierks
Jaylen Matthews, Earle
Candon Argo, EPC
Trey Merritt, Fordyce
Dakota Wimberly, Fordyce
DeJames Powell, Foreman
Jamal Johnson, Junction City
Adrian Madison, Lafayette County
Brett Williams, Magnet Cove
Buck Neal, McCrory
Reid Kennon, McCrory
Lathan Briley, McCrory
Anthony Nannemann, Poyen
Will Litton, Quitman
2A COACH
Luke Starks, Bigelow
Mark Courtney, Clarendon
B.J. Paschal, Des Arc
Jarrod Fannin, Dierks
Tim Rodgers, Fordyce
Joe Besancon, Hazen
Trevor Cooper, Hector
Brad Smith, Junction City
Jason Hathcock, Lafayette County
Caleb Carmikle, Magnet Cove
Chris Kennon, McCrory
Michael White, Mount Ida
Vick Barrett, Poyen
D.J. Marrs, Quitman