Class 4A Week 11 Rankings, Notes & Picks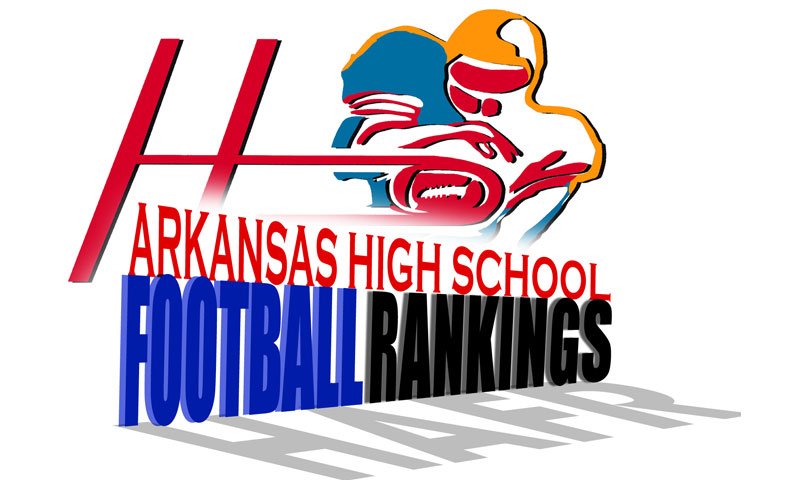 Hootens.com Class 4A Rankings

Week 11, 2022
Copyright Seventy Seven's Publishing
1. Arkadelphia (8-0)

2. Harding Academy (9-0)
3. Warren (9-1)
4. Star City (9-1)
5. Malvern (7-2)
6. Stuttgart (8-2)
7. Pocahontas (9-1)
8. Elkins (9-1)
9. McGehee (6-2)
10. H.G. Haskell (9-1)
11. Nashville (7-3)
12. Rivercrest (7-3)
13. Ashdown (6-3)
14. Lonoke (6-4)
15. Ozark (7-3)
16. Pottsville (6-4)
17. Gosnell (8-2)
18. Lamar (8-2)
19. Clinton (7-3)
20. DeWitt (6-3)
21. Bauxite (7-3)
22. Gravette (6-4)
23. Trumann (5-5)
24. Mena (5-5)
25. Gentry (7-3)
26. Crossett (4-6)
27. Blytheville (5-5)
28. Monticello (4-6)
29. Lincoln (5-5)
30. Mayflower (4-6)
31. Riverview (3-7)
32. Bald Knob (3-7)
33. Hamburg (3-7)
34. Heber Springs (2-7)
35. Jonesboro Westside (2-8)
36. Highland (3-7)
37. CAC (2-7)
38. Berryville (2-8)
39. LR Hall (1-8)
40. Waldron (2-7)
41. Huntsville (2-8)
42. Helena (1-8)
43. Cave City (1-8)
44. Dumas (1-9)
45. Dover (2-8)
46. Harrisburg (2-8)
47. Green Forest (1-9)
LAST WEEK

Hootens.com correctly predicted 19 of 22 games (86 percent) and has correctly predicted 236 of 270 games (87 percent) this season.
WEEK 11 PREDICTIONS (favored team highlighted in yellow and ALL CAPS)

Conference affiliations and seeding are denoted for each matchup.

HOOTENS.COM GAME OF THE WEEK

7-4A (4) ASHDOWN (6-3) at 2-4A (3) Lonoke (6-4)
Ashdown beat Lonoke 35-14 in the first round last season. The Panthers didn't play last week, and in Week 8 they snapped a 3-game losing skid with a 15-12 win over Mena. Senior quarterback Jonathan McElroy has emerged as a team leader, Coach Matt Richardson says, while junior linebackers Nash Brow and junior Caleb Blankenship are leaders on defense.

Lonoke's 4 losses this season are by a total of 15 points to teams with a combined 34-3 record. Junior QB Bradon Allen completed 10 of 15 passes for 95 yards and 1 TD and ran 26 times for 107 yards and 3 TDs in last week's 36-35 setback to Nashville. The Jackrabbits failed on a 2-point conversion in the final minutes. Allen has 17 rushing TDs and 13 passing TDs this fall, and also starts at safety. Senior Landon Jones paces Lonoke's receivers with 45 receptions for 543 yards and 5 TDs, while Denham Gooden has 522 yards and 4 TDs.

TOP OF THE BRACKET

Harding Academy (9-0) has a bye.
8-4A (4) DEWITT (6-3) at 1-3A (3) Gravette (6-4): These teams have never played. DeWitt junior RB Owen St. John ran for 2 TDs, and senior QB Eli Ashcraft threw a 63-yard TD pass to Gabriel Vega in last week's 35-13 win over Dumas. Gravette secured the No. 3 seed from the 1-3A last week, rallying past Gentry 38-35. Sophomore QB Gabriel Holmes completed 6 of 12 passes for 82 yards and ran for 3 TDs in his first start. Junior Kyler Austin logged 15 carries for 82 yards and 2 TDs, while senior Shad Nelson led the defense with 10 tackles.

2-4A (5) Bald Knob (3-7) at 4-4A (1) H.G. HASKELL (9-1): These programs split nonconference games against each other in 2017 and 2018. Haskell won its first conference title this season, its only loss 14-7 at Bauxite last week. Brooks Burr led Haskell with 17 tackles. Bald Knob beat Heber Springs and Cave City to get into the playoffs. The Bulldogs trailed Stuttgart 32-0 in the second quarter last week before losing 39-13.

 8-4A (3) MCGEHEE (6-2) at 3-4A (3) Gosnell (8-2): This could be one of the more intriguing first-round matchups. McGehee won 4 consecutive games after losing in consecutive weeks to No. 3 Warren and No. 4 Star City. The Owls beat Helena 46-12 last week, with senior Tyrique Newman returning a kickoff for a TD and rushing for more than 100 yards. "Our offensive line was challenged and did well," McGehee Coach Marcus Haddock says. Gosnell returned 2 interceptions for TDs and returned a fumble 22 yards for another TD in last week's 48-6 victory over Jonesboro Westside. Senior Floyd Williams ran 8 times for 71 yards and 3 TDs, while his brother Cam Williams accounted for 1 of the interception returns and added 5 catches for 105 yards and 1 TD. Carson Tally made 9 tackles in the first half.
4-4A (5) Clinton (7-3) at 7-4A (1) ARKADELPHIA (8-0): Arkadelphia knocked Clinton out 56-26 in the first round last season. Clinton quarterback Jobe Chalk threw 3 TD passes to senior WR Brody Emberton in last week's 56-12 win over Dover. The game was halted in the 3rd quarter because of inclement weather. Bryston Venable and Zane Widener each ran for 2 TDs. Arkadelphia secured the No. 1 seed and conference title with Saturday's 49-13 win over Malvern. Senior QB Donovan Whitten passed for 232 yards and 3 TDs and ran for 44 yards and a TD at Malvern, while DeAngelo Buckley ran for 2 TDs.

7-4A (5) Mena (5-5) at 1-4A (2) OZARK (7-3): These teams have been conference foes on and off for the past 20 years, including the past 4 years in the 4-4A (Ozark won 3 of the past 4). Ozark senior QB Landon Wright completed 6 of 8 passes for 102 yards and 1 TD and ran 9 times for 165 yards and 3 TDs in last week's 52-21 win at Huntsville. Mena gained confidence in Week 8 with a 48-12 nonconference victory at Lafayette County and almost upset Ashdown (lost 15-12) in Week 9. The Bearcats earned the No. 5 seed after upending Waldron 28-21 on Saturday. Senior Jayden Felix ran for 125 yards and 2 TDs at Waldron, while Michael Sullivan added 2 TD runs. Jair Hernandez (13 tackles) and Brody Peters (12 tackles) led the defense. 

1-4A (4) Gentry (7-3) at 3-4A (2) RIVERCREST (7-3): Gentry fell to the No. 4 seed after losing 3 of its final 4 games, including 38-35 at Gravette last week. The Pioneers led Gravette 20-7 in third quarter. Senior Jonathon Corter led the Pioneers in tackles, while sophomore Caydon Koons took a fake punt 60 yards for a TD. Rivercrest has won 6 consecutive games, clobbering Blytheville 49-20 last week when senior Koby Turner ran for a TD and returned an interception 46 yards for a TD.

3-4A (3) Trumann (5-5) at 8-4A (2) STAR CITY (9-1): Trumann amassed 509 yards in last week's 48-21 win over Harrisburg. Senior QB Murphy Williams ran 10 times for 124 yards  and 1 TD, and he passed for 166 yards and 3 TDs. Eli Evett and Cade Hatton each ran for 2 TDs. Coaches in the 8-4A say senior QB Mason Taylor is one of the conference's top players, and senior RB C.J. Turner owns an offer from Colorado. The Bulldogs held 4 conference opponents to 1 TD or less.

BOTTOM OF THE BRACKET

1-4A (1) Elkins (9-1) has a bye.
1-4A (5) Lincoln (5-5) at 3-4A (1) POCAHONTAS (9-1): Lincoln lost 77-20 at Elkins last week, Pocahontas, 3-4A champion, scored 35 points in the first half of last week's 41-14 decision at Highland. Senior QB Connor Baker threw 2 TD passes and ran 23 times for 135 yards and 2 TDs. Baker needs 2 TDs to break the state's career rushing TD mark of 97, currently held by former Clarendon, University of Tennessee and N.Y. Jets RB Cedric Houston. Harrison Carter caught 3 passes for 122 yards and 2 TDs, while Grayson Maupin ran 83 yards for another TD. The Redskins intercepted 4 passes. 

7-4A (3) NASHVILLE (7-3) at 3-4A (4) Bauxite (7-3): These are former 7-4A foes, with Nashville winning every conference game and bouncing Bauxite from the 2005 playoffs. Bauxite has won 4 games in a row, beating H.G. Haskell 14-7 a week ago. Sophomore Marcus Wimberly ran for an early TD, and Noah Britton scored the decisive Miners TD. Bauxite forced 5 turnovers. Nashville stuffed a 2-point conversion with less than 2 minutes left last week to preserve a 36-35 nonconference win at Lonoke. Senior QB Sloan Perrin tallied 136 yards (71 rushing, 65 passing), and junior Tre Hopkins ran 25 times for 80 yards and 2 TDs. Senior safety Toddrick Watson made 10 tackles.

3-4A (5) Blytheville (5-5) at 8-4A (1) WARREN (9-1): Warren secured its second consecutive outright 8-4A title with last week's 42-7 victory over Hamburg. Senior QB Maddox Lassiter threw 3 TD pass, and La'Marcus Johnson returned a fumble 70 yards for a TD. Blytheville dropped to the No. 5 seed after losing its final 4 games by a combined 62 points. Junior RB Tim Brown ran for 2 TDs in last week's 49-20 loss at Rivercrest, while junior Ingram Battles had 17 carries for 101 yards.

8-4A (5) Crossett (4-6) at 2-4A (2) STUTTGART (8-2): This is the 5th meeting between these programs in the past 20 years, with Stuttgart winning 4 of them. Crossett won its final 3 games to qualify for the playoffs, beating Monticello last week 31-24. Junior QB Max Brooks hit senior RB Tayshawn Paskel for the winning TD with less than 1 minute left. Brooks threw 3 TD passes. Stuttgart beat Bald Knob 39-13 a week ago by holding the Bulldogs to 165 yards, including 34 yards passing. Sophomore Deonte Clark ran for 3 TDs and the Ricebirds defense line played well, Coach Josh Price says.

2-4A (4) Riverview (3-7) at 4-4A (2) LAMAR (8-2): Lamar beat Riverview in nonconference games the past two seasons by a combined 103-26. Lamar senior Damien Hendrix ran for 170 yards and 4 TDs in last week's 59-28 win over CAC, while junior Jarrett Dalton chipped in with 145 yards and 2 TDs. Riverview secured a playoff spot with last week's 7-0 win over Heber Springs. Riverview's Koby Teeter scored the decisive TD on a fourth-down play in the third quarter.

4-4A (4) Pottsville (6-4) at 7-4A (2) MALVERN (7-2): These teams have never played. Pottsville didn't play last week and fell to the No. 4 playoff seed despite ending the season on a 4-game win streak. Malvern must recover from last week's 49-13 loss to Arkadelphia in a game that decided the conference championship. Junior Jalen Dupree ran 16 times for 116 yards and 1 TD, while junior Forrest Landreth made 10 tackles. Dupree (186-1,872 rushing, 28 TDs) and senior QB Cedric Simmons (1,617 passing, 10 TDs; 607 rushing, 15 TDs) lead the offense.