PLAYOFF perspective: milestone or routine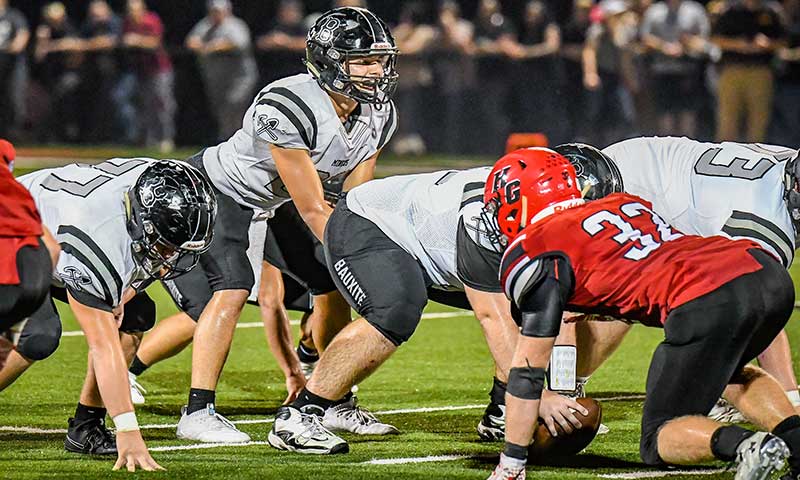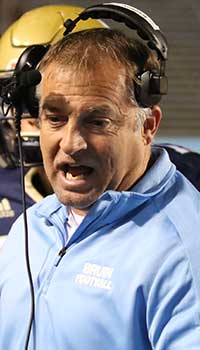 PA coach Kevin Kelley
Friday night marks a rare occasion for a handful of schools in the state. For others, it's just another football Friday as the playoffs begin for 130 teams.
Rector returns to the playoffs for the first time since 2001, seeking its first-ever postseason victory. The Cougars (5-4) received a boost late last season (Week 10, 2017) by beating Midland 18-12 in overtime for its third win in four years.
With fewer than 20 players this fall, Rector earned its first home playoff spot (host Fordyce) with three consecutive wins over Cross County, Midland and Marked Tree.
"We have a resilient group that has been through a lot to get to this point," Coach Dave Hendrix says. "It's an electric week at school."
Van Buren hired former Arkansas Razorback quarterback Casey Dick as its head coach on April 17, 2018, and Dick started building the next week. Fast forward six months and the Pointers are in the playoffs for the first time since 2011, ending Class 7A's longest playoff drought. 
Van Buren went 4-26 the previous three years under former coach Greg Werner.
"It's been a process," Dick says, "but the players were hungry and wanted success. We've showed them how."
Dick's first hires last April poured the foundation for a winning program. He lured defensive coordinator Kenneth Chick away from powerhouse Greenwood and offensive coordinator Crosby Tuck from Georgia.
The 2018 Pointers upended Crawford County rival Alma in the opener and three weeks later beat Rogers by 10 points. They mercy-ruled Heritage Week 7 and received a forfeit from Har-Ber (ineligible player) the following week to land the No. 5 seed.
Van Buren plays this week at Fort Smith Northside.
The Bauxite Miners (in Greg Davis photo) return to the playoffs for the first time since 2009 under third-year coach Daryl Patton, who won four state titles and finished as runner-up twice in 13 years at Fayetteville.
The Miners went 0-10 in 2016 and 4-6 a year ago. "It's been playoffs or bust for us this year," Patton says. "No one individual needs the credit. We have a bunch of hard-working seniors who set this as a goal."
Two seniors, quarterback Seth McDowell and halfback Dawson Dabbs, fuel Bauxite's offense. McDowell has passed for 396 yards and five touchdowns this year while rushing for 847 yards and 18 TDs. Dabbs has 163 carries for 1,284 yards and 12 TDs.
Bauxite beat Joe T. Robinson 41-35 Week 8, but lost its past two games to Arkadelphia and Nashville, the latter in overtime.
"We have to learn to put the regular season behind us and gear up for another type of season," Patton says. "The playoffs are a different animal. Once you lose, you are done. It's a different mental approach that takes a commitment from players making sure they are going hard every play."
Bauxite travels to Trumann this week for a first-round playoff game. Trumann shared the 3-4A title this season, its first championship since 2001.
"The playoffs are about getting hot at the right time," Patton says. "Some years, things fall into place."
Little Rock Parkview enters the playoffs for the first time since 2014, but it might as well have been a decade lost on John Barrow Road.
"These players don't remember that at all," second-year coach Brad Bolding says. "They are excited to be playing this week. They've never experienced this before. We will treat it as a special milestone, but also as a football game (at Morrilton) we want to win."
Parkview went 1-8 in 2016, when former coach William Hardiman was dismissed weeks before the season kicked off.
Bolding was hired in January 2017 and spent the first year developing a football culture. He changed to a run-heavy offense this fall, and the Patriots have beaten White Hall and LR Fair the past two weeks. Senior Geary Allmon has rushed for more than 1,100 yards, lining up at quarterback and tailback, while fullback Thomas McCauley has almost 1,000 yards.
DeWitt owns the state's current longest playoff drought (hasn't been since 2000), followed by Paragould (last appearance 2004). Start-up programs Brookland (started in 2012), Rose Bud (started in 2010 and has dropped program during the regular season two of the past three years), Genoa Central (started in 2010), Drew Central (started in 2007) and Midland (started in 2013) have never advanced to the playoffs.
Traditional state powers Greenwood, Pulaski Academy, Rison and Warren are on the opposite end of the spectrum. Warren has made the playoffs the past 24 years. Greenwood has 20, while Rison and Pulaski Academy have 20 in a row.
Those four teams have combined for 18 state titles and seven runner-up finishes in the past 18 years.
Nashville has not missed the playoffs since 1990 and owns five state titles during that time period. 
Warren's Bo Hembree has coached the Lumberjacks since 1999 (head coach since 2000) and is responsible for five state title game appearances.
"It's about consistency, and the kids believing in the process," Hembree says. "They've learned to trust it. They can improve each year no matter where they were as seventh-graders.
"Coaching at Warren in the playoffs is unique because the first round is also the opening weekend of deer season. You have to keep them focused."
Kevin Kelley, who assisted at Pulaski Academy before promoting to head coach in 2003, has led the Bruins to seven state championships the past 15 years. But early on, just qualifying for the postseason was an accomplishment for Class 5A's smallest school.
"In the 90's, it was a big deal to make the playoffs," Kelley says. "Then it became an objective to be the last team in the city still playing. We had never won before, but we also had never set our team goal as a state championship. If that's not the goal, it's hard to accomplish it. But back then, it was very satisfying to make the playoffs. It still is, but not nearly as much. Our goals have changed. Now we have just one. We don't talk about conference championships or streaks or going undefeated. If we wanted to be undefeated, I wouldn't schedule tough non-conference opponents. In the end, no one remembers if we've made the playoffs 20 years in a row or that we've won so many conference games in a row. People remember championships."
Kelley's advice to coaches, players and communities wanting to build football tradition starts with expectations.
"You can't achieve it, if you don't expect it," Kelley says. "Then its how much time and work you put in to show you are committed to winning. I tell our kids all the time on Friday nights, the other team wants to win just as bad as us. But we will win because of our program. If you aren't playing another sport, you are working out and doing football after school 12 months a year until 5:30 p.m. So we brainwash them into knowing we deserve to win."