Class 6A Week 11 Rankings, Notes & Picks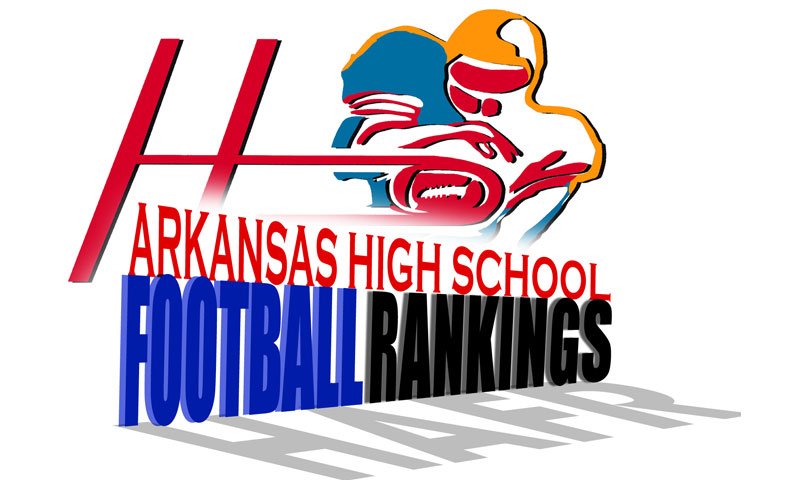 Hootens.com Rankings
Class 6A, Week 11, 2016
Copyright Hooten Publishing, Inc.
1. Greenwood (10-0)
2. Russellville (9-1)
3. Jonesboro (9-1)
4. Pine Bluff (7-2)
5. West Memphis (6-4)
6. Lake Hamilton (6-4)
7. Benton (6-4)
8. El Dorado (5-5)
9. Marion (5-5)
10. Mountain Home (4-6)
11. Searcy (5-5)
12. Texarkana (3-7)
13. Siloam Springs (1-9)
14. Sheridan (1-9)
15. Jacksonville (2-8)
16. LR Hall (2-8)

HOOTENS.COM GAME OF THE WEEK
No. 8 El Dorado at No. 9 Marion
El Dorado vaults in the rankings with the return of key players from injury and looks to win back-to-back weeks for the first time this season. Wildcat workhorse Richard Kesey carried 33 times for 197 yards in last Friday's 23-14 win at Texarkana. El Dorado's formidable defensive front helped hold the Hogs to 200 yards (86 rushing) and force three turnovers. 
Marion rushes for 120 yards and passes for 245 to score 38 points weekly, but the Patriots have not beaten a Class 6A team with a winning record and their four conference victories were against teams with a combined 13-27 record. Marion pushed top East teams Jonesboro, West Memphis and Pine Bluff, though, losing to each by a TD or less. 


LAST WEEK
Hootens.com correctly picked six of eight winners in 6A. For the season, hootens.com has correctly predicted 82 of 103 winners (80 percent) in games involving Class 6A teams.

FIRST-ROUND PLAYOFF PREDICTIONS (favored team in CAPS followed by point spread)
TOP HALF OF BRACKET
GREENWOOD has a bye.
EL DORADO (3) at Marion: Game of the Week. Winner travels next Friday to top-ranked Greenwood.
PINE BLUFF has a bye.
Searcy at LAKE HAMILTON (9): Winner travels next week to Pine Bluff. Searcy slides into the postseason with quality wins over Batesville and West Memphis the first half of the season but hammered hapless Little Rock Hall (48-7) last week to end a 4-game losing skid. Lake Hamilton won three straight before losing last Friday at Greenwood 47-10. Lake Hamilton's flexbone attack scored 28.7 points in league play.

BOTTOM HALF OF BRACKET
JONESBORO has a bye.
Mountain Home at BENTON (14): Winner travels next Friday to Jonesboro. Mountain Home is one of two teams (Texarkana) with a losing record in the Class 6A playoffs. Both are in the bottom half of the bracket. Red-hot Mountain Home rides a three-game win streak, though, including a 42-41 win at Searcy and 14-7 upset of West Memphis the past two weeks. Mountain Home (4-6) dresses fewer than 50 varsity players and has not won more than five games in a season since advancing to the state finals in 2006. Bomber senior two-way lineman Jonathan Fox (6-4. 290) is on the Farm Bureau Insurance Awards watch list for Class 7A/6A Defensive Player of the Year. Benton QB Nate Beck completes 63 percent of his passes for 178 yards weekly while running back Brandon Hunter has 1,206 yards rushing and 459 yards receiving this fall. Senior linebacker Brayden Harris (62 tackles, 14 TFLs) and senior end Chandler Clift (54 tackles, 6 QB sacks) lead the Benton defense. 
RUSSELLVILLE has a bye.
Texarkana at WEST MEMPHIS (14): West Memphis had nothing to gain in last week's 14-7 loss at Mountain Home. The Blue Devils were going to be the No. 3 seed win or lose. When West Memphis' Billy Elmore coached at Stuttgart his 2012 Ricebird team lost Week 9 to Lonoke 28-7 before advancing to win the state title with a 14-1 record. Texarkana is one of two teams (Mountain Home) with a losing record in the Class 6A playoffs. Both are on the bottom half of the bracket. Texarkana owns wins  over teams with a combined 5-25 record, Class 5A Camden Fairview and 6A West members Siloam Springs and Sheridan. Senior lineman Lawler Johnson (6-2, 265) leads a young but talented defense that has allowed 34 points or more in five games. Texarkana sophomore offensive tackle Rico Thomas (6-1, 235) is one to watch as classmate Drake Browning (2 of 4 passing last week) guides an attack scoring 21.7 points weekly.