HOGS geeked to get back on field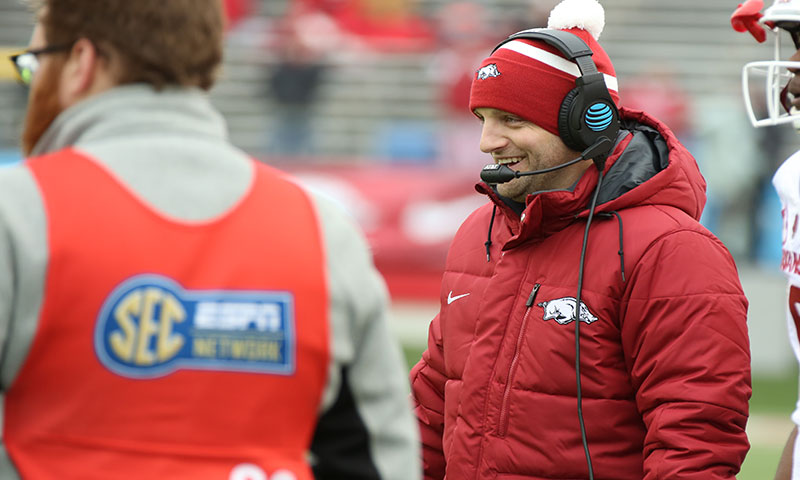 FAYETTEVILLE - The Arkansas Razorbacks relished their bye week and now ready for Saturday night's SEC game against No. 9 LSU Tigers, UA head coach Chad Morris said.
In its final home game for 2018, Arkansas (2-7 overall, 0-5 in SEC) plays host to LSU (7-2, 4-2) at 6:30 p.m. Saturday on the SEC Network at Reynolds Razorback Stadium in Fayetteville.
The Razorbacks practiced Tuesday through Thursday last week and had Friday and Saturday off before Sunday's practice that included scrimmaging the redshirts and young reserves, who also scrimmaged three times last week to get a head start on 2019.
HANDS UP
Morris encouraged players and coaches to take Saturday completely off from football, but he noted most couldn't resist catching games on TV.
"I asked them, 'How many of you guys had a chance to sit down and watch football?" Morris said. "A room full of hands went up and some of them said, 'Coach, I did it all day long, watched ball all day long and couldn't wait to get back in here. I missed competing.' That was the big message, 'Coach, we missed being out on that field. We missed going out and competing.' So there was a lot of energy, a lot of excitement."
Incentive seems a question for LSU and Arkansas. With seven losses, the Razorbacks will not play beyond the Nov. 23 regular-season finale at Missouri.
Unlike Arkansas, Coach Ed Orgeron's LSU Tigers will be in a bowl game but not in the four-team hunt for the national championship after visiting Alabama humbled them, 29-0 Saturday night.
However, it's the same Tigers, Morris reminded, who have beaten current No. 5 Georgia, Auburn, Mississippi State and Miami when all were nationally ranked.
"I know we'll get their (LSU's) absolute best," Morris said. "We know they'll come back in here and be ready to go this week against us."
He expects nothing less from his Hogs, smarting from losing 45-31 two weeks ago to Vanderbilt before the bye week.
"They'll get our best this week and that's what we ask for," Morris said. "The one thing I can control is ourself and focus on the Arkansas Razorbacks."
SENIOR NIGHT
Morris expects the Hogs to play hard on Senior Night, marking their final Razorbacks game in Arkansas for starting senior offensive linemen Hjalte Froholdt, Johnny Gibson of Dumas and Brian Wallace, safety Santos Ramirez, linebacker Dre Greenlaw and defensive tackles Armon Watts and T.J. Smith and nickel back Kevin Richardson.
As a first-year coach inheriting a senior class that had been recruited by and played for former Arkansas coach Bret Bielema, Morris complimented the seniors for their effort and perseverance even as victories haven't come as they wished.
"From position coaches, coordinators and a head coach leaving, these guys have been through a lot of change," Morris said. "When you have a lot of change, you have a hard time building trust. We've worked extremely hard building a trust among each other and it's only grown stronger with time. I really think that's why we've been able to see some of the progress we've made. These guys understand they're going to leave their legacy, and they know they're three games away from it."
HEALING THE AFFLICTED
Greenlaw and Richardson, both injuring their ankles during the Vanderbilt game, and senior receiver Jared Cornelius, not playing against Vanderbilt because of an injured ankle, practiced Sunday in green restricted workout jerseys and are expected to play against LSU, Morris said.
Senior tight end Jeremy Patton (October surgery) is not ready, Morris said. Junior running back Devwah Whaley (ankle surgery after the 37-33 loss to Ole Miss) appears questionable at best against LSU.
OPPORTUNITY KNOCKS
With no bowl December practices as a head start for next year, Morris devotes parts of practices to the young and redshirting reserves, including scrimmaging Sunday nights. Morris, defensive coordinator John "Chief" Chavis and offensive coordinator Joe Craddock commented on the Sunday night stars.
Morris and or a coordinator named freshman quarterbacks Connor Noland and John Stephen Jones, receiver Koilan Jackson, offensive linemen Noah Gatlin, Shane Clenin, Silas Robinson and Ryan Winkel, safeties Joe Foucha and LaDarrius Bishop and linebackers Dee Walker and Derrick Munson.
Noland and Jackson successfully air-mailed the opening to Sunday night's scrimmage.
"Last night I think it was the first play of the scrimmage, Connor made a good read on a RPO and was able to find Koilan Jackson," Craddock said. "A big, big play there to start the scrimmage last night. It was good to see Noah Gatlin, Ryan Winkel and Silas (Robinson) get in there and get some reps. I thought those guys did a really nice job in the run game creating some holes."