2015 Farm Bureau Awards watch list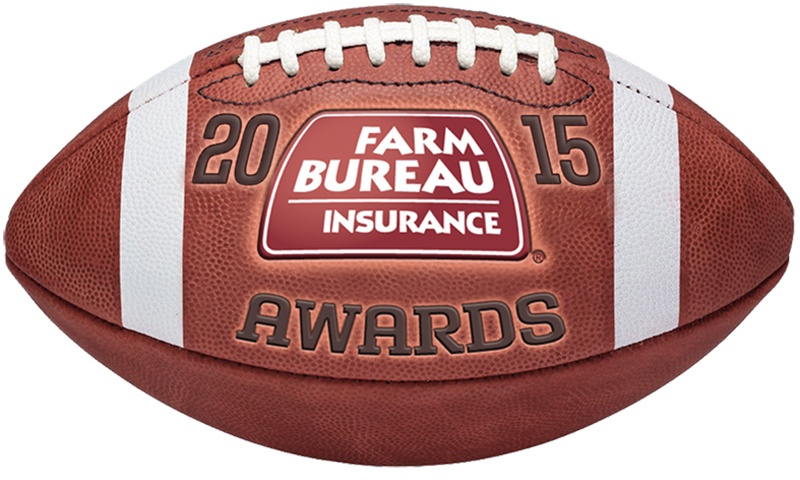 | | |
| --- | --- |
| | |
| 2015 FARM BUREAU AWARDS | |
LITTLE ROCK - Farm Bureau is pleased to announce the watch lists for the 2015 Farm Bureau Awards.

The Farm Bureau Awards honor Arkansas' top offensive player, defensive player and coach of the year for each classification. The veteran staff at Hooten's Arkansas Football selects three finalists for each category, and those 45 finalists and their families are invited to attend the Farm Bureau Awards on Dec. 14.

David L. Moore, Senior Vice President - State Manager for Southern Farm Bureau Casualty Insurance Company, said: "This list of players includes some of the best student-athletes in our state, and Farm Bureau wishes each of them continued success for the rest of the season. Farm Bureau is proud to honor excellence as the title sponsor of this outstanding event."

Farm Bureau Insurance has supported education and community involvement in Arkansas for more than 50 years. https://www.facebook.com/ARFarmBureauIns


7A/6A OFFENSE
Alex Roberts, Cabot
Andre Sale, LR Catholic
Breylin Smith, Conway
Colton Eads, Cabot
Cooper Johnson, FS Southside
Fuller Chandler, Har-Ber
Gunnar Burks, Bryant
Jack Lindsey, Springdale
Jaylynn Dye, Van Buren
Kasey Ford, Bentonville
Lance Harville-Thomas, LR Catholic
Luke Hannon, Har-Ber
Luke Rapert, Fayetteville
Richard Hayes, LR Central

Brockton Brown, Sheridan
Ke'dren Brunson, Jonesboro
Luke Dixon, Searcy
Drew Dyer, Benton
Jordan Green, Greenwood
Kawon Love, El Dorado
Cason Maertens, Benton
Ryan Padilla, Greenwood
Romar Reades, Pine Bluff
Wallace Robinson, Searcy
Ladarius Skelton, Pine Bluff
Kylon Tate, Jonesboro

7A/6A DEFENSE
Brandon Atchison, Bentonville
Cameron Murray, Bryant
Courtney Pollard, West Memphis
Jace McCrea, FS Southside
Jacob Robertson, Har-Ber
Kiondre Thomas, FS Northside
Mario Waits, Bryant
Deontre Hardwick, FS Northside
Si Kilinc, FS Southside
David Beasley, Pine Bluff
Jodeci Booker, Jonesboro
Ben Brasuell, Benton
Rhett Conner, El Dorado
Eli Jackson, Lake Hamilton
Kenyon Jackson, LR Parkview
Nick McCann, Texarkana
Grant Morgan, Greenwood
Jordan Slaughter, Searcy
John Tate, Pine Bluff
Chris Wheeler, Sheridan
Bryce Williams, Jonesboro

7A/6A COACHES
Chris Wood, Har-Ber
Daryl Patton, Fayetteville
Jamie Mitchell, North LR
Jody Grant, Bentonville
Mike Malham, Cabot
Paul Calley, Bryant
Bobby Bolding, Pine Bluff
Billy Dawson, Russellville
Rick Jones, Greenwood
Mark Kelley, Searcy
Doug Loughridge, Alma
Scott Neathery, Benton

5A OFFENSE
Tre Bruce, Pulaski Academy
Zack Kelley, Pulaski Academy
Caden Haws, Pulaski Academy
Trip Smith, Beebe
Knoah Smith, Sylvan Hills
Brandon Hickingbotham, Jacksonville
Horace Mosely, Mills
Nathan Millsap, Mills
Courtlin Lightner, LR McClellan
David Moore, LR McClellan
Raymond Ivory, LR McClellan
Louis Sonnier, Batesvile
Dillon Daniels, Batesville
Brady Devazier, Wynne
Tarik Jones, Forrest City
Leon Smith, Forrest City
Joe Frazier, Nettleton
Terry Northern, Blytheville
Jagger Cornelius, Valley View
Tyson Bayird, Greene County Tech
Trey Cole, Watson Chapel
Coy Simpson, Watson Chapel
Trey Wade, Watson Chapel
Cleo Floyd, Hot Springs
Jacob McNeil, Hot Springs
Logan Reed, Camden Fairview
P.J. Thrower, Camden Fairview
D.J. Franklin, Camden Fairview
Cory Briggs, Hope
Colt Housley, HS Lakeside
Josh Morton, HS Lakeside
Nile Cooper, Magnolia
Cody Stephens, De Queen
Daniel Villeda, De Queen
Damarea Crockett, LR Christian
Kyron Sanders, LR Christian
Joe Hampton, LR Christian
Isaiah Harper, LR Christian
Harold Ross, Greenbrier
Jordan Toland, Morrilton
Devin McMorrough, Morrilton
Lamont Clemons, Morrilton
Jacob Acklin, Maumelle
Jason Uzuh, Maumelle
Blaine Norman, Vilonia
Brice Waggle, Farmington
Justice Hobbs, Farmington


5A DEFENSE
Corbin Witham, Pulaski Academy
Justin Charette, Pulaski Academy
Bo Smith, Beebe
Connor Patrom, Beebe
Brandon Bracely, Sylvan Hills
Trent Lewis, LR McClellan
Chris Robinson, Batesville
Sam Stalker, Batesville
Sean Stout, Batesville
Wendell Williams, Batesville
Demetric Howard, Forrest City
Jacquavin Wilson, Nettleton
Tevin Jones, Nettleton
Jordan Jackson, Blytheville
Isaac Kelly, Blytheville
Derajay Jackson, Blytheville
Decarlo White-Frazier, Watson Chapel
Blake Lagrone, Watson Chapel
Trey Woods, Watson Chapel
Dante Ibarra, Hot Springs
Kamar Brown, Hot Springs
Kimonte Wilson, Camden Fairview
Raymond Hill, Camden Fairview
McTelvin Agim, Hope
Kedarius Rowe, Hope
Josh Witherspoon, Hope
Maurice Bradford, HS Lakeside
Kennedy King, HS Lakeside
Caden Vaughn, HS Lakeside
Demario Lockhart, Magnolia
Hugo Martinez, De Queen
Dylan Hayes, LR Christian
Stone Boshears, LR Christian
Will Clark, LR Christian
Josiah Weaver, LR Christian
Jack Lee, LR Christian
Will Mabry, LR Christian
Harrison Pavatt, Morrilton
Kanon Kirkland, Harrison
Colton Messick, Harrison
Shane Steward, Vilonia
Zach Cole, Vilonia
Dylan Wimberly, Vilonia
Wyatt Wade, Vilonia

5A COACHES
Jeff Weaver, LR Christian
Ben Fisher, Blytheville
Jared Dutton, Watson Chapel
Rich Trail, Forrest City
Dave King, Batesville
Maurice Moody, LR McClellan
Kevin Kelley, Pulaski Academy
Jim Withrow, Sylvan Hills
Jared McBride, HS Lakeside
Jay Turley, Hope
Cody McNabb, Morrilton
Joel Wells, Harrison
Randy Tribble, Greenbrier


4A OFFENSE
Sam Dodd, Prairie Grove
Dylan Soehner, Prairie Grove
Blake Faulk, Prairie Grove
Brent Ferguson, Pea Ridge
Bryce Moorman, Gravette
Jordan Burnett, Gravette
Willie Robinson, Gravette
Justin Oswalt, Gravette
Jake Faulkenberry, Gentry
C.J. Taylor, Gentry
David Adams, Lincoln
Carl Turner, Newport
Hunter Chandler, Heber Springs
Justin Meadows, Lonoke
Josh Coleman, Lonoke
Malik Arnett, West Helena
Braylon Harris, CAC
Darius Earvine, Stuttgart
David Lee, Riverview
Sam Williams, Southside Batesville
Eric Wolf, Pocahontas
Carlos Blackman, Gosnell
Reid Maag, Highland
Connor Haag, Trumann
Malik Versie, Harrisburg
Caleb Hicks, Dardanelle
T.J. Gentry, Dardanelle
Josh Holmes, Dardanelle
T.J. Hammonds, Pulaski Robinson
Brennan Johnson, Pulaski Robinson
Jake Dugger, Pottsville
Josh Dugger, Pottsville
Luke Price, Dover
Austin Wheelis, Ozark
Cory McGonigal, Baptist Prep
Chad McGonigal, Baptist Prep
James Wells, Subiaco Academy
Leonard Snell, Nashville
Trey Hughes, Nashville
Winland Ogden, Nashville
Trace Collie, Malvern
Amari Reed, Malvern
Bo Gray, Malvern
Jeff Blake, Arkadelphia
Jared Erwin, Ashdown
Parker Ross, Fountain Lake
Tye Brown, Star City
Blake Wynn, Star City
Sam Jackson, Star City
Markel Scott, Dollarway
Cameron Girley, Dollarway
John Wilson, Hamburg
Daniel Smith, Hamburg
Jason Lloyd, Hamburg
Franklin Gilmore, Warren
Dakota Herron, Warren
Hunter Welch, Crossett
Jeremy Hampton, Crossett
Dre Millett, Monticello
Jake Reives, DeWitt
Quan Jackson, Dumas

4A DEFENSE
Coty Hoskins, Prairie Grove
Jacob Plunkett, Shiloh Christian
Colton Parten, Shiloh Christian
Lakin Hall, Shiloh Christian
Jackson Soule', Gravette
Sam Roddy, Huntsville
Darrin Roddy, Newport
James Ketchum, Heber Springs
Kentavious Stackhouse, West Helena
Aswad Allen, West Helena
Landon Stevenson, CAC
Blake Edom, Riverview
Zach Verser, Southside Batesville
Jake Berton, Highland
Kevontae Andrews, Trumann
Chris Kershner, Dardanelle
Daniel Craig, Dardanelle
Turner Partin, Dardanelle
Tonda Bullock, Pulaski Robinson
Trenton Dunn, Pulaski Robinson
Austin McNeely, Pottsville
Kaleb Fondren, Dover
Billy Stewart, Nashville
Terrell Grundy, Nashville
Wendell Cooper, Malvern
Jacquez Lock, Malvern
Brandon Northcross, Ashdown
Kirkland Threadgill, Ashdown
J.T. McCoy, Fountain Lake
Sean McNeely, Fountain Lake
Ethan Simpson, Fountain Lake
Jared Flemons, Mena
D'Wayn Grinder, Mena
Austin Capps, Star City
C.J. Everett, Star City
Lorenzo Watkins, Hamburg
Nik Wood, Hamburg
Ladarien Franklin, Hamburg
D'Angelo McCoy, Warren
Peyton Hargis, Warren
Salih Robinson, Warren
Ben Nichols, Monticello


4A COACHES
Danny Abshier, Prairie Grove
Bill Harrelson, Gravette
Jeff Conaway, Shiloh Christian
Tony Travis, Pea Ridge
Tomm Shoemaker, CAC
Darren Gowan, Heber Springs
Russell Smith, West Helena
Vince Perrin, Stuttgart
Charles Baty, Pocahontas
Gary Moody, Gosnell
Josh Price, Dardanelle
Todd Eskola, Pulaski Robinson
Greg Smith, Dover
Mike Volarvich, Nashville
Mike Scarbrough, Malvern
Matt Richardson, Ashdown
Jett Furneaux, Star City
Cecil Ray Cossey, Hamburg
Bo Hembree, Warren
Sonny Nason, Crossett

3A OFFENSE
Cameron Anderson, Barton
Josh Burns, Mountain View
Jake Cantey, Rose Bud
Logan Dixon, Piggott
Alex Francis, Harding Academy
Allie Freeman, Episcopal Collegiate
Jakeymes Gates, Fordyce
Jake Helton, Manila
Austin Hency, Lamar
Jamey Holbrook, Danville
James Johnson, Hoxie
Jon Johnson, H.G. Haskell
Jordan Johnson, Glen Rose
Jordan Jones, Smackover
Cecil Langston, Rivercrest
C. J. Parham, C. Harmony Grove
Brenden Parker, Osceola
Trevor Pipkin, Prescott
Kelvin Robinson, Episcopal Collegiate
Cole Self, Greenland
Alex Sisemore, Greenland
Jayse Snider, McGehee
William Waldrup, McGehee
Brandon Walker, Prescott
Donte Weems, Marianna
Morgan Yates, Two Rivers

3A DEFENSE
Jermarcus Arnold, Marianna
Chase Binz, Charleston
Brayden Burnett, West Fork
Grant Burns, Fouke
Austin Dobbs, Atkins
Hayden Evans, Bald Knob
Dante Jones, Horatio
Blake Kern, Lamar
Mason Miller, Greenland
Ty Mote, Harding Academy
Sam Parham, Paris
Zack Powell, Cedar Ridge
Keiandre Purifoy, Smackover
Rhett Sullivan, Danville
Devin Venzant, C. Harmony Grove
Dusty Wilkins, Lamar
Brayden Wilson, Rivercrest

3A COACHES
Ed Baker, Perryville
Rick Barker, Fouke
Danny Brustrom, Cedar Ridge
Jerry Castor, Manila
Tony Chambers, C. Harmony Grove
D.J. Crane, Danville
Michael Harrell, Piggott
Randy Johnston, Bald Knob
Josh Jones, Lamar
Mark Kehner, Glen Rose
Greg Kendrick, Charleston
Mark King, Horatio
Lee Larkan, Greenland
Richie Marsh, Episcopal Collegiate
Roddy Mote, Harding Academy
Tommy Poole, Prescott
Tim Rodgers, Fordyce
Cary Rogers, Centerpoint
Brian Strickland, Smackover
Marc Tucker, Paris

2A OFFENSE
Jakob Henry, Conway Christian
T.J. Wilson, Mount Ida
Bryson Marks, Rison
Jackie Harvell, Gurdon
Anfernee Davis, Cross County
Kaigen Rogo, McCrory
Logan Penn, Hazen
Richard Merritt, Earle
Clayton Stephenson, Mountainburg
Jesse Lowry, Mount Ida
Clayton Dent, Conway Christian
Jacob Crow, Spring Hill
Colt Covington, Des Arc
Daylon Conway, Des Arc
DeAngelo Griffin, Marked Tree
Marvalus Howard, Strong
Jalin Brown, Augusta
Trendin McKinney, Dierks
Dezmon Jackson, Parkers Chapel
Xavier Iverson, England
Jon Mark Wood, Conway Christian
Le'Andre Rucks, Strong
Blake McLelland, Junction City
Sam Williams, Bearden
Jesse Clark, Bearden

2A DEFENSE
Khalid Mills, Hazen
Donovan Gurley, Hazen
Chauncie Green, McCrory
Jacob Adams, Des Arc
Chris Leaks, Rison
Gage Roberts, Rison
John Kirby, Poyen
Zac Montgomery, England
Nathan Reynolds, Magnet Cove
Josh Smeltzer, Magnet Cove
Cade Campbell, McCrory
Jaylon Gunn, Marked Tree
Daquan Greene, Brinkley
Holden Byassee, Cross County
Jackson Kirkpatrick, Gurdon
Matthew Freeman, Junction City
Tre Burks, Lafayette County
Lane Rhodes, Poyen
Caleb Jones, Mount Ida
Hunter Davis, McCrory
Jarrett Pitchford, Murfreesboro

2A COACHES
Clay Totty, Rison
David Carpenter, Junction City
Chris Kennon, McCrory
Michael White, Mount Ida
Albert Coleman, Earle
Mark Taylor, Hector
Drake Widener, Des Arc
Terry Farmer, England
Michael Carter, Conway Christian
Kyle Jackson, Gurdon
Joe Besancon, Hazen
Steve Williams, Cross County
Bobby Clark, Lafayette County
Cody Wallis, Marked Tree





"