RECRUITING: The fantastic Francisco of Rogers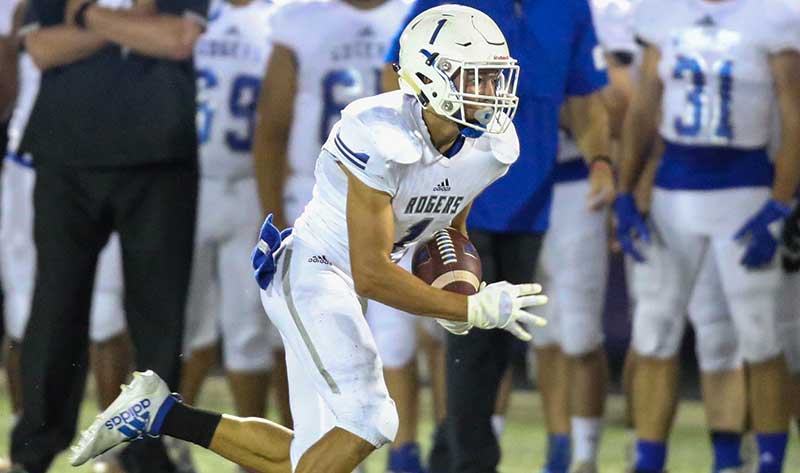 Rogers coach Mike Loyd unofficially doubles as president of his quarterback's fan club.
Not that senior QB Christian Francisco (5-9, 160) needs much promoting, on or off the field.
Francisco (in Richey Miller photo above) maintains a 4.3 GPA in AP classes. With a 35 on the ACT and 1500 on the SAT, he is one of 140 national merit scholarship semi-finalists from the state of Arkansas.
"He's so smart we let him call defenses and get us lined up as a sophomore," Loyd says.
Loyd knew early on he needed Francisco on the field. But with future college QB Hunter Loyd starting under center, Francisco landed at safety. His first start was Rogers' 2018 conference opener, a 30-20 loss to Van Buren. He rarely has left the field since. 
In addition to starting at safety, Francisco honed his QB skills on the sophomore and junior varsity teams in 2018.
Last fall, he shifted to slot receiver and racked up almost 500 yards, despite missing four games and never fully recovering from an early-season stress fracture in his foot.
Francisco took over this fall at QB "and hasn't surprised me at all," says Loyd, who played quarterback for the St. Louis Cardinals from 1979-1980. "I've coached 31 college players, and nine quarterbacks who played in the SEC and Big 12. He's the most coachable player I've ever had. He's a leader and is humble. The way he prepares is unmatched. He's just a winner."
In his first varsity start at QB, Francisco completed 19 of 26 passes for 421 yards and three touchdowns, and ran 16 times for 89 yards and three TDs in a win at Siloam Springs. The next week, he scorched Stilwell, Okla., for 274 yards and six TDs.
But Francisco etched his name into the state record book Week 7 in a 43-22 win over Springdale. The dual-threat QB completed 23 of 33 passes for 303 yards and five TDs and scampered 18 times for 203 yards to become the first player in state history to pass for more than 300 yards and rush for more than 200 yards in one game.
The following week, Francisco threw a pair of TD passes against Bentonville, helping Rogers get within 28-21 in the first half after trailing 14-0 less than 30 seconds in the game.
He's completed 92 of 150 passes (61.3 percent) this fall for 1,528 yards and 19 TDs with two interceptions. He has carried 64 times for 490 yards and six TDs.
Francisco owns scholarship offers from Hendrix, Rose-Hulman, Johns Hopkins University and Washington College (St. Louis, Mo.). Harding has shown interest, and the University of Miami offered him a preferred walk on. "I hope he at least visits Miami," Loyd says. "I told them he's a DI inside slot receiver.
"I compare him to (former University of Arkansas offensive coordinator and UAB coach) Garrick McGee, because he's so smart and understands the game so well," says Loyd, who coached McGee at Northeastern Oklahoma A&M junior college. "We've given him the option to change every play at the line of scrimmage. We have complete trust in him."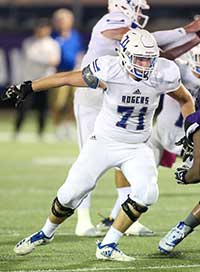 In addition to Francisco, at least four other Mounties could play college football.
Senior defensive end Christian Bruce (6-3, 245; 290-pound power clean) owns offers from Hendrix, Southwestern and Ottawa (Kan.). Those schools have also recruited senior tackle Kaden Ward (6-3, 240) (#71 in Rickey Miller photo).
Senior linemen Carter Cox (6-3, 305) and Andy Vargas (6-4, 310) possess the size to play at the next level, but the coach says both want to focus on academics in college.
While Francisco gets most of the attention, the team leader always thanks his linemen.
"He knows those guys are the reason for his success," Loyd says. "And they all work well together. It's a good group to coach. I think we've set ourselves up for a big finish."