RECRUITING: Class 2A No. 1 Bigelow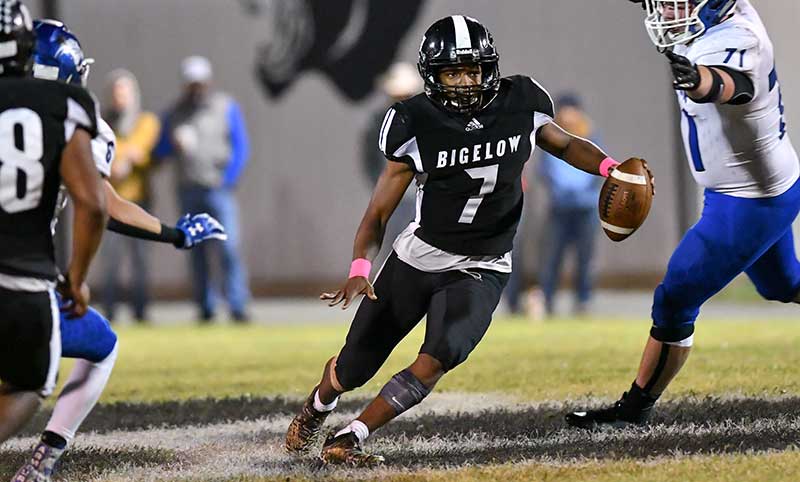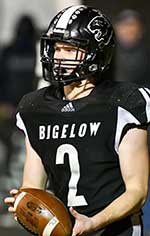 Sr LB Hunter Alexander
BIGELOW has climbed to the top spot in Class 2A this fall with an imminent postseason to prove it belongs there.
A year ago, the Panthers won 12 games and advanced to the quarterfinals for the first time in school history.
After beating up Quitman (44-14) last week, Bigelow aims for consecutive 10-0 regular seasons and 4-2A titles. No. 1  Bigelow travels Friday night to eighth-ranked Hector (7-1).
Just two years removed from a 1-9 finish, third-year Bigelow coach Luke Starks understands pressure mounts with each win. "It will crank up once the playoffs start," the coach says. "It's something we welcome."
Senior quarterback Kiethlin Brown (6-0, 180) has popped on Division II recruiting radars as a dynamic playmaker. He opened the scoring last week against Quitman by reversing field and scrambling 39 yards for a touchdown. Later in the first half, Brown (#7 in Ted McClenning photo TOP) added another score en route to 160 rushing yards.
Brown has logged more than 1,000 yards rushing and 500 passing this fall as "the focal point of our offense," Starks says. Brown has impressed at free safety against Spread teams with limited snaps on defense the previous two seasons.
"He's done a better job (this year) in coverage and has shown he could play on defense in college," the coach says. Ouachita Baptist is recruiting Brown. Starks believes once Brown gets an offer, others will flow.
Senior running back Hunter Alexander (6-0, 190) "is thriving by taking on a much bigger role on offense," Starks says. Alexander has rushed for 836 yards (10 yards per carry) this fall. Alexander ran 12 times for 143 yards and returned an interception 44 yards for a TD last week against Quitman.
At safety on defense, he returned an interception 40 yards for a TD against Quitman. Alexander has committed to play junior college baseball but could play college football "if he wanted to," Starks says.
Senior middle linebacker Kaden Terrell (6-2, 200) would average 14 tackles per game "if we played him more than the first half," Starks says. Terrell earned all-conference honors in 2020 with 121 tackles. "He has a big frame and gets to the ball quickly," Starks says. "I think he's what colleges want."
Team leader Joe Phillips (6-1, 245), a three-year starter at right guard, "is a high character kid and great in the classroom," the coach says. Phillips could earn looks from D2 colleges after showing versatility this fall by playing on the defensive front.
Senior linebacker/end Kennon Hobbs (5-11, 180) might not get the opportunity to play in college, but he could key Bigelow's defense this week against Hector's passing attack and in the playoffs. Hobbs (4.0 GPA) has tallied 45 tackles and nine sacks this fall.
Bigelow boasts a strong group of 14 sophomores, but only three contribute much this fall "because we are loaded with great upperclassmen," Starks says. "We have a great group of kids who are enjoying every moment of this season." Watch extended highlights of Bigelow's win last week over Quitman HERE.