Hogs vs Ole Miss: battle of backup QBs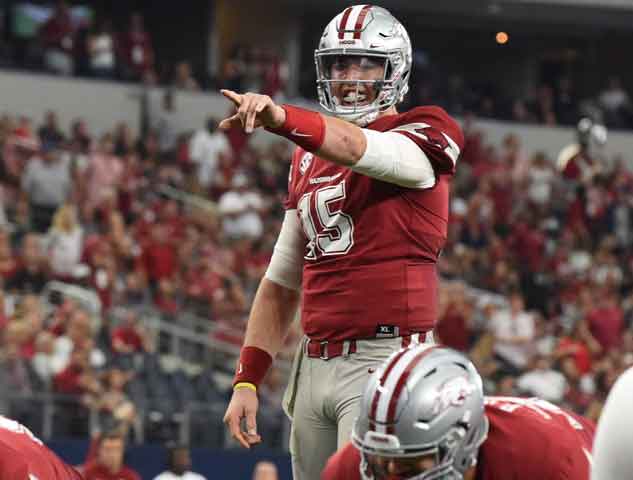 By OTIS KIRK

FAYETTEVILLE

- Arkansas travels to Oxford, Miss., Saturday in search of its first SEC win against a reeling Ole Miss team that lost its starting quarterback (and SEC passing leader) last week to a knee injury.

The Hogs (2-5, 0-4) have lost three in a row, all SEC contests, while Ole Miss has dropped four of its past five games after a 2-0 start. Ole Miss (3-4, 1-3) defeated Vanderbilt 57-35 on Oct. 14 in Oxford. Kickoff is set for 11 a.m. Saturday on the SEC Network.

Both teams will start backup QBs. Arkansas' Austin Allen exited the South Carolina game following the third quarter. He is out with a shoulder injury, and redshirt freshman

Cole Kelley (in Craven Whitlow photo)

has played the past nine quarters with starts against Alabama and Auburn. Kelley has completed 49 of 86 passes (57 percent) for 549 yards and four TDs with two interceptions. 

Arkansas head coach Bret Bielema has dealt with injuries to key players since the spring game when running back Rawleigh Williams III went down with a career-ending injury. The Hogs have lost cornerback Ryan Pulley in the season opener, wide receiver Jared Cornelius Week 3 vs Texas A&M, and center Frank Ragnow and running back Chase Hayden last week against Auburn. Allen could return at some point this season.

The Rebels lost sophomore QB Shea Patterson last week against LSU. Junior QB Jordan Ta'amu played last week will make his first start Saturday vs. Arkansas.

"When you pop on the film you see an offense that didn't change much when he (Ta'amu) came in," Bielema said. "He ran the ball on a designed quarterback draw and it went for big plays. Played a little bit in the Vanderbilt game as well. He's got a live arm.

"They've got a system in place that I think they stay with. It involves the quarterback run game, but also involves the quarterback sitting in the pocket and being in a pretty detailed passing game as well, so we've got our work cut out for us."

Arkansas defensive coordinator Paul Rhoads tries to contain Ta'amu and slow down an Ole Miss passing offense that ranks No. 8 in the nation.

"We've heard so much about (Ta'amu) without seeing him that I didn't know what kind of drop off would exist going from one to two. To be quite honest, I didn't see it," Rhoads said. "He throws a good ball. He came in and was seven of 11 against LSU and had a good amount of yards. He's light on his feet. He ran the designed quarterback draw, as well as scrambled and got himself out of trouble and made some throws on the run. Very little change in the offensive play-calling and what they were trying to accomplish."

Bielema is 3-1 vs. Ole Miss, including a thrilling 53-52 overtime victory in 2015. Bielema got his second SEC win in 2014 when the Hogs downed Ole Miss 30-0 in Reynolds Razorback Stadium. Last year, also in Fayetteville, the Hogs escaped with a 34-30 victory.

"Got a lot of challenges in front of us obviously with personnel and everything else," Bielema said. "But I think this game has always been a great one for us. Competitive, a high level of competition the past several years. We've been able to win the last couple, so I know our guys have had success, but there's no guarantees on anything except what's in front of you."

Ole Miss interim head coach Matt Luke expects the Hogs to run the football. The Rebels have surrendered 260.6 yards and 37.4 points per game. Opponents have passed for 209.6 yards per game.  On offense, Luke will likely let his junior QB run more.

"I think we have to be smart with what we ask him to do," Luke said. "I think he's more of a threat in the run game as far as scrambling than Shea did. I think he can hurt you when he pulls the ball down. You will probably see that a little bit more, but I don't think we'll change a whole bunch."

While Arkansas can still play itself into a bowl game by getting hot late in the season, the Rebels have a self-imposed bowl ban due to NCAA issues that led to the preseason dismissal of former head coach Hugh Freeze.

"I think everyone assumes they (the Rebels) have nothing to play for," Luke said. "We have been through a lot, but it has been good to see these guys keep fighting for each other. That's what they are playing for, each other. It's all about that.

"What gets you up off the mat each week. Our guys have done a great job. There's a lot of examples they are playing hard for each other. I'm excited for that. This is Round 8 of a 12-round fight. We have to respond when the bell rings."

Arkansas offensive coordinator Dan Enos still respects Ole Miss despite its No. 115 national ranking in yards (470) and points (37.4) allowed.

"I think No. 9 (DL Breeland Speaks) is a good player," Enos said. "I think No. 95 (DT Benito Jone) is a very good player. Both those guys play very fast and can be very disruptive. No. 38 (DE Marquis Haynes), I believe he was No. 10 last year, the outside backer can create some situations in the pass rush. They are very multiple and like everybody else in our league they are giving you a lot of three down linemen stuff with four man looks. It's gonna be a challenge as it is every week."