Class 2A/8-Man Week 9 Rankings, Picks & Notes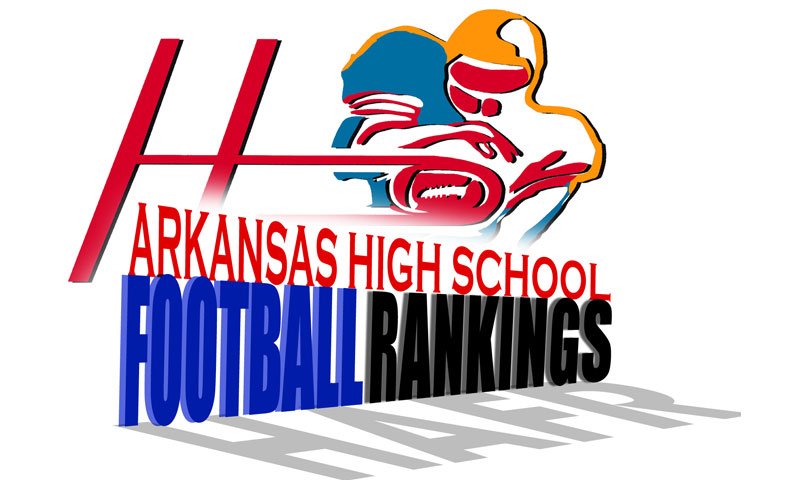 Hootens.com Class 2A Rankings
Week 9, 2022
Copyright Seventy Seven's Publishing
1. Hazen (7-0)
2. Mount Ida (6-1)
3. Bigelow (7-1)
4. Carlisle (7-0)
5. Dierks (8-1)
6. EPC (7-1)
7. Marked Tree (7-1)
8. Conway Christian (6-2)
9. Hector (5-3-1)
10. Earle (5-3)
11. Clarendon (5-3)
12. Episcopal (5-3)
13. Poyen (5-4)
14. Des Arc (4-3)
15. Mineral Springs (5-3)
16. England (4-4)
17. Hampton (3-5)
18. Murfreesboro (3-5)
19. Magazine (3-5)
20. McCrory (1-7)
21. Cross County (2-5)
22. Mountainburg (2-5)
23. J.C. Westside (1-7)
24. Bearden (1-7)
25. Lafayette County (0-8)
26. Baptist Prep (0-9)
27. Foreman (0-8)
28. Marianna (0-7)
29. Decatur (0-8)
LAST WEEK
Hootens.com correctly predicted 12 of 15 games (80 percent) involving Class 2A teams and is 113 of 142 (80 percent) for the season.
WEEK 9 PREDICTIONS (Favored team highlighted in yellow and ALL CAPS)
HOOTENS.COM GAME OF THE WEEK
NO. 3 BIGEOW (7-1, 4-0) at No. 8 Conway Christian (6-2, 4-0): This game is for a conference championship.
Bigelow, aiming for its second conference title in 3 years, comes off a 41-15 win over J.C. Westside. Jayden Dunlap (1 forced fumble, 1 fumble recovery) averaged 11 yards per carry and scored twice in one quarter of play. The Panthers' defense forced 4 turnovers and held the Rebels to 27 total yards. Martell Macon (1 interception) and Silas Schichtl both blocked punts, while Brandt Tipton intercepted a pass.
Conway Christian hasn't won a conference championship since 2018, when the Eagles captured the second of consecutive titles. The Eagles intercepted 6 passes against Mountainburg last week, 3 of which were returned for TDs. Brady Johnson and Coleton Looper intercepted 2 passes each, while Kade Williams and Brady Domokos snagged the other 2. Deagan Meeks returned to the field after breaking his hand on the first play of the year, and he caught a 30-yard TD. Bigelow won this matchup 54-14 last year but expect these defenses to keep it close this year.
1-2A
Mountainburg (2-5, 1-3) at HECTOR (5-3-1, 3-2): This is Hector's last regular-season matchup before playoffs start. The Wildcats dominated Magazine 41-15 last week. QB Jackson Taylor completed 9 of 13 passes for 211 yards and 3 TDs and rushed for another. P.J. Henderson (2-107 receiving, 2 TDs) and Brent Casto (19-157 rushing, 2 TDs) contributed. Peter Waite (112 tackles on the season) recorded 12 tackles in the win. Mountainburg failed to score against Conway Christian.
Decatur (0-8, 0-4) at J.C. WESTSIDE (1-7, 1-3): J.C. Westside dropped its second consecutive game since winning against Magazine three weeks ago. The Rebels scored 2 TDs against No. 3 Bigelow last Friday. The Decatur Bulldogs have had two weeks to prepare for this matchup.
OPEN Magazine (3-5, 2-3)
2-2A
MARKED TREE (7-1, 4-1) at Cross County (2-5, 1-4): Marked Tree sits in first place in the conference, along with Des Arc and EPC. Willie Marshall logged a receiving and rushing TD in last week's victory over Clarendon. QB Kenyon Carter threw 2 TD passes, and Jonah Walker racked up 18 tackles and returned an interception 81 yards for a score. The Cross County Thunderbirds put up 14 points against Des Arc, but still lost by 40.
E. POINSETT COUNTY (7-1, 4-1) at Des Arc (4-3, 4-1): The loser of this game drops out of the three-way tie in the conference. The EPC Warriors bounced back against winless Marianna last week, 62-12. Junior RB Dennis Gaines rushed for 221 yards and 4 TDs. Cooper Argo accounted for 3 TDs (2 receiving, 1 rushing), and Tyler Moore and Tristan Lard picked up 2 more. Omar McCustion intercepted 2 passes, while Argo and Trevor Smith each intercepted one. Des Arc's Trevion Reed ran 10 times for 290 yards and 5 TDs against Cross County last Friday. Cache Flanagan and Daviyon Bell both found the end zone for the Eagles.
Earle (5-3, 3-2) at CLARENDON (5-3, 3-2): Earle is on a 3-game win streak after beating McCrory last week. Senior QB Tyrome Hurst III passed for 225 yards, with 180 of those yards going to B.J. Powell. Joseph McVay (175 rushing yards) helped balance the attack. Clarendon lost to Marked Tree, 44-30. Tranell Black (74 passing yards, 1 TD; 181 rushing yards, 1 TD; 4.5 tackles) did a bit of everything in the loss. Braylon Hampton (7 tackles), Senaca Snow (6.5 tackles) and Antonio Fletcher (6 tackles) led the defense.
MCCRORY (1-7, 1-4) at Marianna (0-7, 0-5): It is unlikely that either of these teams will see any playoff action. McCrory, on a 4-game losing streak, had one of the toughest schedules in 2A with little experience returning from last year's state champion team. Leevi Tucker rushed for 244 yards and 2 TDs in last week's loss to Earle. Reece Rushing (11 tackles, 1 TFL, 1 FR) and Stacy Mitchell (10 tackles) led the defense. Marianna continues to struggle in 2A.
3-2A
MOUNT IDA (6-1, 4-0) at Foreman (0-8, 0-4): Mount Ida breezed past Mineral Springs 35-6 last week. Drayton Standridge accounted for 84 yards and 3 TDs, while Jacob Woodfield found the end zone twice and punched in a 2-point conversion. Foreman was held scoreless against Murfreesboro.
POYEN (5-4, 3-2) at Mineral Springs (5-3, 2-2): Poyen junior QB Brayden Hull injured his shoulder in last week's 21-20 loss to Dierks. Hull ran for a TD and intercepted a pass in the end zone while playing safety before getting hurt. Mineral Springs dropped its second consecutive game, falling to No. 2 Mount Ida, but the Hornets' defense came to play – Ramahj Ware (19 tackles), K.T. Thomas (14 tackles, 1 TFL), D.K. Piggee (11 tackles, 3 TFL) and Napoleon Walker (9 tackles, 2 TFL) stood out in the loss.
MURFREESBORO (3-5, 1-3) at Lafayette County (0-8, 0-4): Murfreesboro blanked winless Foreman 54-0. Junior RB Noah Cox (126 yards, 1 TD), sophomore Ja'Marion Conway (151 yards, 3 TDs), junior Malachi Sanders (69 yards, 2 TDs) and sophomore Lathan Compton (99 yards, 1 TD) led the 445-yard rushing attack. Sophomore Caden Dixon intercepted his sixth pass of the season. Lafayette County lost 48-12 against Class 4A Mena.
OPEN Dierks (8-1, 5-0)
4-2A
CARLISLE (7-0, 4-0) at England (4-4, 2-3): Carlisle is averaging nearly 50 points a game. All-state RB Jason Sullivan rushed for 273 yards and 5 TDs in last week's victory over Baptist Prep. Brice Isbell led the defense with 7 tackles, a sack and 3 TFL. England dominated Bearden, 50-6. QB Chandler Cheek (14-20 passing, 206 yards, 4 TDs; 9-112 rushing, TD) sparkled on offense and added a 46-yard scoop and score. Demario Carter caught 3 passes for 87 yards and 2 TDs. Trenton Arnold and D.J. Turner both recorded interceptions.
HAZEN (7-0, 4-0) at Bearden (1-7, 1-4): Hazen stayed undefeated with a 46-0 win over Episcopal. Josh Dawson caught 4 passes for 70 yards and returned an interception 96 yards for a score on defense. Kolton Tosh picked up 12 stops and returned another interception 47 yards for a TD. Braylon Anderson (8 tackles, 2.5 sacks; 81 rushing yards, 2 TDs) played well on both sides of the ball. All-state QB Luke King completed 11 of 15 passes for 125 yards. Bearden lost to England, 50-6.
Hampton (3-5, 2-2) at EPISCOPAL (5-3, 2-2): Hampton RB Zy Johnson ran 15 times for 115 yards and 2 TDs in last week's loss to Class 3A Junction City. Episcopal failed to score against top-ranked Hazen.
OPEN Baptist Prep (0-9, 0-5)
Hootens.com 8-Man Rankings

Week 9, 2022
Copyright Seventy Seven's Publishing
 AAA SANCTIONED
1. Mountain Pine (8-0)
2. Woodlawn (6-1)
3. Spring Hill (7-2) 
4. Rector (5-2)
5. Izard County Consolidated (5-2)
6. Brinkley (5-2)
7. Strong (4-2)
8. Marvell (2-4)
9. Midland (2-5)
10. Augusta (0-5)
11. Hermitage (0-5)
12. Dermott (0-4)
13. KIPP Helena  (0-3)
UNSANCTIONED TEAMS
1. Mountain View (8-0)
2. Fountain Lake (6-2)
3. Subiaco Academy (5-3)
4. Genoa Central (5-3)
5. Cedar Ridge (4-4)
6. Marshall (2-7)
7. Rose Bud (1-6)
8. Cutter Morning Star (0-7)
9. Parker Chapel (0-8)
LAST WEEK
Hootens.com correctly predicted 8 of 9 games (89 percent) involving 8-Man teams and is 59 of 71 (82 percent) for the season.
WEEK 8 PREDICTIONS (Favored team highlighted in yellow and ALL CAPS)
HOOTENS.COM GAME OF THE WEEK
IZARD COUNTY CONSOLIDATED (5-2, 4-0) at Brinkley (5-2, 3-1) Jared Johnson's ICC team looks to capture the 2A-North Conference title in its first year of competition, but Brinkley's 3-headed attack stands in the way. The Tigers are led by Jeremiah Harris (570 yards and 10 TDs), Mitchell Harris (525, 6 TDs) and Kylan Baker (833 yards passing, 13 TD). 
Strong (4-2, 4-1) at MOUNTAIN PINE (8-0, 4-0) Strong shut down a potent Spring Hill rushing attack, limiting the Bears to 6 points in a defensive struggle. Mountain Pine rushed for 218 yards in its 38-28 win over Woodlawn.
KIPP Delta (0-3, 0-3) at AUGUSTA (0-5, 0-3) Augusta and KIPP Helena are searching for their first wins, and in KIPP's case the first win as a program. Augusta lost 52-6 to Izard County last Friday. KIPP Spent their bye week working on fundamentals. 
DERMOTT (0-4, 0-4) at Hermitage (0-5, 0-4) Derrick Clark's Dermott Rams look to claim their first victory of 2022. Hermitage has been competitive early in most conference games, but depth (only 11 players) has been catching up as the game wears on. 
WOODLAWN (6-1, 3-1) at Marvell (2-4, 1-3)
Woodlawn committed uncharacteristic turnovers and penalties in the first half of its 38-28 loss to Mountain Pine. Marvell defeated Dermott 44-6 last week. 
UNSANCTIONED PLAYOFFS
First round of playoffs begins this week for schools not sanctioned by the Arkansas Activities Association:
Subiaco Academy (5-3, 5-2) at FOUNTAIN LAKE (6-2, 5-1) Fountain Lake scored 49 points in the first half against Cutter Morning Star last week. Senior Juan Diggs averages 217 total yards per game and has scored 19 TDs. Sophomore QB Destyn Fields has thrown for 757 yards and 8 TDs with no turnovers. Sophomore LB Jaron Adams (96 tackles) leads the Cobras defense. Diggs and senior safety Evan East have combined to create 11 turnovers (6 interceptions, 5 fumble recoveries.). Subiaco Academy has rushed for 1,895 yards, with junior Brody Koch (605 yards, 11 TDs) leading the way. Giovanni Vargas (471 yards, 8 TDs) is the change-of-pace back. Koch (119 tackles) leads the defense. DT Cameron Raino (50 tackles) draws frequent double-team blocks, allowing Koch to run free. 
Genoa Central (5-3, 4-3) at MOUNTAIN VIEW (8-0, 7-0) Mountain View averages 346 rushing yards per game Elusive junior QB Drew Shelton (878 rusbing yards, 409 passing, 22 total TDs) leads the offense. Trampas Stubbs, who suffered a hand injury in August, will has rushed 73 times for 788 yards in 6 games since his return. Levi Rorie (570 yards, 8 TDs) acts as Mountain View's short-yardage specialist. Landon Goins (119 tackles) and Jace Tinkle (89 tackles) lead a Mountain View defense that has held opponents to 15 points per game. Genoa Central has battled injuries the past month, losing leading rusher Harrison Wilson to an ankle injury. Genoa fell to Mountain View 30-12 in Week 5.