Class 6A Week 9 Rankings, Notes & Picks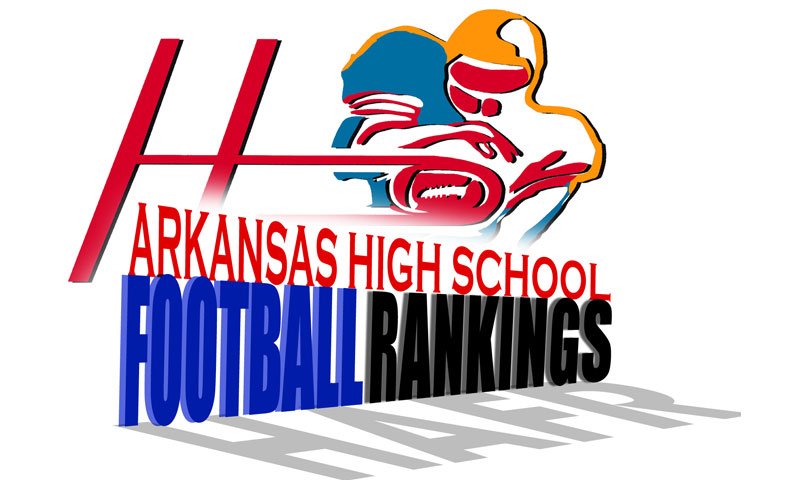 Hooten.com Class 6A Rankings
Week 9, 2022
Copyright Seventy Seven's Publishing
1. Pulaski Academy (8-0)
2. Greenwood (7-1)
3. LR Catholic (8-0)
4. Lake Hamilton (7-1)
5. Benton (6-2)
6. LR Christian (6-2)
7. Marion (6-2)
8. West Memphis (6-2)
9. El Dorado (4-4)
10. Russellville (4-4)
11. Van Buren (1-7)
12. Greenbrier (2-6)
13. Sylvan Hills (2-6)
14. Sheridan (2-6)
15. Searcy (2-6)
16. Greene Co. Tech (2-6)
17. Mountain Home (1-7)
18. Siloam Springs (0-9)
19. Jacksonville (0-8)
LAST WEEK
Hootens.com correctly predicted  9 of 9  games (100 percent) involving Class 6A teams and is 68-13 (84 percent) for the season
WEEK 9 PREDICTIONS (Favored team highlighted in yellow and ALL CAPS)
HOOTENS.COM GAME OF THE WEEK
NO. 1 PULASKI ACADEMY (8-0, 6-0) at No. 2 Greenwood (7-1, 6-0)
This is a game the state has been anticipating since it was announced that Pulaski Academy would be playing in Class 6A this season. 
The Bruins , on a 19-game winning streak, are led by QB Kel Busby, who has passed for 2,966 yards and 34 TDs; RB Kenneth Jordan has rushed for 917 yards and 9 TDs. "I'm excited about it," Pulaski Academy Coach Anthony Lucas said. "They [Greenwood] has been dominated 6A for a while. And we're a program that had a good stay in 5A over the past 10 years since I've been here. Our kids know what is at stake. They understand the tradition of the school. We're just going to take it one day at a time this week and get ready to go to Greenwood."
Greenwood is led by QB Hunter Houston, who has passed for 2,316 yards and 22 TDs, and RB Jake Glover, who has rushed for 618 yards and 9 TDs. "It's Week 9, so kids have done a lot to get to this point," Greenwood Coach Chris Young said. "People aren't excited about a game if we're 5-3. We like playing good football teams, and we know PA is one of the best. What they've done with their program is unbelievable. We know it's a challenge, but it's something we're embracing."
6A-EAST
LR CATHOLIC (8-0, 7-0) at El Dorado (4-4, 4-3): Catholic's Dominic Keeton scored 2 TDs in a 42-6 win over Jacksonville last week. El Dorado, the defending Class 6A state champion, has been playing better as of late, coming off a 37-19 win over Sylvan Hills behind the 3 touchdowns from Sharadious Plummer. 
West Memphis (6-2, 5-2) at BENTON (6-2, 6-1): West Memphis bounced back from its loss to Marion to beat Greene County Tech 42-29. The Blue Devils have clinched their first winning season since going 7-5 in 2019. Benton has scored 55 or more points in each of its past 5 games. The Panthers have outscored their opponents by an average of 58.8-17.4 during this stretch.
Sylvan Hills (2-6, 2-5) at MARION (6-2, 6-1): Sylvan Hills' Dylan Harris rushed for 144 yards on 24 carries in a 37-19 loss to El Dorado. Marion sophomore RB Jalen Smith rushed for 186 yards and 4 TDs in a 43-7 win over Sheridan. 
Jacksonville (0-8, 0-7) at SEARCY (2-6, 2-5): Jacksonville is averaging only 10.5 points per game while allowing 36.3 points per game. Searcy senior RB Dede Johnson has rushed for 1,335 yards and 17 TDs this season. 
SHERIDAN (2-6, 2-5) at Greene County Tech (2-6, 1-6): Sheridan has lost 4 consecutive after starting the season 2-2. Jarrett Atchley scored Sheridan's TD on a 21-yard run in a 43-7 loss to Marion. Greene County Tech has lost 3 in a row after beating Jacksonville for its second win Sept. 30. 
6A-WEST
LR CHRISTIAN (6-2, 4-2) at Greenbrier (2-6, 1-5): LR Christian QB Walker White threw for 207 yards and 3 TDs in a 47-14 win over Van Buren. Greenbrier played No. 1 Pulaski Academy tough for a half before falling 50-14. Greenbrier QB Kane Richardson scored 2 TDs. 
Russellville (4-4, 4-3) at LAKE HAMILTON (7-1, 5-1): Russellville has already clinched a playoff spot. RB Tracy Daniels rushed for 145 yards and a TD in a 42-21 loss to Greenwood. Lake Hamilton was off last week after falling 24-0 to Greenwood two weeks ago. The Wolves were held to 168 yards rushing in the loss. 
MOUNTAIN HOME (1-7, 1-5) at Van Buren (1-7, 1-5): The Bombers got their first win last week, beating Siloam Springs 44-17. The Bombers can get into the playoffs with wins over Van Buren and Greenbrier in the final two games. Van Buren has lost 5 in a row after beating Greenbrier 40-14 on Sept. 16. WR Malachi Henry caught 5 passes for 112 yards in a 47-14 loss to LR Christian. 
OPEN Siloam Springs