Class 5A Week 9 Rankings, Notes & Picks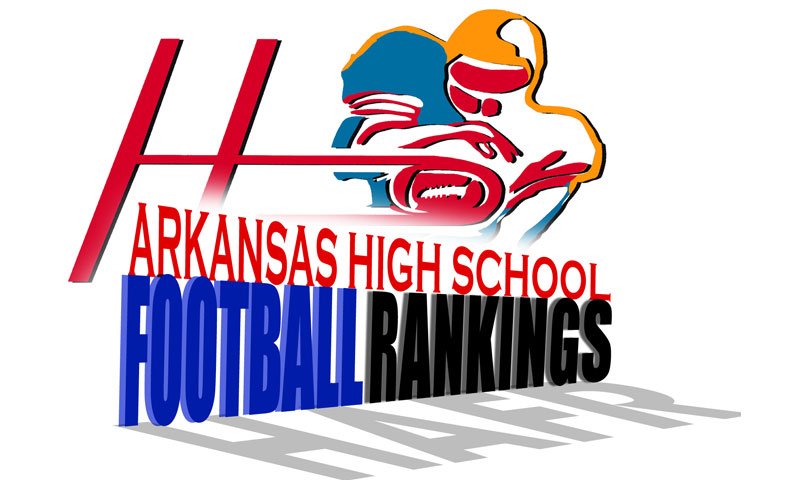 Hootens.com Class 5A Rankings
Week 9, 2022
Copyright Seventy Seven's Publishing
1. LR Parkview (6-2)
2. Joe T. Robinson (7-1)
3. Shiloh Christian (7-1)
4. Camden Fairview (7-1)
5. Mills (7-1)
6. Hot Springs (6-2)
7. Farmington (5-3)
8. Prairie Grove (7-1)
9. Nettleton (7-1)
10. Valley View (7-1)
11. Wynne (6-2)
12. Batesville (6-2)
13. Harrison (5-3)
14. Magnolia (5-3)
15. Morrilton (6-3)
16. Pine Bluff (5-3)
17. Vilonia (4-4)
18. Alma (5-3)
19. Southside (4-4)
20. White Hall (3-5)
21. Beebe (4-4)
22. Maumelle (3-5)
23. HS Lakeside (2-6)
24. Dardanelle (3-5)
25. Pea Ridge (3-5)
26. Texarkana (2-6)
27. Watson Chapel (1-7)
28. Brookland (1-7)
29. Hope (1-7)
30. Forrest City (1-7)
31. Clarksville (0-8)
32. Paragould (1-7)
33. De Queen (0-8)
LAST WEEK
Hootens.com correctly predicted 15 of 16 games (94 percent) involving 5A teams. Hootens.com has correctly predicted 138 of 166 games (83 percent) this season.
WEEK 9 PREDICTIONS (favored team highlighted in yellow and in ALL CAPS)
HOOTENS.COM GAME OF THE WEEK
NO. 3 SHILOH CHRISTIAN (7-1, 5-0) at No. 8 Prairie Grove (7-1, 5-0)
These teams are former 1-4A rivals, and Shiloh Christian owns a 9-7 advantage in the series. Shiloh Christian won 4 conference titles in a row before bumping to Class 5A this fall, while Prairie Grove won league titles from 2015-2017.
Shiloh Christian senior QB Eli Wisdom took over in the fourth quarter last week against Farmington, breaking a 30-30 tie by engineering 3 TD drives. Wisdom finished with 440 yards (211 rushing and 4 touchdowns, and 229 passing and 2 TDs). Wisdom becomes the second Arkansas prep player (former Nashville QB A.J. Whitmore is the other) to pass for more than 7,000 yards and rush for more than 3,000 yards in a career. Senior Bodie Neal caught 10 passes for 175 yards and 1 TD, and he's passed the 1,000-mark this season. Junior Bo Williams (18-188 rushing, 2 TDs) also contributed on offense, with senior Noah DeJarnatt (21 tackles) and Seth Lowe (10 tackles, 1 interception) leading the defense.
Prairie Grove has 7 wins this season running Coach Danny Abshier's patented Wing T. The Tigers ran for almost 400 yards in last week's 45-30 victory at Alma. Senior Ethan Miller (13-205 rushing, 4 TDs) and Coner Whetsell (18-192 rushing, 2 TDs) led the way..
5A CENTRAL
BEEBE (4-4, 2-4) at Watson Chapel (1-7, 0-6): Beebe didn't play last week after losing to Joe T. Robinson 37-16 two weeks ago in a game that was 10-10 in the third quarter. Senior QB Zach Grant threw a TD pass to junior Sam Moore. Watson Chapel has 7 consecutive losses since beating Texarkana in the opener, including last week, 39-38 in OT at Maumelle.
White Hall (3-5, 2-4) at JOE T. ROBINSON (7-1, 6-0): White Hall, the 2021 state runner-up, needs an upset and some help to qualify for the playoffs after losing to Vilonia last week 38-17. QB Noah Smith passed for 217 yards and ran for 66 yards, while Jayden Smith generated 65 yards. Joe T. Robinson, down to its fifth-team RB, showcased senior WR Brandon Greil in last week's 29-28 victory at Mills. Greil, lining up at Wildcat QB, sprinted 46 yards for a TD to open the second half. He finished with 13 carries for 81 yards, while sophomore QB Quentin Murphy ran 13 times for 97 yards and 2 TDs. Murphy threw a game-winning 59-yard TD strike to senior Chase Nichols. Junior Ian Dietz led the Senators with 18 tackles, while senior LB Ashtyn Williams logged 11 tackles and 2 forced fumbles.
MILLS (7-1, 5-1) at Morrilton (6-3, 4-3): Mills must bounce back from last week's heart-breaking 29-28 loss to Joe T. Robinson. The Comets were inches short of scoring the winning 2-point conversion. Junior QB Achilles Ringo ran in 2 TDs, and he converted 4 fourth-down plays with QB sneaks.
Maumelle (3-5, 1-5) at VILONIA (4-4, 4-2): Vilonia's Jack Vines ran 4 times for 50 yards and 2 TDs, caught 6 passes for 99 yards and 1 TD, threw a 14-yard TD pass and returned a punt 66 yards for another TD in last week's 21-point win at White Hall. Maumelle took down Watson Chapel 39-38 in overtime last week. Senior QB Weston Pierce totaled 263 yards (157 rushing, 107 passing), while receivers Alan Timmons (65 yards, 2 TDs) and Jaiden Worsham (86 yards, 2 TDs) provided big plays in the passing game. Defensive back Karsten Hillard registered 8 tackles and 1 interception.
OPEN Pine Bluff
5A EAST
BATESVILLE (6-2, 4-1) at Southside (4-4, 2-3): These neighbors meet for the first time on the football field. Southside must win out and get some help to make the playoffs in its first season in Class 5A. The Southerners lost at Valley View last week 21-14 (Valley View scored winning TD with 3 minutes left). Savion Hall (50 yards passing, 92 rushing) performed admirably in his first start at QB, Coach Kenny Simpson says. Junior wingback/DL Issac Wallis (6 carries, 48 yards; 14 tackles, 4 TFL) and junior RB Drew Case (14 carries, 52 yards, 1 TD) contribute. Batesville Coach Ryan Marrow says the offensive line played well in last week's 51-7 win over Brookland, allowing QB Rhett McDonald to pass for 181 yards and 3 TDs. Conner Foree caught 2 passes for 47 yards and a TD, and on registered 7 tackles and 1 interception on defense. Batesville blocked a punt and recovered it for a TD and had a 55-yard fumble return for another TD.
Paragould (1-7, 0-5) at BROOKLAND (1-7, 0-5): A battle of winless conference teams. Brookland's 5 conference losses are by an average of 46-13. The Bearcats have scored a TD or less in three consecutive games. Brookland yielded 329 yards in last week's 51-7 loss to Batesville. Paragould has lost its 5 league games by an average of 33-3. The Rams have scored 1 TD each of the past 2 weeks after being held scoreless in 5 of 6 games to open the season.
WYNNE (6-2, 4-1) at Forrest City (1-7, 1-4): Wynne, under interim coach Clark McBride, jumped on Paragould 35-0 in the second quarter last week, easing to a 35-7 victory. The Yellowjackets held Paragould to 169 yards, while the Yellowjackets gained 425 yards, mostly in the first half. FB Cobey Davis ran for 92 yards and 1 TD, while QB John Watson had 4 TDs (2 rushing, 2 passing). Improving Forrest City hung with Nettleton last week before losing 34-20. The Mustangs turned the ball over twice and yielded 249 yards rushing.
Nettleton (7-1, 4-1) at VALLEY VIEW (7-1, 5-0): Valley View needs one more win to at least a share of its third conference title in 6 years, and the Blazers get it outright with 2 more wins. Valley View took down Southside 21-14 last week, scoring the winning TD with 3 minutes left. Junior Slade Caldwell ran 15 times for 88 yards and 1 TD, while T.J. Starks caught 3 passes for 38 yards and 1 TD. Senior Baylor Hancock had 11 tackles. Nettleton must win out to earn a share of its second straight conference title and fourth in 6 years. The Raiders beat Southside by 1 point two weeks ago and Forrest City by 14 points last week. Sophomore QB Maddox Hampton completed 11 of 21 passes for 126 yards and 3 TDs, while senior Ke'Andre Pope ran 23 times for 128 yards. Junior Curtez Smith (6-87 receiving, 1 TD; 8-69 rushing, 2 TDs) continues stamping himself as one of the league's top playmakers. Senior LB Blake Brown had 13 tackles and 1 fumble recovery.
5A SOUTH
MAGNOLIA (5-3, 2-3) at De Queen (0-8, 0-5): Magnolia likely headed to the No. 4 playoff seed after losing games to Camden Fairview (35-19), Hot Springs (41-35) and LR Parkview (42-28). Senior Garrion "B.J." Curry (20-181 rushing, 2 TDs against Parkview) averages 190 yards per week. Caden Herold (5-10, 177) started his first game at left tackle and "did an outstanding job against Parkview's big defensive line," Coach Mark King says. Winless De Queen has lost its 5 conference games by an average of 28 points.
TEXARKANA (2-6, 1-4) at Hope (1-7, 1-4): Improved Texarkana hung with Hot Springs (trailed 22-15 in the third quarter) last week before losing 55-15. Sophomore Courtland Loudermill rushed 24 times for 95 yards and 1 TD. Hope was held to 33 yards in last week's 49-0 loss at Camden Fairview.
CAMDEN FAIRVIEW (7-1, 5-0) at Hot Springs (6-2, 4-1): Camden Fairview closes the season with critical games vs. Hot Springs and LR Parkview to decide the conference title. The Cardinals earned their second consecutive shutout last week, 49-0 over Hope. They jumped to a 35-0 advantage in the second quarter. A.J. Alsobrook ran for 3 TDs. Hot Springs pulled away from Texarkana in the second half for a 55-15 victory. Junior QB Matt Contreras passed for 232 yards and 4 TDs, while Perry Jones, Jr., ran 20 times for 110 yards and 1 TD. Derrick Hicks returned a punt 55 yards for a TD, while T.J. Brogden caught 2 passes for 86 yards and 1 TD. Both coaches agree the winner will be the team that plays more physical at the line of scrimmage.
HS Lakeside (2-5, 2-3) at LR PARKVIEW (6-2, 5-0): HS Lakeside has won two in a row after starting the season 0-5. Senior Towle Douglas and junior Jacob Hermosillo combined for 193 yards and 3 TDs in last week's 35-12 win over De Queen. Sophomore receiver Ben Vincent caught 4 passes for 86 yards and 1 TD. LR Parkview is headed for a showdown next week with Camden Fairview. Junior QB Eric McGehee threw 4 TD passes last week in a 14-point win at Magnolia. Sophomore Monterrio Elston grabbed 2 TD passes, while Darrien Bennett ran for a TD.
5A WEST
ALMA (5-3, 2-3) at Dardanelle (3-5, 1-4): Alma trailed Prairie Grove 16-14 in the third quarter last week before losing 45-30. QB Joe Trusty passed for 214 yards and 2 TDs, and ran 15 times for 49 yards and 2 TDs. Dardanelle lost at Harrison 56-13. The Sand Lizards turned the ball over 3 times and surrendered more than 300 yards rushing.
HARRISON (5-3, 3-2) at Clarksville (0-8, 0-5): Harrison junior Braden Long ran for 178 yards and 6 TDs in last week's 43-point win over Dardanelle. Senior Abe Estes made 4 tackles, including 2 TFL, and sophomore Jackson Criner had 2 tackles and 2 interceptions. Clarksville trailed Pea Ridge 14-7 in the second quarter last week before losing 47-14. The Panthers turned the ball over 2 times and yielded 388 yards.
 FARMINGTON (5-3, 3-2) at Pea Ridge (3-5, 1-4): These former 1-4A rivals have met regularly since 2004, with Farmington winning 9 of the past 14 games. Farmington must shake off last week's 51-30 loss at Shiloh Christian. The game was tied at 30-30 in the fourth quarter. QB Sam Wells passed for 192 yards and 2 TDs, and ran for 96 yards, while senior receiver Peyton Funk grabbed 2 TDs. Pea Ridge LBs Luke Vandermolen, Malachi Beirman, Jace Dye and Justin Merino played well in last week's 33-point victory over Clarksville.