Class 3A Week 9 Rankings, Notes & Picks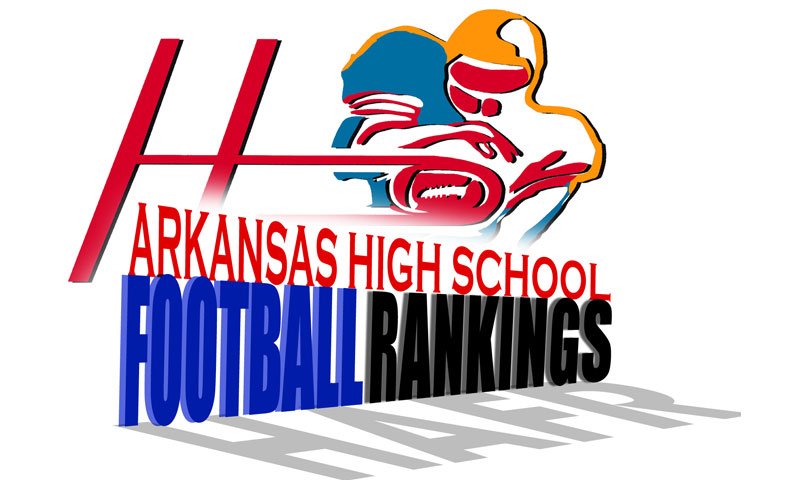 Hootens.com Rankings
Class 3A, Week 9, 2016
Copyright Hooten Publishing, Inc.
1. Charleston (8-0)
2. Prescott (8-0)
3. Glen Rose (7-1)
4. Fordyce (7-1)
5. Junction City (6-2)
6. Centerpoint (5-3)
7. Bald Knob (8-0)
8. Smackover (5-3)
9. Mountain View (7-1)
10. Rivercrest (5-3)
11. Elkins (6-2)
12. Newport (7-1)
13. Clinton (6-2)
14. Jessieville (6-2)
15. Walnut Ridge (5-3)
16. H. Grove Haskell (4-4)
17. Piggott (6-2)
18. Harding Academy (4-3)
19. Greenland (5-3)
20. Lake Village (3-5)
21. Atkins (5-2)
22. McGehee (4-4)
23. Fouke (4-3)
24. Cedar Ridge (5-3)
25. Paris (4-4)
26. Manila (5-3)
27. Lamar (4-4)
28. Mayflower (4-3)
29. Barton (4-4)
30. Horatio (3-5)
31. Genoa Central (4-4)
32. Perryville (4-4)
33. Melbourne (3-5)
34. Gurdon (3-5)
35. Mansfield (2-6)
36. Hoxie (2-6)
37. Osceola (2-6)
38. Cedarville (1-7)
39. Marianna (2-5)
40. Green Forest (2-6)
41. Marshall (1-7)
42. Episcopal Collegiate (1-7)
43. Yellville-Summit (0-7)
44. Corning (0-8)
45. Bismarck (0-8)
46. Two Rivers (0-8)
47. Drew Central (0-8)
48. Rose Bud (0-8)

HOOTENS.COM GAME OF THE WEEK
No. 4 Fordyce at No. 5 Junction City
Fordyce has shut out its past two opponents, including Smackover 26-0 Week 7. Junction City defeated Smackover 17-14 last week. Fordyce junior QB Ketric Sledge has completed timely passes for 836 yards and 13 touchdowns with just two interceptions. Senior RB T'Juan Thomas has rushed for a team-high 832 yards and eight TDs. Thomas has recorded a team-high 66 tackles, including 17 TFL. Junction City senior RB and leading rusher Demontauz Gray did not play last week is no longer on the team. Junior Hishmma Taylor carried 19 times for 146 yards last week, and senior Tez Brown caught four passes for 83 yards. Junior and tackle leader Terrell Gibson recorded 17 stops vs. Smackover. JC held Smackover to 204 yards offense.
Junction City vs. Genoa Central extended highlights.

LAST WEEK
Hootens.com correctly picked 18 of 23 games (78 percent) last week involving 3A teams. For the season, hootens.com has correctly predicted 192 of 247 winners (78 percent).

WEEK 9 PREDICTIONS (favored team in CAPS followed by point spread)
1-3A
ELKINS (6) at Greenland: Elkins senior QB Jake Strode completing 69 percent of his passes for 1,563 yards and 13 TDs with two INTs. Senior RB Colten Vaught (7 ypc, 18 TDs) has made a case for league offensive MVP behind a line anchored by senior RT Denton Foster (6-3, 250). Elkins may own the most team speed in the league, which fuels a defense that allows 15.6 ppg and just shut out Melbourne. Greenland senior Paycen Dennis averages 123 all-purpose yards per week, rushing, receiving (team-high 590 yards this year) and returning kicks. Dennis also paces the Pirates with 68 tackles at linebacker, followed by senior LB Dustin Thomason with 67 stops.
Marshall at MOUNTAIN VIEW (36): Marshall senior QB Andrew Phillips can sling it, and Mountain View secondary may be suspect, but senior LBs Camron Misenheimer (57 tackles), Levi Vallery (34 tackles) and Ryan Sullivan (29 tackles) are solid.
Green Forest at MELBOURNE (12): Green Forest tied with Yellville-Summit for lowest points production in the league (11.6 ppg),  but  Mebourne and senior WR Trestin Lawrence could not find the end zone last week in a 31-0 loss at Elkins.
Yellville Summit at CLINTON (38): Clinton stays in running for second playoff seed or better, peeking ahead to a huge trip Week 10 to Mountain View with a share of league title on the line. Watch Clinton at CAC highlights.

2-3A
Episcopal at MAYFLOWER (28): Episcopal back down to 15 players, while Mayflower limps home after 41-20 loss at Cedar Ridge. Mayflower allows 29 ppg.
Marianna at HARDING ACADEMY (35): Harding Academy idle last week and without a homecoming date (Rose Bud) for the second year in a row. Five different Harding Academy receivers with double-digit receptions this season, led by junior Travis Turley (6-4, 165) with 44 catches for 740 yards and six TDs. Senior Carter Sipe (6-4, 205) has 31 receptions for 442 yards and five TDs.
Barton at CEDAR RIDGE (2): Barton senior A.J. Burns (6-5, 200) may be the most natural wideout in the league, but the Bears have trouble getting the ball to him. Run-heavy Cedar Ridge senior Jordan Bumpous (610 yards, eight TDs) and junior Daylon Gant (892, eight TDs) share the bulk of the carries.
BALD KNOB is open. Watch Bald Knob at Des Arc higlights.

3-3A
Hoxie at PIGGOTT (6): Piggott has lost two games by one point and both on failed two-point conversion attempts. Diamond T operator Piggott lost at Newport 7-6 Week 6 on a toss sweep and at Walnut Ridge 14-13 last week on a faked PAT after driving (via run) 80 yards late for a TD. Piggott failed to score on three other trips inside the WR 20-yard line. Hoxie got past Corning (42-21) last week, with seven Corning starters missing the first half. Watch Trumann vs. Hoxie highlights.
RIVERCREST (2) at Manila: Rivercrest sophomore RB Kentavious Robinson has rushed for 1,067 yards and 17 TDs behind senior pulling guard  Freddie Ware (6-3, 340). Robinson ran for 208 yards and two TD last week in a 24-20 win over Newport and collected a team-high 18 tackles, including five TFL. Robinson paces the Colt defense with 90 tackles (16 TFL).
Corning at WALNUT RIDGE (27): Corning, which won a junior high league title three years ago, has lost 20 consecutive varsity games dating to 2014. Walnut Ridge knocked off Piggott 14-13 last week to position itself to finish fourth in the league, possibly third if Piggott slips up the next two weeks. Walnut Ridge senior RB Luke Harper (6-2, 215) has topped 1,000 yards this fall behind a line anchored by senior two-way lineman Matthew Shaw (6-4, 270). Shaw and junior Tristan Hoffman man the ends of a 4-4 defense (15.3 ppg allowed) with intense junior LB Colin Phillips
NEWPORT (25) at Osceola: Newport rebounds from a four-point loss (24-20) at Rivercrest where its top-rated defense (10 ppg) in Class 3A gave up 208 rushing yards and two TDs to Rivercrest sophomore Kentavious Robinson.

4-3A
LAMAR (20) at Two Rivers: Lamar just got past Cedarville 20-18 last week by denying Cedarville's two-point conversion attempt with four minutes to go and running out the clock on the ensuing series. Two Rivers allows a league-high 43 ppg.
Cedarville at PARIS (1): Possible upset alert. Cedarville led Mansfield and Perryville by 14 points in the fourth quarter and lost both games. It almost upset Lamar last week (20-18 loss) but could not convert a two-point conversion with four minutes to go. Gritty senior fullback Caleb Stockton runs hard for Cedarville. On third-and-20 from the Cedarville 6-yard line, senior TE Dakota Hopewell (6-5, 198) caught a jump-ball pass as the Lamar cornerback fell down and raced 94 yards for a TD. Cedarville defenders made multiple one-on-one tackles to prevent TDs. Paris in a three-way tie for third in the league standings with Lamar and upstart Perryville. Paris kept Two Rivers winless in the league play last week 42-14.
Perryville at CHARLESTON (19): Top-ranked and unbeaten Charleston sits atop the league standings and should sweep the 4-3A  to earn the top playoff seed, a first-round bye and fairly clear path to the state quarterfinals. Senior QB Jackson Rowland completed 19 of 31 passes last week for 323 yards and five TDs without an interception. Watch Charleston at Episcopal highlights. Upstart Perryville took advantage of multiple short fields last week to explode for 40 points in a 27-point rout of Mansfield. Sophomore QB Landon Walker completed three passes for 73 yards and three TDs. Junior Chris Hoyt caught two of those TD passes, while junior Hunter Lawrence carried 11 times for 77 yards and three TDs. Senior LB Rhett Fuller led the defense with 18 tackles, one INT and one pass breakup.
Mansfield at ATKINS (25): Atkins defense managed to keep Charleston's run game in check last week, allowing just 154 yards with a long run of 27 yards, but top-ranked Charleston passed for 323 yards and five TDs in 55-20 rout that was 26-13 at halftime. Mansfield lost to Perryville 40-13.

5-3A
CENTERPOINT (11) at Jessieville: The No. 3 playoff spot on the line here. Upstart Jessieville, with a key league win Week 6 over Haskell, has positioned itself to grab the third seed with a victory over Centerpoint. Centerpoint has won the past three games in the series (51-14 in 2014; 35-6 in 2015). Centerpoint beat Haskell 34-18 two weeks ago, but the Knights could not outscore Glen Rose (five turnovers) last week in a 35-28 loss, despite 231 passing yards, two TDs and two rushing TDs by senior QB Keenan Owens.
Horatio at GLEN ROSE (19): No. 3 Glen Rose, plagued by turnovers all season, overcame five last week at Centerpoint, including three on its side of the 50-yard line, to win 35-28.
PRESCOTT (42) at Bismarck: Barring a major upset the next two weeks, No. 2 Prescott will earn the league's top playoff seed and should play at home for at least two rounds. Watch Prescott vs. Hope extended highlights.
Gurdon at H.G. HASKELL (26): Haskell has dropped three straight, and receivers Jake Brooks, Blake Gwatney and Dillon Hager did not play (nagging injuries) last week in the 41-0 loss at Prescott. They should return this week. Watch Haskell vs. Fountain Lake extended highlights.

6-3A
FORDYCE (6) at Junction City: See hootens.com Game of the Week.
Drew Central at FOUKE (16): Fouke junior RB Charley Baker (9 ypc) owns breakaway speed, but all-state junior RB Jarrett Easley (650 yards, five TDs) gets the bulk of the carries (21 per game).
Lake Village at GENOA CENTRAL (6): Lake Village last week notched its first win (defeated McGehee 39-38) over a team not named Drew Central since beating Marvell in the 2011 season opener. Sophomore lefty QB Aarion Kilgore has completed 100 passes this year for 1,406 yards and 10 TDs, including 45 completions to senior WR Xavier Brunner for 594 yards and seven TDs. Kilgore leads the Beavers with 802 rushing yards and 11 TDs. Watch Genoa Central at Junction City extended highlights.
SMACKOVER (10) at McGehee: After back-to-back losses to Fordyce and Junction City, Smackover needs a road win at McGehee to stay alone in third place in the 6-3A standings.