HOGS vs. Tulsa: desperate for a W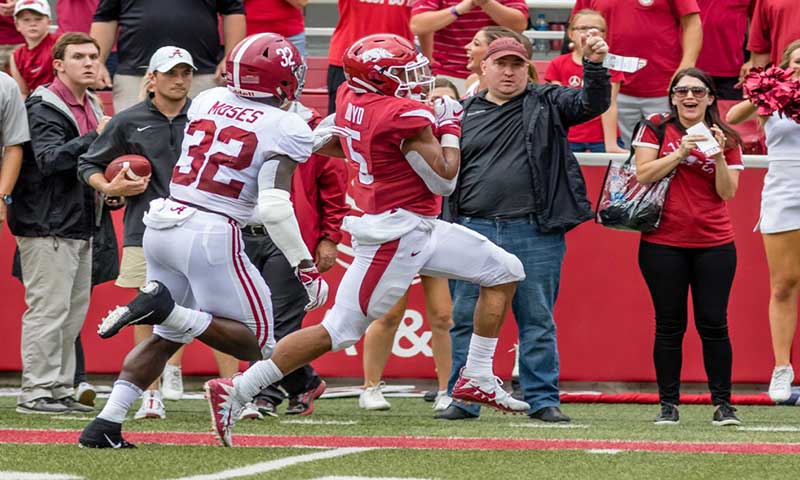 FAYETTEVILLE - Tulsa's Golden Hurricane considered the game with Arkansas more of a rivalry than the Razorbacks did when they played annually in decades past.
And that hasn't changed since Tulsa and Arkansas play occasionally, as they do at 11 a.m. Saturday for homecoming at Reynolds Razorback Stadium.
The Golden Hurricane of fourth-year coach Philip Montgomery isn't gusting at 1-5. The Razorbacks that first-year coach Chad Morris inherited for 2018 wallow at 1-6.
By the records, Arkansas and Tulsa appear equally inept. However, just as when they played first in 1899 and consecutively from 1944-1990, the Razorbacks are favored, this time by seven. 
Arkansas represented the more respected Southwest Conference and Tulsa mostly the Missouri Valley Conference during that consecutive string. Arkansas dominated the series 54-15-3 and won the past 18 meetings, all in Fayetteville. Arkansas now represents the powerful SEC vs. Tulsa of the American Athletic Conference (formed in 2014).
Yet, Arkansas victories over Tulsa seldom came easily. In its three previous meetings representing the SEC against Tulsa, Arkansas won 24-11 in 1992, 30-23 in 2008 and 19-15 in 2012.
Morris, Tulsa's offensive coordinator in 2010, knows the Golden Hurricane history for inspired play against its Power Five neighbors like Arkansas, Oklahoma and Oklahoma State. At SMU, Morris coached AAC games against Tulsa from 2015 through 2017.
Though Tulsa is 0-5 against FBS opponents this fall after beating lower FCS division University of Central Arkansas, the Golden Hurricane last week showed its history of scaring the bejabbers out of favored opponents lives on. Tulsa had No. 21 and AAC rival South Florida in trouble before USF escaped, 25-24 at Tulsa.
At Austin back on Sept. 8, the now seventh-ranked Texas Longhorns were fortunate to survive Tulsa 28-21.
"This is a very well-coached football team," Morris said. "A team that is a lot better than their record. Two hours up the road we know we're gonna get their absolute best. There's no doubt we will have to be on our game this week."
But Tulsa has allowed 69 points off turnovers this season, committing almost 2.5 turnovers per week. It has lost 10 straight to FBS opponents, including seven in a row to Power 5 conference members.
Montgomery also has called the Razorbacks "better than their record."
Montgomery has cause to tout Arkansas above its one-win season that's 0-6 against FBS foes. After a dreadful 44-17 loss in Fayetteville to North Texas, the Razorbacks played far better in their 0-4 SEC start against then nationally ranked Auburn, currently No. 17 Texas A&M and No. 1 Alabama. Then last week leading Ole Miss 27-17 at half and 33-24 after three quarters, the Razorbacks lost 37-33 on a 97-yard TD drive with 42 seconds left.
Both teams feature injured quarterbacks. Tulsa has played three QBs so far, recently going with redshirt freshman Seth Bloomer because early-season sophomore starter Luke Skipper was injured.
All three, junior Chad President has quarterbacked in four games, share a trait, Arkansas sophomore safety Kamren Curl said.
"All of them are mobile quarterbacks," Curl said.
Ole Miss' mobile QB Jordan Ta'amu rushed for 154 yards and passed for 387 yards last week vs. Arkansas in Little Rock.
Arkansas finally settled on Ty Storey as its QB the past four SEC games, but Storey has been constantly medically monitored since exiting Saturday's game with a head injury and Arkansas leading in the fourth quarter.
Storey, in the non-contact jersey that all Arkansas QBs wear in practice, was cleared to practice Tuesday and Wednesday but will not start vs. Tulsa because his healing is not sufficient to play in Saturday's game.
Greenwood native and freshman QB Connor Noland, who took first-team snaps during Wednesday's practice, and third-year sophomore backup Cole Kelley, the current backup for the 1-6 Razorbacks, split practice reps behind Storey the past two weeks.
Noland has played only during mop-up time in the 44-17 loss to North Texas on Sept. 15, but he may get his first start Saturday.
Kelley completed a first-half TD pass last week when Storey was briefly shaken up by a hard hit, but Kelley couldn't keep the Hogs ahead with the 33-24 lead they had to start the fourth quarter.
With running back Devwah Whaley undergoing ankle surgery, Rakeem Boyd (in Crant Osborne photo above) carried 15 times for 103 yards against Alabama and seven times for 109, including a 69-yard TD vs. Ole  Miss. Boyd, who caught two passes against Ole Miss before a back injury sidelined him in the second half, is full-go for Saturday.
"That was big," junior left tackle Colton Jackson said of Boyd back to practice. "Rakeem just gets better and better each week."