Recruiting: banner year for in-state kickers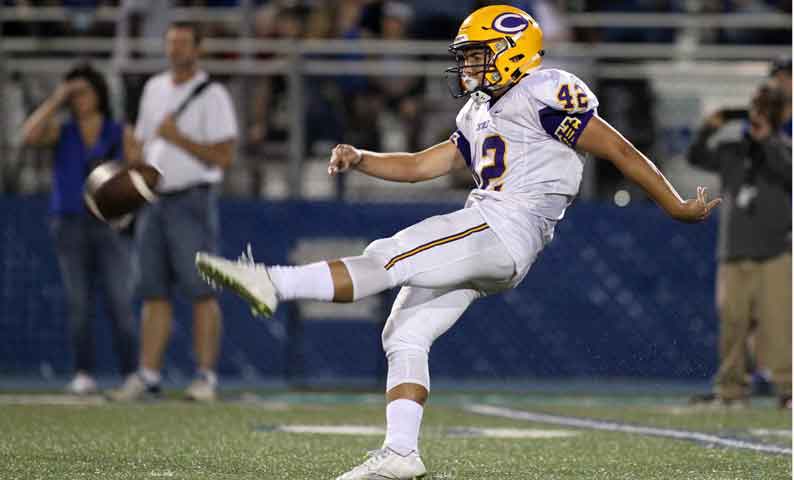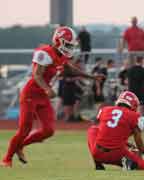 Temo Martinez
Teammates call kickers quirky and often take them for granted until they're needed to win a game.

While Arkansas hasn't produced an abundance of Division I kickers (three in the past decade), the state is unusually loaded with quality kickers in 2017. Three in-state place-kickers are garnering recruiting attention.

Every college in the region has noticed

Little Rock Catholic kicker Chris Elser

(5-9, 165). The senior

(in Nelson Chenault  photo above)

has booted 29 of 34 kickoffs into the end zone for touchbacks.

"He's a weapon making opponents go 80 yards every possession," Catholic coach John Fogleman says. "We don't tell him to directional kick or pooch it. We just let him go. You never want to mess with a kicker's head or give him too much advice."

Elser has nailed 13 of 14 field goals this season, including two beyond 50 yards, and he's perfect on 20 extra-points. He's hit 60-yard field goals off a tee in practice.

Elser drilled three field goals through college goal posts (at War Memorial Stadium) in the opener against Sylvan Hills, and hit 40- and 35-yard field goals the following week at Jacksonville.

He doubles this fall as a standout cornerback with 4.6 speed and astute coverage skills. "He's too good of an athlete to specialize in one position," Fogleman says. "We need him on the field as much as possible."

Elser kicked seven field goals last season and placed 38 of 52 kickoffs into the end zone. He invested some of his summer attending kicking camps and developing a stronger leg. He was the top performer at the prokicker.com camp in June. Elser also won the honor in 2016. The prokicker.com camp was formerly called the Ray Guy Camp. Camp directors and recruiting experts rank Elser as the nation's 12th best kicking prospect.

Arkansas State and Texas State are among the schools to evaluate Elser. Led by assistant coach/recruiter Tim Horton, Auburn coaches are impressed with Elser, but the Tigers have two-time All-America kicker Daniel Carlson, and they are redshirting his brother, Anders Carlson, who was the top-rated kicker last season.

"The bigger schools only get 25 scholarships a year, and most don't want to use one on a kicker," Fogleman says. "They want him to come in as a preferred walk-on, and if he pans out, get him a scholarship later."



Dardanelle senior Temo Martinez

(5-10, 155) has been one of the state's premier kickers the past three seasons. Martinez

(In Rashad Woods photo)

has made all 35 extra points this fall, hit three of five field goals, and 45 of his 46 kickoffs resulted in touchbacks.

"He's a huge part of our game plan," Dardanelle coach Phil Vega says. "He's a game-changer."

Martinez hit the crossbar last week on a 55-yard field goal attempt against Subiaco Academy. He nailed a 42-yard field goal in the opener against Charleston.

With Martinez in kicking formation, the Sand Lizards can line up in field goal formation anywhere on the field, where he can kick it or take a direct snap and pin opponents with a deep punt. He averages almost 40 yards per punt this year, after averaging 39 yards per punt last season.

Martinez owns scholarship offers from every in-state Division II school. He doesn't have any Division I or I-AA offers yet, "but he's that caliber," Vega says.

Martinez has expressed interest in attending Arkansas, but would likely have to walk-on, Vega says.

Booneville plays Dardanelle this week for the conference championship, and Martinez could be a deciding factor.

"You have to account for him when he's in the game," Booneville coach Scott Hyatt says. "I think he could make a 60-yarder in a game, but I hope it's not to against us."



Springdale Har-Ber kicker Jesus Zizumbo

(5-9, 165) is regarded as one of the top soccer players in Northwest Arkansas, and he can boot a football. Zizumbo has made four of six field goals this season and hit 31 of 32 extra points. He's put 35 of 46 kickoffs into the end zone for touchbacks.

Zizumbo earned all-state honors last season, a rarity for a junior kicker in the 7A West. He nailed a 51-yard field goal last season against Springdale.

"He's automatic inside of 50 yards," Har-Ber coach Chris Wood says. "He can sail kickoffs into the end zone when we need it."

The coach says Zizumbo can kick at the next level but might play soccer in college.