Class 4A Week 8 Rankings, Notes & Picks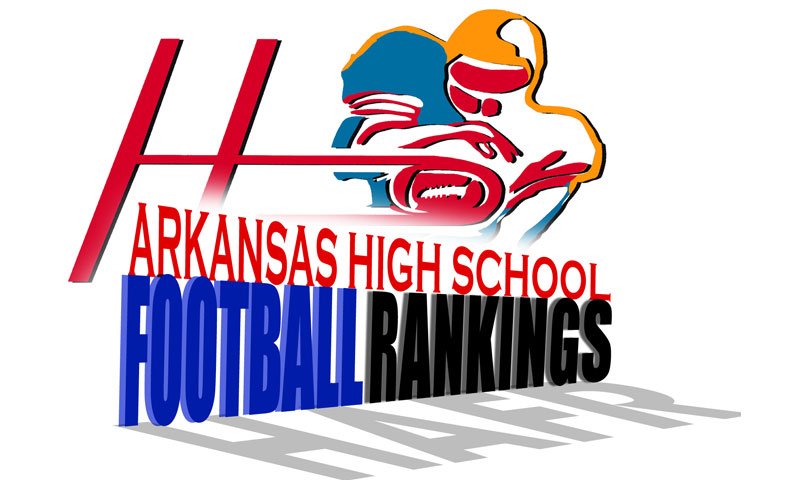 Hootens.com Class 4A Rankings
Week 8, 2022
Copyright Seventy Seven's Publishing
1. Arkadelphia (6-0)
2. Harding Academy (6-0)
3. Warren (6-1)
4. Star City (7-1)
5. Malvern (6-1)
6. Stuttgart (5-2)
7. Pocahontas (6-1)
8. H.G. Haskell (8-0)
9. McGehee (3-2)
10. Ozark (5-2)
11. Nashville (5-2)
12. Ashdown (5-2)
13. Rivercrest (4-3)
14. Elkins (6-1)
15. Lonoke (5-2)
16. Gosnell (6-1)
17. Clinton (6-1)
18. Gentry (6-1)
19. Blytheville (5-2)
20. Pottsville (4-4)
21. Lamar (5-2)
22. DeWitt (5-3)
23. Bauxite (4-3)
24. Monticello (4-3)
25. Mena (3-4)
26. Trumann (3-4)
27. Gravette (4-3)
28. Mayflower (3-4)
29. Crossett (1-6)
30. Hamburg (3-5)
31. Lincoln (4-3)
32. Jonesboro Westside (2-5)
33. Heber Springs (2-4)
34. Riverview (2-6)
35. Bald Knob (2-5)
36. Waldron (2-5)
37. Dumas (1-6)
38. CAC (1-6)
39. LR Hall (1-6)
40. Highland (1-6)
41. Cave City (1-7)
42. Helena (1-6)
43. Dover (2-5)
44. Huntsville (0-7)
45. Berryville (1-6)
46. Harrisburg (2-5)
47. Green Forest (1-6)
LAST WEEK
Hootens.com correctly predicted 18 of 22 games (82 percent) involving 4A teams and is 178 of 205 (87 percent) this season.
WEEK 8 PREDICTIONS (favored team highlighted in yellow and in ALL CAPS)
HOOTENS.COM GAME OF THE WEEK
No. 13 Rivercrest (4-3, 3-1) at No. 16 GOSNELL (6-1, 3-1) These teams have played to a 10-10-1 standoff over the past 21 seasons.
Gosnell must get ready again after last week's emotional 26-20 win over neighbor Blytheville (4 miles separate the schools). Senior Floyd Williams completed 6 of 10 passes for 68 yards and a TD, ran for 77 yards and 2 TDs and his late interception sealed the victory. Cam Williams caught 5 passes for 101 yards and a TD, while Mason Moore had 17 tackles. "We match up better with Rivercrest than we did Blytheville, but we have to establish a running game," Gosnell Coach Lewis Ernest says.
Rivercrest has won 3 consecutive games in conference since losing to Pocahontas by 7 points in Week 4 (Gosnell lost to Pocahontas 35-8 two weeks ago)  Rivercrest junior Koby Turner ran for 142 yards and 3 TDs in last week's 57-28 win over Highland, while junior Michael Rainer caught 4 passes for 100 yards and 2 TDs.
1-4A
OZARK (5-2, 4-1) at Elkins (6-1, 4-0): Neither team has lost a conference game. Ozark QB Landon Wright ran for 194 yards and 4 TDs, and passed for 156 yards and 1 TD in last week's 63-34 shootout victory over previously unbeaten Gentry. Eli Masingale ran for 168 yards and a TD. Elkins' junior Da'Shawn Chair ran for 3 TDs in the first half of last week's 56-0 win over Green Forest.
Lincoln (4-3, 2-2) at GENTRY (6-1, 3-1): Lincoln has won 8 of the past 13 over Gentry. The Wolves snapped a 2-game conference losing skid with last week's 49-21 win at Huntsville. Junior QB Drew Moore threw 5 TD passes. Gentry gave up 391 yards rushing in last week's 29-point loss at Ozark.
Green Forest (1-6, 0-4) at GRAVETTE (4-3, 3-1): Gravette QB Rhett Hilger completed 19 of 29 passes for 347 yards and 4 TDs in last week's 35-13 victory at Berryville. Green Forest has lost to Gentry and Elkins the past two weeks by a combined 104-8.
Berryville (1-6, 0-4) at HUNTSVILLE (0-7, 0-4): Huntsville has won 16 of the past 19 meetings over the Bobcats. Huntsville QB Amos Mayes threw a TD pass and returned an interception for a TD in last week's 49-21 loss to Lincoln. Berryville trailed Gravette 7-6 with 4 minutes left in the first half last week but lost 35-13. The Bobcats start 5 sophomores on offense.
2-4A
LONOKE (5-2, 3-1) at Bald Knob (2-5, 1-2): Lonoke senior LB Cody Amato racked up 16 tackles in last week's 28-7 victory over Heber Springs, while DE Jonathon Lewis played well, Coach Chris Norton says. The Jackrabbits averaged 7.1 yards per carry and attempted only 9 passes. Bald Knob totaled 176 yards in last week's 18-0 loss to Riverview.
STUTTGART (5-2, 2-1) at Heber Springs (2-4, 1-2): Stuttgart has won 12 of the past 16 over Heber Springs. Stuttgart senior Cedric Hawkins scored 3 first-half TDs in last week's 35-7 win over Cave City. Sophomore Deontae Clark had 10 carries for 83 yards and a TD. Heber Springs yielded 349 yards (247 yards rushing) in last week's 21-point loss at Lonoke.
Riverview (2-6, 1-3) at HARDING ACADEMY (6-0, 3-0): Riverview ran for 240 yards in last week's 18-0 win over Bald Knob. Undefeated Harding Academy was off last week after beating Bald Knob 41-12 two weeks ago (led 13-12 in third quarter). Sophomore QB Owen Miller has completed 144 of 173 passes (83.2 percent, on pace to establish the state record for completion percentage) this fall for 1,829 yards and 18 TDs. He has rushed for 271 yards and 1 TD.
OPEN Cave City
3-4A
Trumann (3-4, 2-2) at BLYTHEVILLE (5-2, 3-1): Blytheville rallied from a 20-6 deficit before losing 26-20 to Gosnell last week. Junior Timothy Brown ran 20 times for 200 yards and 2 TDs, while Ingram Battles added 16 carries for 77 yards. Trumann trailed Pocahontas 40-0 in the first quarter last week before losing 48-6. Gavin Greenwell led the defense with 8  tackles.
Harrisburg (2-5, 0-4) at HIGHLAND (1-6, 0-4): Highland has won 7 of the past 8 over Harrisburg. The Rebels have scored 64 points the past two games, but their defense surrendered 467 yards in last week's 57-28 loss to Rivercrest. Harrisburg trailed Jonesboro Westside 21-7 in the third quarter last week and lost 35-15. QB Eastin Gray threw a TD pass, ran for a TD, and completed a 2-point conversion.
POCAHONTAS (6-1, 4-0) Jonesboro Westside (2-5, 1-3) at: Pocahontas has won 18 of the past 21 over the Warriors. Pocahontas scored 40 points in the first quarter of last week's 48-6 win over Trumann. Coach Charles Baty praised the play of senior QB Connor Baker, senior RB Grayson Maupin, junior TB Reagan Womack and WR Harrison Carter.
4-4A
Dover (2-5, 0-4) at CAC (1-7, 1-5): CAC sophomore QB Grayson Wilson passed for 292 yards and 4 TDs in last week's 63-45 loss at Clinton, while freshman Jacob Henry caught 7 passes for 166 yards and 5 TDs. CAC trailed Clinton 47-45 in the fourth quarter. Dover has lost its past 5 games, and the Pirates haven't won a conference game since beating Waldron in Week 10, 2018.
LAMAR (5-2, 3-2) at LR Hall (1-5, 1-4): Lamar led Pottsville 21-13 in the fourth quarter last week before losing 27-21. Senior Damien Hendrix led Lamar with 113 rushing yards. Improved LR Hall lost at unbeaten H.G. Haskell 42-12 last week. Hall trailed 21-0 in the third quarter.
BAUXITE (4-3, 3-2) at Mayflower (3-4, 2-3): Bauxite used last week's open date to recover from a physical 38-35 loss to Clinton. The Miners surrendered more than 300 yards passing. Mayflower beat Dover by 24 points last week, and the improved Eagles have won 2 of their past 3 games.
CLINTON (6-1, 4-1) at Pottsville (4-4, 4-2): This could be for the No. 2 playoff seed. Two weeks ago, Clinton had 2 receivers catch passes for more than 100 yards each for the first time in school history. Last week, the Yellow Jackets turned to junior wingback Zane Widener, who accounted for 200 total yards and 6 TDs in a 63-45 triumph over CAC. Joey Hicks returned a fumble for a TD in the fourth quarter. Pottsville scored a 37-yard TD on an option play as time expired for the victory.
OPEN H.G. Haskell
7-4A
ARKADELPHIA (6-0, 3-0) at Ashdown (5-2, 1-2): This game lost some luster after Ashdown's consecutive losses to Malvern and Nashville.  Ashdown led Nashville 14-0 in the third quarter last week but lost 28-20. Arkadelphia senior QB Donovan Whitten threw 4 TD passes and ran for 1 TD in the first half of last week's 56-6 win over Waldron. Senior Tripp Campbell caught 4 passes for 95 yards and 2 TDs, while Carter Babb had 83 yards and 1 TD.
NASHVILLE (5-2, 2-1) at Waldron (2-5, 0-3): Nashville rallied from a 14-0 deficit last week to down Ashdown 28-20. Senior QB Sloan Perrin ran 15 times for 151 yards and 2 TDs, while Tre Hopkins ran 13 times for 83 yards and 1 TD. Waldron has lost its 3 conference games by a combined 162-6.
MENA (3-4, 0-3) at Lafayette County (0-7. 0-4): Mena tries to break a 3-game losing streak against winless Class 2A Lafayette County. Lafayette County gives up 54 points per game.
OPEN Malvern
8-4A
MCGEHEE(3-2, 3-2) at Dumas (1-6, 0-5): Dumas has won 11 of the past 21 in the series. McGehee rallied from a 21-20 third-quarter deficit last week to down Crossett 34-28. The Owls racked up 381 yards (254 rushing). Dumas gave up 42 points in the first half of last week's 42-14 loss at Star City.
STAR CITY (7-1, 5-1) at Hamburg (2-5, 2-4): These teams have split the past 20 meetings. Star City senior C.J. Turner ran for 114 yards and 2 TDs in last week's 42-14 win over Dumas. The Bulldogs led 42-0 in the second quarter. Jamaal Hickman returned an interception for a TD. Hamburg stays in playoff contention after beating Helena 27-13 a week ago. Willis Robinson ran 19 times for 154 yards.
CROSSETT (1-5, 1-3) at Helena (1-6, 1-4): Crossett has won 8 of the past 13 in the series. Crossett ran for 166 yards in last week's 34-28 Homecoming loss to McGehee. Helena has lost 4 straight conference games by an average of 29 points.
WARREN (6-1, 5-0) at Monticello (4-3, 3-2): The winner of this rivalry gets a 146-pound Saline River Shootout Trophy. Warren is 19-2-1 against Monticello under coach Bo Hembree. Warren senior Maddox Lassiter ran for 2 TDs and passed for another last week as Warren rallied for a 47-20 win over DeWitt. Jordan Green ran for a TD and intercepted 2 passes. Monticello didn't play last week. Two weeks ago, the Billies took a big step toward the playoffs with a 16-7 win over Hamburg. Senior Jontavion Lambert ran 24 times for 104 yards against Hamburg, while Zavarious Johnson made 8 tackles.
OPEN DeWitt