Class 2A/8-Man Week 8 Rankings, Notes & Picks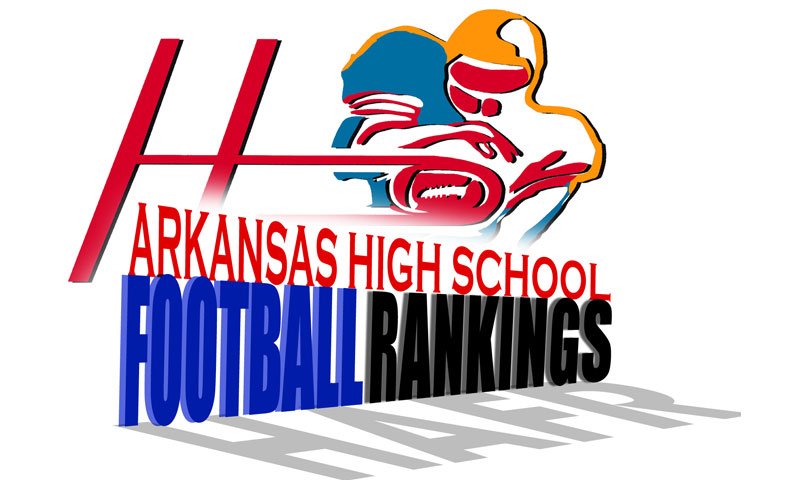 Hootens.com Class 2A Rankings

Week 8, 2022
Copyright Seventy Seven's Publishing
1. Hazen (6-0)
2. Mount Ida (5-1)
3. Bigelow (6-1)
4. Carlisle (6-0)
5. Dierks (7-1)
6. EPC (6-1)
7. Marked Tree (6-1)
8. Clarendon (5-2)
9. Conway Christian (5-2)
10. Poyen (5-3)
11. Episcopal (5-2)
12. Hector (4-3-1)
13. Mineral Springs (5-2)
14. Earle (4-3)
15. Des Arc (3-3)
16. Hampton (3-4)
17. England (3-4)
18. Magazine (3-4)
19. McCrory (1-6)
20. Cross County (2-4)
21. Murfreesboro (2-5)
22. Mountainburg (2-4)
23. Bearden (1-6)
24. J.C. Westside (1-6)
25. Lafayette County (0-7)
26. Foreman (0-7)
27. Baptist Prep (0-8)
28. Marianna (0-6)
29. Decatur (0-8)
LAST WEEK
Hootens.com correctly predicted 11 out of 13 (85 percent) games involving 2A teams and is 101 of 127 (79.5 percent) for the season.
WEEK 8 PREDICTIONS (Favored team highlighted in yellow and ALL CAPS)
HOOTENS.COM GAME OF THE WEEK
CLARENDON (5-2, 3-1) at Marked Tree (6-1, 3-1): Both teams are tied for first in the 2-2A, along with Des Arc and EPC.
Clarendon, on a three-game win streak, defeated Des Arc 34-22 last week. QB Jaxon Hampton threw for 195 yards and a touchdown, while Tranell Black rushed for 185 yards and 2 TDs. Braylon Hampton led the Lions' defense with 12 tackles.
Marked Tree handled business against reigning state champ McCrory, 22-12. QB Kenyon Carter threw 2 TD passes to Willie Marshall, and Carter scored a 39-yard rushing TD. Jonah Walker racked up a team-high 13 solo tackles, while Braylon Kennedy logged 9.
1-2A
J.C. Westside (1-6, 1-2) at BIGELOW (6-1, 3-0): Bigelow gained 352 offensive yards in the first half of a 43-14 win over Magazine last week to secure a first-place tie with Conway Christian in the conference. The Panthers are averaging nearly 36 points per game. Rhett Neumeier, Brandt Tipton, Carter Alexander, Chance Page, Jayden Dunlap and Beau Billeck scored TDs for Bigelow. Grant Gipson (7 tackles), Dawson McCullom (6 tackles, 3 TFL) and Skip Hildabrand (5 tackles, 2 PBUs) led the defense. J.C. Westside comes off a 42-0 loss to No. 9 Conway Christian. Bigelow won this game last year, 51-18.
CONWAY CHRISTIAN (5-2, 3-0) at Mountainburg (2-4, 1-2): Coach Justin Kramer's Conway Christian Eagles have allowed 17 yards of offense over the past two weeks. Garrison Greer (9 tackles, 2.5 sacks, 2 TFL, 1 FF, 1 FR) was a big component in last week's shutout victory over J.C. Westside. Deagan Meeks and Coleton Loper both intercepted passes. Cooper Johnson (4-103 receiving, 3 TDs) and Aaron Lovelace (16-154 rushing, 2 TDs) led the offense, while QB Jeryn Thomas completed 10 of his passes for 144 yards and 3 TDs. Mountainburg (2-4, 1-2) was idle last week.
HECTOR (4-3-1, 2-2) at Magazine (3-4, 2-2): This game determines which team takes control of second place in 1-2A. The Hector Wildcats (4-3-1, 2-2) beat Decatur 48-0 in a game played with a running clock in the second half. Magazine comes off a 43-14 loss to No. 3 Bigelow. QB Nate Smith threw TD passes to Ethan Vasquez and Elijah Ward. Hector won this matchup 42-3 last year.
OPEN Decatur
2-2A
Cross County (2-4, 1-3) at DES ARC (3-3, 3-1): The Thunderbirds of Cross County allowed 4 yards and intercepted 3 passes in last week's 41-6 rout over Marianna. The Thunderbirds racked up 406 total yards (346 rushing). Des Arc (3-3, 3-1) had a 3-game winning streak before last week's loss to Clarendon.
Marianna (0-6, 0-4) at E. POINSETT COUNTY (6-1, 3-1): EPC lost a 32-26 shootout to Earle last week. RB Dennis Gaines (42-294 rushing, 2 TDs) led the offense. Marianna lost 41-6 to Cross County.
EARLE (4-3, 2-2) at McCrory (1-6, 1-3): Earle turned heads with its upset of EPC. B.J. Powell (20-167 rushing, 1 TD) and Cam Smith (22-185 rushing, 1 TD) led the offense. Joseph McVay hauled in a 55-yard TD pass and had 2 interceptions, returning 1 for a score. McCrory lost 22-12 to No. 7 Marked Tree last week. McCrory won this game 42-8 last year.
3-2A
Dierks (7-1, 4-0) at POYEN (5-3, 3-1): Coach Paul Ernst's Dierks Outlaws are alone atop the 3-2A conference. All-state RB Eli Sharp (4 TDs) accounted for 266 of the Outlaws' 443 total yards in a 48-22 win over Foreman. Poyen, which has scored 89 points over the past two weeks, handled winless Lafayette County, 47-18.
Mineral Springs (5-2, 2-1) at MOUNT IDA (5-1, 3-0): The Lions of Mount Ida sit a half-game behind 4-0 Dierks after a 49-14 win over Murfreesboro last week. Mineral Springs has had two weeks to recover from a 20-8 loss to Dierks.
Foreman (0-7, 0-3) at MURFREESBORO (2-5, 0-3): Both teams are in need of a conference win if they hope to reach the playoffs. Murfreesboro fell to No. 2 Mount Ida last week; Foreman put up 22 points in its loss to No. 5 Mount Ida.
Class 4A MENA (3-4) at Lafayette County (0-7, 0-4): The Mena Bearcats will try to end a 3-game losing streak. Lafayette County lost 47-18 to Poyen last week.
4-2A
CARLISLE (6-0, 3-0) at Baptist Prep (0-8, 0-4): Carlisle is tied with Hazen for first in 4-2A. The Bison have not had a close game all year, including last week's 47-0 win over Hampton. It was Carlisle's fourth shutout win. All-state RB Jason Sullivan paved the way with 266 yards and 5 TDs on 11 carries. Lineman Luke Petrus (6 tackles, 2 TFL, 2 sacks) blocked a punt and had a dominant performance on the offensive line, Coach Caleb Shock says. Baptist Prep lost 42-14 to Bearden.
Episcopal (5-2, 2-1) at HAZEN (6-0, 3-0): Episcopal took control of second place in 4-2A with a 33-22 win over England last week. QB Gray Lee (13-18 passing, 177 yards, 3 rushing TDs), while Jack Harbour (9-140 receiving) and Kollin Robinson (165 rushing) contributed. Episcopal's defense was led by John Robert Bateman (10 tackles) and Jacob Katz (30-yard interception return). Top-ranked Hazen was idle last week.
HAMPTON (3-4, 2-2) at Class 3A Junction City (1-5): This game has no conference seeding implications, but Hampton could use some momentum before its conference matchup with Episcopal in two weeks. Markees Roper had 7 tackles for Hampton last week against Carlisle.
Bearden (1-6, 1-3) at ENGLAND (3-4, 1-3): Friday's winner enters the playoff hunt. Bearden beat Baptist Prep 42-14 last week for its first win; England lost its third in a row, an 11-point decision to Episcopal.
Hootens.com 8-Man Rankings
Week 8, 2022
Copyright Seventy Seven's Publishing
AAA SANCTIONED
1. Mountain Pine (7-0)
2. Spring Hill (7-1)
3. Woodlawn (6-0)
4. Brinkley (5-1)
5. Izard County Consolidated (4-2)
6. Rector (3-2)
7. Strong (3-2)
8. Marvell (1-4)
9. Midland (2-4)
10. Augusta (0-4)
11. Hermitage (0-5)
12. Dermott (0-3)
13. KIPP Helena  (0-3)
CLUB TEAMS
1. Mountain View (7-0)
2. Fountain Lake (5-2)
3. Genoa Central (5-2)
4. Subiaco (4-3)
5. Cedar Ridge (4-3)
6. Marshall (1-7)
7. Rose Bud (1-5)
8. Cutter Morning Star (0-6)
9. Parkers Chapel (0-8)
LAST WEEK
Hootens.com correctly picked 9 of 9 games (100 percent) involving 8-Man teams and is 51 of 62 (82.3 percent) for the season.
WEEK 8 PREDICTIONS (Favored team highlighted in yellow and ALL CAPS)
HOOTENS.COM GAME OF THE WEEK
NO. 1 MOUNTAIN PINE (7-0, 3-0) at No. 3 Woodlawn (6-0, 3-0) Mountain Pine has averaged 50 points per game since starting conference play. Woodlawn has averaged 50 points and allowed an average of 28 in conference play. Woodlawn is coming off a bye week after Dermott forfeited because of low numbers. Woodlawn is averaging more than 380 rushing yards per game, led by twins Jaxon Martin and Caleb Martin, who have combined to score 19 TDs. Mountain Pine moves the ball rapidly with speedy backs Isiah Miles and Jermaine Dobbins.
Midland (2-3, 1-2) at RECTOR (3-3, 2-2)  Rector plays its third game in 7 days after defeating Brinkley 38-34 on Monday night. Midland yielded 369 rushing yards on 38 carries in a 46-8 loss to Brinkley in Week 7.
Rose Bud (1-6, 1-4) at MARSHALL (1-7, 1-5) Rosebud has scored 14 points since posting a 64-42 victory over Cutter Morning Star on Sept. 30. Marshall's last 4 losses have come to the top 4 teams in the Club division.

IZARD COUNTY CONSOLIDATED (4-2, 3-1) at Augusta (0-4, 0-2) ICC rolled up 564 yards against KIPP Helena last Friday, and it set a school record with 9 touchdowns. Augusta is looking for its first win.
SPRING HILL (7-1, 3-1) at Strong (3-2, 3-1) TJ Tipton (12-164 rushing, 2 TDs) powered Spring Hill to a 50-8 win over Marvel. Strong defeated Hermitage 42-0 Friday.
Parkers Chapel (0-7) at HILLCREST, MISS. Hillcrest defeated Parkers Chapel 38-22 on Oct. 7 in a game played at Parkers Chapel. The Trojans make a return trip to Jackson, Miss., for this meeting.
FOUNTAIN LAKE (5-2) at Cutter Morning Star (0-6) A battle of sophomore quarterbacks is brewing in Garland County. Last week, Cutter Morning Star QB Peyton Mills threw for 371 yards and 8 TDs in a 74-72 loss to Cedar Ridge. Fountain Lake's Destyn Fields threw for 232 yards and 2 TDs in a 30-27 loss to No. 1 Mountain View.
Genoa Central (5-2) at SUBIACO ACADEMY (4-3) Genoa Central scored 32 second-half points in a 38-12 win over Marshall in Week 7. Subiaco Linebacker Brody Koch notched his 109th tackle this season in a 60-8 win over Rose Bud last week. Subiaco rushed for 485 yards against Rose Bud.
Cedar Ridge (4-3) at MOUNTAIN VIEW (7-0) Drew Shelton rushed for 3 TDs and threw a TD pass to senior WR Kenner Gray in Mountain View's 30-27 win over Fountain Lake. Shelton and RB Trampas Stubbs combined for 290 of the Yellowjackets' 303 rushing yards. "It took a total team effort to beat Fountain Lake," Mountain View Coach Michael Gray said. Cedar Ridge outlasted Cutter Morning Star 74-72, rolling up 575 offensive yards.