Class 5A Week 8 Rankings, Notes & Picks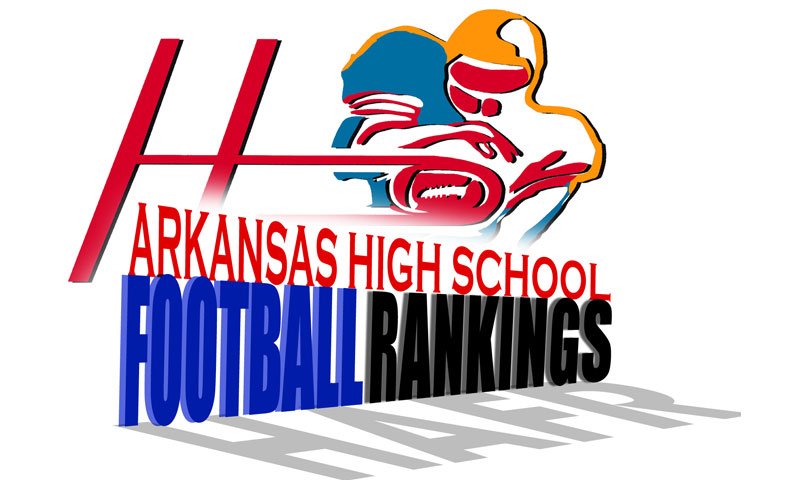 Hootens.com Rankings
Class 5A, Week 8, 2017
Copyright Hooten Publishing, Inc.

1. Pulaski Academy (7-0)
2. LR Christian (6-1)
3. LR McClellan (6-1)
4. Nettleton (7-0)
5. Alma (4-3)
6. Greenbrier (5-2)
7. Harrison (5-2)
8. Batesville (4-3)
9. Wynne (6-1)
10. Morrilton (3-4)
11. Watson Chapel (5-2)
12. LR Parkview (4-3)
13. Valley View (5-2)
14. HS Lakeside (4-3)
15. Maumelle (4-3)
16. White Hall (4-3)
17. De Queen (4-3)
18. Sylvan Hills (3-4)
19. Camden Fairview (2-5)
20. Farmington (3-4)
21. Beebe (2-5)
22. Blytheville (2-5)
23. Forrest City (3-4)
24. Magnolia (2-5)
25. Hot Springs (1-6)
26. Mills (2-5)
27. Vilonia (0-7)
28. Clarksville (1-6)
29. Greene Co. Tech (2-5)
30. Hope (0-7)
31. Paragould (0-7)
32. LR Fair (0-7)

GAME OF THE WEEK
No. 2 LR Christian at No. 3 LR McClellan
This game has been moved to Quigley Stadium, and the winner takes a giant step to at least the No. 2 playoff seed. Little Rock McClellan has beaten the Warriors two of their three meetings, including last year's 28-point beatdown, when the physical Lions relentlessly blitzed and pressured LR Christian.  LR McClellan has given up 27 points in four conference games, and has scored at least six touchdowns in all but one game this year (against Class 7A North Little Rock). Bullish senior quarterback Bennie Kemp (6-1, 225) ran for a pair of TDs and threw two TD passes in the first half of last week's 33-point win at Beebe. Kemp and a stable of six running backs, pick up chunks of yardage behind senior right guard Jammarius Norris (6-3, 285) and co-captain right tackle K.D. Dobbins (6-3, 335). Senior receiver Jaylin Cunningham has seven TD grabs this year.  Little Rock Christian rebounded from a 30-point Week 6 loss at Pulaski Academy with last week's 29-point win over Little Rock Parkview. Senior QB Jackson Bowersock completed 23 of 27 passes for 445 yards and four TDs against Parkview, and three of his incompletions were dropped passes. "We've got to bring pressure and try to rattle him," McClellan coach Maurice Moody says. "He'll pick us apart if we allow him to stand back there and pass it." Senior Ladarius Burnes ran for a pair of TDs and caught five passes for 119 yards and a TD against LR Parkview, while junior Justice Hill caught four passes for 65 yards and a TD and threw two passes (both completions) on trick plays for 55 yards and a TD. Junior linebacker Grant McElmurry paces the Warriors with 99 tackles, while sophomore safety Alex Veasey has 80 stops, three forced fumbles and one interception.

TV SHOW
Hooten's Arkansas Football airs 10:30 a.m. Saturday's on KATV (ABC Little Rock) Channel 7, scoring the Razorbacks, high school teams and players to watch.

LAST WEEK
Hootens.com correctly predicted 13 of 16 games (81 percent). Hootens.com has correctly predicted 128 of 154 games (83 percent) for the season.

WEEK 8 PREDICTIONS (favored team in CAPS followed by point spread)
5A CENTRAL
LR Christian at LR MCCLELLAN (2): Hootens.com Class 5A Game of the Week.
PULASKI ACADEMY (28) at LR Parkview: Pulaski Academy won its only previous meeting with LR Parkview (55-13 last year). The Bruins, winners of 52 straight conference games, led Sylvan Hills by 21 points at halftime last week, and applied the 35-point sportsmanship rule in the middle of the third quarter. Senior receiver Tra Johnson caught three TDs. Senior QB Layne Hatcher has 156 career TD passes, second most in state history. LR Parkview led LR Christian 7-0 in the first quarter last week, but lost by 29 points after gaining just 57 yards in the second half.
SYLVAN HILLS (35) at LR Fair: LR Fair hasn't won on the field (received two forfeit victories) since beating now defunct North Pulaski 20-0 in Week 1, 2013. Half of North Pulaski's players ended up at Sylvan Hills when the program folded two years ago. Sylvan Hills senior Deon Youngblood ran 19 times for 102 yards and two TDs last week against Pulaski Academy.
BEEBE (17) at Mills: Beebe ran 88 plays last week at LR McClellan, but mustered just 21 points. Mills hung 70 points on LR Fair a week ago after scoring just 79 points total in the previous six games.

5A EAST
Paragould at WYNNE (21): Paragould usually plays well against Wynne, winning twice in the past decade. The Rams played their best game of 2017 last week, losing to Forrest City by one point. Wynne must regroup after losing its first regular season game in two years a week ago when the Yellowjackets led Batesville 21-10 at halftime. But senior fullback Ta'Von Hicks was hobbled with an ankle injury in the second half and they didn't score again.
BATESVILLE (6) at Blytheville: Batesville beat Blytheville by three points last season, and its previous trip to Mississippi County in 2015 resulted in a 19-point loss. Batesville bolstered its playoff hopes and chances to host a postseason game with last week's come-from-behind win over previously unbeaten Wynne. The Pioneers scored 29 straight points for the victory, led by junior QB Hayden Childers' two TD passes and a pair of fourth quarter defensive scores.
NETTLETON (28) at Forrest City: Nettleton needs two more victories for at least a share of its first conference title since winning the 3AA-North in 1997. Senior Detavion Turner ran for 126 yards and two TDs in the first quarter of last week's 28-point win over Greene County Tech, while senior QB Deondre Henry threw three first-half TDs. Forrest City rallied with two late TDs last week, nipping winless Paragould by one point.
VALLEY VIEW (23) at Greene Co. Tech: Valley View has won its three meetings over Greene County Tech by a combined 124-77. Blazer senior QB Joseph Waleszonia ran for three TDs and threw another in last week's 13-point win over Blytheville. Valley View hasn't given up more than three TDs in any league game. Greene County Tech senior Kobe Brown has missed the past two games with a knee injury, and three other starters were hurt last week at Nettleton.

5A SOUTH
HS LAKESIDE (15) at De Queen: HS Lakeside has won three straight over De Queen by a combined 44 points. The Rams are headed for a Week 9 showdown with Watson Chapel for the league title. Senior Dupree Swanson has rushed for 1,216 yards and 21 TDs this year. The Rams led Hope 42-7 last week at halftime. Upstart De Queen contends for the league title and a playoff spot. Senior Hunter Earney ran for three TDs last week in a three-point win over Camden Fairview, while junior cornerback Mack Carver intercepted a pair of passes inside the 5-yard line.
WHITE HALL (13) at Hot Springs: White Hall has won four of the past five in the series, but Hot Springs coach Chris Vereen, a White Hall alum, always has the Trojans primed for his alma mater. Hot Springs trailed Magnolia 42-7 at halftime a week ago. White Hall never led Watson Chapel last week and had the potential tying extra point blocked in the final minutes of the 21-20 setback. Senior QB Ollie Reddick has more than 1,900 yards this season.
Magnolia at WATSON CHAPEL (8): Watson Chapel must avoid a letdown after last week's emotional one-point win over rival White Hall. The Wildcats imploded last year at Magnolia, losing by seven points in overtime. Senior Omar Allen ran for a pair of TDs against White Hall. Magnolia led Hot Springs by 35 points in the second quarter last week, easing to a 28-point triumph.
CAMDEN FAIRVIEW (21) at Hope: Hope has lost 18 straight games. The Bobcats trailed HS Lakeside by 35 points at halftime last week. Camden Fairview trailed De Queen by 17 points in the fourth quarter last week, but rallied with two late TD passes, despite throwing a pair of red zone interceptions.

5A WEST
Alma at HARRISON (1): Both are among four teams tied for first place in the 5A West, and this helps decide the conference title and playoff seeding. Senior QB Garrison Jensen paces Alma with 113 carries for 634 yards and 11 TDs, and he's passed for 1,573 yards and 16 TDs with two interceptions. Jensen returned an interceptions 99 yards as time expired in last week's 13-point win at Clarksville. The Airedales have scored at least 35 points in four straight games. Harrison's 17-point loss last week to Greenbrier was its first in conference play. The Goblins trailed 26-16 with seven minutes left, but didn't score again.
MORRILTON (28) at Vilonia: Morrilton likely must win out to make the playoffs, but the Devil Dogs are among the hottest teams in the 5A West with consecutive victories over Alma and Maumelle. Sophomore Jacolby Criswell became the primary QB the past two weeks. He ran 12 times for 46 yards and two TDs and completed all 13 passes for 225 yards and three TDs in last week's 21-point win over Maumelle.
Clarksville at GREENBRIER (14): Clarksville's Single Wing continues giving opponents fits, but the Panthers have dropped six straight games. They threw toward the end zone with a chance to tie or win in the final seconds left last week against Alma. Greenbrier junior QB Andrew Johnson passed for 162 yards and two TDs in last week's 33-16 triumph at Harrison, while the Panthers returned an interception for a TD and added two field goals.
MAUMELLE (3) at Farmington: Maumelle QB Connor McCullough passed for 212 yards and a TD in last week's 21-point loss at Morrilton. Farmington senior Caleb Williams ran 25 times for 203 yards and four TDs a week ago, and he has more than 800 yards this season.