Class 6A Week 7 Rankings, Notes & Picks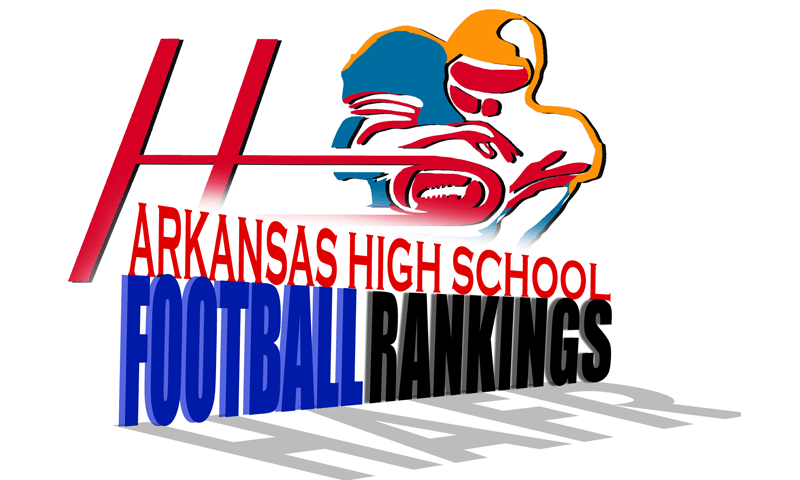 Hootens.com Rankings
Class 6A, Week 7, 2016
Copyright Hooten Publishing, Inc.

1. Greenwood (6-0)
2. Jonesboro (6-0)
3. Pine Bluff (3-2)
4. Russellville (6-0)
5. Benton (4-2)
6. Lake Hamilton (3-3)
7. El Dorado (3-3)
8. West Memphis (4-2)
9. Marion (3-3)
10. Searcy (4-2)
11. Mountain Home (1-5)
12. Siloam Springs (1-5)
13. Sheridan (1-5)
14. Texarkana (1-5)
15. Jacksonville (1-5)
16. LR Hall (2-4)

HOOTENS.COM GAME OF THE WEEK
No. 4 Russellville at No. 1 Greenwood.
Barring a major upset over the next three weeks, this matchup decides the 6A West title. The winner finishes 10-0 with home-field advantage throughout the playoffs, likely hosting defending state champ Pine Bluff on Thanksgiving weekend in the semifinals. The loser finishes 9-1 but must travel in the semifinals, likely to Jonesboro.
Balanced Greenwood scores 45 points and exactly 500 yards weekly (240 rushing, 260 passing). It's top two players are quarterbacks. Senior Luke Hales (679 yards passing, 242 yards rushing) and junior Connor Noland (809 yards passing, 336 yards rushing) share time at QB. Noland committed July 20 to play baseball and football for the Arkansas Razorbacks. Greenwood's defense allows 17 points (10.3 points in conference play) with seven interceptions this season. The Bulldogs make 9.1 tackles for loss weekly.
Russellville rolls in undefeated under second-year Coach Billy Dawson, who quickly turned around Lonoke, Sheridan and Siloam Springs before winning three state titles at Nashville. Dawson's offense scores 32.3 points weekly while stout, veteran linemen spearhead a Cyclone defense forcing 2.6 turnovers weekly and allowing just 14.6 points. Russellville totaled 178 yards in the first quarter last week against Lake Hamilton. Sophomore Jason Collins intercepted two Lake Hamilton passes and recovered a fumble in the endzone. Bullish Cyclone senior receiver Caleb Stokes (464 yards, 14.5 yards per catch this fall) took eight catches for 124 yards last week.

LAST WEEK
Hootens.com correctly picked winners in six of eight games involving 6A teams, nailing the point spread on Greenwood by 42 over Siloam Springs. For the season, hootens.com has correctly predicted 57 of 71 winners (80 percent).

WEEK 7 PREDICTIONS (favored team in CAPS followed by point spread)
6A EAST
Mountain Home at MARION (7): Both coming off monster victories. Marion won 35-14 at Searcy, a team it had lost to the past four seasons by average of 24 points. Mountain Home danced all night after winning its first conference game in 31 outings, 34-27 over Jacksonville on homecoming. Mountain Home senior two-way lineman Jonathan Fox (6-4, 294) makes the Farm Bureau Awards watch list for Class 7A/6A Defensive Player of the Year. Marion junior QB Peyton Walker completes 56 percent of his passes for 1,279 yards and 13 TDs with six interceptions this season. The Patriots rush for 150 yards and force 3.5 turnovers weekly.
PINE BLUFF (14) at Searcy: Marion stunned Searcy 35-14 last week while two-time, defending state champ Pine Bluff also lost 41-34 at Jonesboro. It was Pine Bluff's first setback since Week 10 of the 2014 regular season against Benton. Searcy allowed five sacks and threw an interception last Friday. The Lions score 27.1 points, passing for 197 yards and rushing for 160 yards weekly.
JONESBORO (9) at West Memphis: High-flying Jonesoboro looks to avoid a letdown after ending two-time, defending state champion Pine Bluff's 21-game win streak. The Hurricane pass for 301 yards and rush for 224 yards to score 56 points weekly. West Memphis chasing its first winning season since 2012, but Jonesboro has beat the Blue Devils four of the past five years.
LR Hall at JACKSONVILLE (8): Mountain Home just beat Jacksonville to end its 31-game conference losing streak while LR Hall has dropped four straight by a combined 202-13.

6A WEST
Russellville at GREENWOOD (21): See hootens.com Class 6A Game of the Week.
Texarkana at SHERIDAN (1): Strength of schedule favors Texarkana, including lopsided losses to top-ranked Greenwood and No. 5 Benton (56-7 last week). Texarkana beat Class 5A No. 24 Camden Fairview (1-5) for its only win. Sheridan downed defending Class 2A state champ McCrory 35-0 in the season opener. Sheridan likely squandered a return trip to the playoffs with losses at Siloam Springs and at El Dorado by a total of 4 points. Sheridan lost on a 2-point conversion with :09 remaining last week at El Dorado. The Yellowjackets, 0-23 against El Dorado since 1991, ran 61 plays last week but only four went for 11 yards or more. Texarkana threw three interceptions in a- 34-17 loss to Lake Hamilton two weeks ago.
Siloam Springs at LAKE HAMILTON (11): Lake Hamilton rebounds from last week's 47-23 loss at Russellville with wins over Siloam Springs and Sheridan before traveling to No. 5 Benton and top-ranked Greenwood to finish the regular season. Since rallying past Sheridan 24-21 for its only win, Siloam lost the past two Fridays by a combined 105-0.
El Dorado at BENTON (14): El Dorado surrendered 508 total yards in a 49-21 loss to No. 1 Greenwood two weeks ago and barely escaped last Friday on a 2-point run with :09 left to beat Sheridan. Jonathan Hall and Mon-Trae Marshall led El Dorado with 13 tackles each. It was El Dorado's 23rd straight win over Sheridan since they started playing regularly in 1991. Benton just topped Texarkana for the fifth consecutive season. The Panthers scored 120 points the past two weeks and 56 points or more in four games. Coach Brad Harris' Benton defense allows 13.8 points per Friday.