Class 5A Week 7 Rankings, Notes & Picks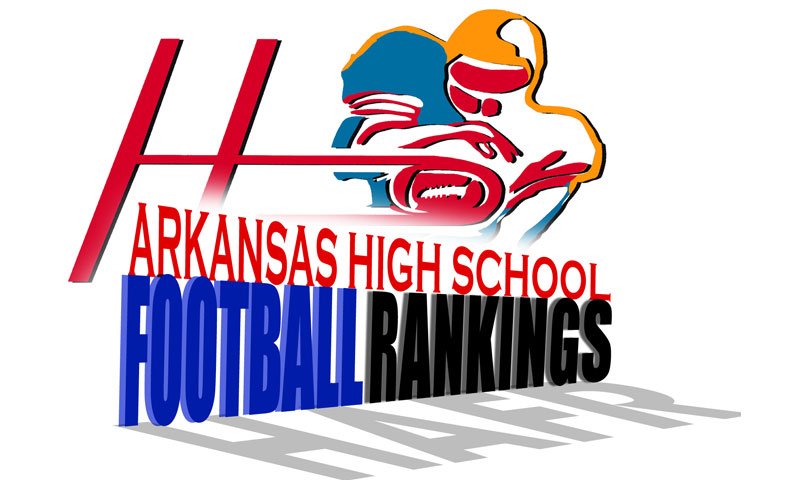 Hootens.com Rankings
Class 5A, Week 7, 2017
Copyright Hooten Publishing, Inc.

1. Pulaski Academy (6-0)
2. Wynne (6-0)
3. LR Christian (5-1)
4. Harrison (5-1)
5. LR McClellan (5-1)
6. Nettleton (6-0)
7. Alma (3-3)
8. LR Parkview (4-2)
9. Greenbrier (4-2)
10. Batesville (3-3)
11. Morrilton (3-3)
12. Watson Chapel (4-2)
13. Valley View (4-2)
14. Maumelle (4-2)
15. HS Lakeside (3-3)
16. White Hall (4-2)
17. Camden Fairview (2-4)
18. Sylvan Hills (3-3)
19. Beebe (2-4)
20. De Queen (3-3)
21. Blytheville (2-4)
22. Farmington (2-4)
23. Forrest City (2-4)
24. Magnolia (1-5)
25. Hot Springs (1-5)
26. Vilonia (0-6)
27. Clarksville (1-5)
28. Mills (1-5)
29. Greene Co. Tech (2-4)
30. Hope (0-6)
31. Paragould (0-6)
32. LR Fair (0-6)

GAME OF THE WEEK
No. 2 Wynne at No. 10 Batesville
These powerhouses have combined to win 12 conference titles in the past 15 years. And Batesville has won seven of the past 10 in the series over Wynne. "It's been our rival, we usually have great battles," Pioneer coach Dave King says.  Batesville lost three of its opening four games this season, but has won consecutive league games by a combined 80-13. Senior running back Cedric Hall has started finding wiggle room behind an offensive line that features two players (senior center Luke Floyd and junior guard Tytan Nguyen) who missed the off-season following knee surgery. Junior quarterback Hayden Childers has improved his passing over the past month, King says. Childers snuck in a short TD in last week's 28-point win at Forrest City. Senior receiver Demetrius Holiday (6-4, 200), an ASU commit, causes matchup problems with his length. Senior Josh Williams started at safety the past two years, and his development at receiver the past month fuels the improved offense. Williams sprinted 43 yards for a TD at Forrest City. Junior Said Bernal shifted from tight end to fullback in the off-season, and "he's as good of a punter as we've ever had," King says. Senior Nelson Romero hasn't missed an extra point this season and makes 45-yard field goals in practice.  Undefeated Wynne led Valley View 3-0 in the third quarter last week, and scored the winning TD with 22 seconds left. Senior QB Luke Chapman continues improving at reading the option. Senior Ta'Von Hicks has 103 carries for 931 yards this year, while Chapman has 42 carries for 318 yards. Hicks bulled in for the game-winner against Valley View. Sophomore Holden Parker drilled a 36-yard field goal in the first half last week. Senior linebacker Marterious Daniel (42 tackles) paces a defense that allows 15 ppg. Senior end Logan Jessup has 29 tackles, including seven tackles for loss and two sacks.

TV SHOW
Hooten's Arkansas Football airs 10:30 a.m. Saturday's on KATV (ABC Little Rock) Channel 7, featuring the Razorbacks, high school teams and players to watch.

LAST WEEK
Hootens.com correctly predicted 13 of 16 games (81 percent). Hootens.com has correctly predicted 115 of 138 games (83 percent) for the season.

WEEK 7 PREDICTIONS (favored team in CAPS followed by point spread)
5A CENTRAL
LR MCCLELLAN (4) at Beebe: LR McClellan has won two straight over Beebe (by one point in 2015 and by 45 points a year ago). The Lions whipped LR Fair by 50 a week ago after jumping to a 14-0 advantage within the opening 57 seconds. Coach Maurice Moody made the team run wind sprints on the field after the cakewalk, "so we could get something out of it," he says. Beebe trailed LR Parkview 20-14 in the third quarter last week but didn't score again in a 21-point loss. Junior Taylor Boyce ran 24 times for 131 yards.
LR Parkview at LR CHRISTIAN (6): LR Christian must regroup after giving up 86 points last week at Pulaski Academy. Warrior senior QB Jackson Bowersock passed for 425 yards and eight TDs, while senior receiver Trey Harris had nine receptions for 180 yards and three TDs. Little Rock Parkview's final four regular-season opponents are a combined 19-7. Patriot senior Zach Smith ran for 103 yards and a TD in last week's 35-14 win over Beebe, while junior QB Geary Allmon passed for 174 yards and three TDs.
MILLS (13) at LR Fair: LR Fair trailed LR McClellan 35-0 last week in the first quarter. Mills has been outscored 172-40 in its conference games, while LR Fair has lost its three league games by a combined 172-20.
PULASKI ACADEMY (28) at Sylvan Hills: The Bruins have never lost to Sylvan Hills. But the Bears usually play PA tough, leading by four points in the third quarter last year before losing by 12. Senior Deon Youngblood ran for two TDs and threw a TD pass on a trick play in last week's 28-point win over Mills. PA scored on 13 of 14 drives in last week's 86-56 win over LR Christian, setting a national record with 991 yards. The Bruins average 650 yards weekly. Senior Luke Bratcher recovered two onside kicks against LR Christian, while Tra Johnson had 15 catches for 325 yards.

5A EAST
WYNNE (7) at Batesville: Hootens.com Class 5A Game of the Week.
Greene Co. Tech at NETTLETON (21): Nettleton has won five of the past nine over Greene County Tech, including a 35-point triumph last season. The Raiders yield just 13 ppg, and have scored at least 40 points five times. Greene County Tech trailed Blytheville 18-9 at halftime last week before losing 52-23.
FORREST CITY (10) at Paragould: Forrest City has won eight of the past nine over Paragould since joining the 5A East in 2008. Forrest City junior QB Randal Moore has passed for 719 yards and two TDs this season, while senior Deviunta' Foster has rushed for 505 yards. Winless Paragould averages 13 ppg. Senior QB Trent Teager has 835 yards rushing this fall.
Blytheville at VALLEY VIEW (6): Blytheville has won its only three meetings over Valley View by a combined 129-51. The Chickasaws snapped a four-game losing streak last week with a 29-point win over Greene County Tech, using their speed advantage in the second half. Junior QB Jahiem Carter completed 11 of 18 passes for 264 yards and four TDs, while Corey Weatherspoon snagged seven passes for 180 yards and two TDs. Wynne scored the winning TD with 22 seconds left last week against Valley View. Senior QB Joseph Waleszonia ran for a pair of TDs at Wynne.

5A SOUTH
CAMDEN FAIRVIEW (3) at De Queen: Camden Fairview has won seven straight over De Queen by a combined 306-83 (an average of 44-12). Cardinal junior Demetrius Moore ran for three TDs in last week's seven-point win over Magnolia, including the game-winner in the final minute. De Queen senior Hunter Earney has rushed for 743 yards and eight TDs this fall, while sophomore Marquez Ester has 321 yards and four TDs.
Hope at HS LAKESIDE (25): HS Lakeside has won nine of the past 17 over Hope, including three straight (26 points last year, two points in 2015 and 21 points in 2014). Ram coach Jared McBride missed last week's eight-point win for the birth of his daughter, who was born during the second half of the game. Senior Dupree Swanson has rushed for 1,080 yards. Hope has lost 16 straight games, the most in school history.
Hot Springs at MAGNOLIA (6): Magnolia has beaten Hot Springs 13 of the past 19 years, but the Trojans have won five straight in the series by a total of 55 points. Magnolia junior Kayden Roach ran for three TDs in last week's seven-point loss at Camden Fairview.
White Hall at WATSON CHAPEL (2): Watson Chapel gears up for its conference title showdown in two weeks with HS Lakeside. Watson Chapel has 8-7-1 record over White Hall since 2000, and the Wildcats have won three straight in the series, including last year's three-point triumph when they threw the winning 65-yard TD pass with 34 seconds left. Watson Chapel junior cornerback Javeon Jackson had three interceptions in last week's 68-point win at Hope.

5A WEST
ALMA (21) at Clarksville: Alma must regroup after last week's three-point loss to Morrilton (trailed by three TDs in the first half). The Airedales still get at least a share of their second straight conference title if they win out. Senior QB Garrison Jensen has passed for 1,325 yards and 14 TDs, and ran for nine TDs. Junior safety Coltin Bowerman paces the Airedales with 70 tackles and one interception. Clarksville sophomore Nicholas Buckner has thrown three TD passes and ran for 1,031 yards and eight TDs.
Vilonia at FARMINGTON (11): Farmington's physical defense matches up well with Vilonia's run-first philosophy. The Cardinals lost at Greenbrier by seven points last week, when the Panthers stacked the box and forced Farmington to throw the ball. Senior Trey Waggle completed 16 of 24 passes for 385 yards and three TDs. Winless Vilonia has scored 35 points in the past four games.
Greenbrier at HARRISON (7): This game is at least for playoff seeding, if not more. Harrison controls its destiny and could win its first league title in more than a decade with three more victories. Greenbrier stuffed Farmington's rushing attack last week, holding the Cardinals' top rusher to 40 yards. Junior QB Andrew Johnson completed 30 of 35 passes for 300 yards and two TDs, including three passes for 100 yards and a TD to Reese Hammontree. Harrison sophomore Gabe Huskey ran in four TDs in last week's 28-point win at Vilonia, while QB Noah Ditmanson ran for a TD and threw a TD pass.
Maumelle at MORRILTON (9): Morrilton led Alma 28-6 in the first half last week, hanging on for a three-point win. Devil Dog Jesus Arias kicked the winning field goal in the fourth quarter. Maumelle senior QB Connor McCullough threw four TD passes in last week's 17-point win over Clarksville.