Class 4A Week 7 Rankings, Notes & Picks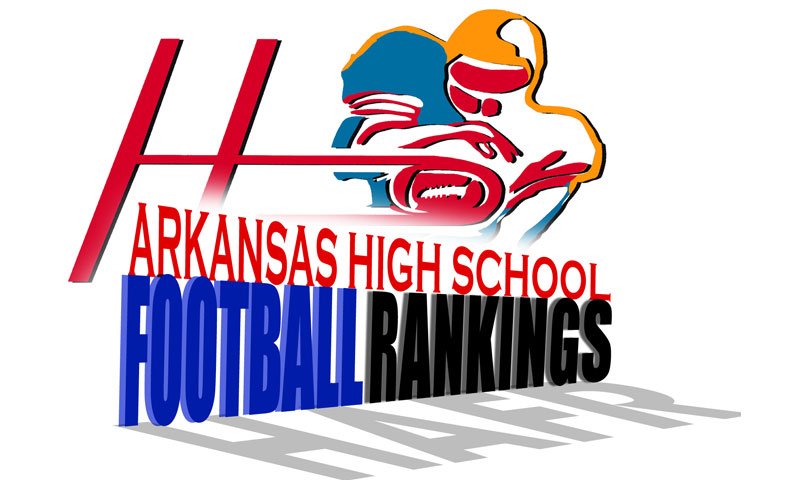 Hootens.com Rankings
Class 4A, Week 7, 2017
Copyright Hooten Publishing, Inc.

1. Warren (5-1)
2. Pea Ridge (6-0)
3. Joe T. Robinson (6-0)
4. Arkadelphia (5-1)
5. Prairie Grove (6-0)
6. Ashdown (6-0)
7. Dardanelle (5-1)
8. Booneville (5-1)
9. Shiloh Christian (4-2)
10. Southside Batesville (6-0)
11. Gosnell (4-3)
12. Stuttgart (3-3)
13. Ozark (4-2)
14. Nashville (3-3)
15. Trumann (5-1)
16. Bauxite (4-2)
17. Riverview (5-1)
18. Heber Springs (3-3)
19. Pottsville (3-3)
20. Star City (2-4)
21. Hamburg (3-3)
22. Helena (5-1)
23. Malvern (2-4)
24. Monticello (3-3)
25. Mena (3-3)
26. Gravette (2-4)
27. Dover (4-2)
28. Pocahontas (3-3)
29. Dumas (3-3)
30. Jonesboro Westside (4-2)
31. Fountain Lake (2-4)
32. Waldron (3-3)
33. Gentry (4-2)
34. Highland (2-4)
35. Crossett (1-5)
36. Lonoke (2-4)
37. Harrisburg (3-3)
38. DeWitt (2-4)
39. Brookland (3-3)
40. Huntsville (1-5)
41. Lincoln (2-4)
42. CAC (0-6)
43. Dollarway (0-5)
44. Berryville (1-5)
45. Subiaco Academy (2-4)
46. Cave City (0-6)
47. West Fork (0-6)
48. Baptist Prep (0-6)

HOOTENS.COM GAME OF THE WEEK
No. 5 Prairie Grove at No. 2 Pea Ridge
These teams have both reached the semifinals each of the past two seasons, with Prairie Grove finishing as state runner-up in 2015 and Pea Ridge playing the for the 2016 state title. Prairie Grove has won nine of the past 11 over the Blackhawks, including by 21 points a year ago. The Tigers have won 25 consecutive regular-season games, and Warren is the only Class 4A opponent to beat them the past two years. They've also won four of the past five league titles.  Prairie Grove pounded Shiloh Christian 35-21 a week ago, as senior defensive lineman Demarkus Cooper returned an interception 47 yards for a touchdown with less than two minutes left. Senior QB John David Elder continues making key decisions. Senior receiver Stone Bryant caught two TD passes and intercepted a pass in the fourth quarter. "Their defense is fun to watch because they are physical, fly to the ball and arrive with a nasty attitude," Pea Ridge coach Stephen Neal says.  Undefeated Pea Ridge gains 420 yards weekly. Senior QB Jakota Sainsbury completes 67 percent of his passes (80 of 119) this fall for 1,110 yards and 13 touchdowns. Senior workhorse Drew Winn, whose brother Dayton was named the Danish American Football League MVP last week, has 117 carries for 1,174 yards and 17 TDs. Senior receivers Jordan Witcher (34 catches for 446 yards and four TDs) and Hayden Holtgrewe (36 catches, 615 yards and seven TDs) form one of the better receiving tandems in Class 4A. Junior linebacker Tristin Brewer has 75 tackles, including eight tackles for loss. "We are still in the process of moving players to different positions and finding the right pieces," Neal says.

TV SHOW
Hooten's Arkansas Football airs 10:30 a.m. Saturday's on KATV (ABC Little Rock) Channel 7, featuring the Razorbacks, high school teams and players to watch.

LAST WEEK
Hootens.com correctly predicted 20 of 24 games (83 percent), nailing the point spread of Southside Batesville by 14 points Lonoke and Crossett by three points over DeWitt. Hootens.com has correctly predicted 174 of 195 games (89 percent) this season.

WEEK 7 PREDICTIONS (favored team in CAPS followed by point spread)
1-4A
PRAIRIE GROVE (2) at Pea Ridge: Hootens.com Class 4A Game of the Week.
SHILOH CHRISTIAN (21) at Gentry: Gentry gains 431 yards weekly. Senior Jon Faulkenberry is regarded as one of the league's top athletes. Faulkenberry has completed 65 of 113 passes (58 percent) for 1,148 yards and 12 TDs with six interceptions. He's ran 81 times for 799 yards and 16 TDs. Shiloh Christian failed to convert on five fourth down attempts in the first half of last week's 14-point loss at Prairie Grove, and turned the ball over twice in the fourth quarter.
Berryville at GRAVETTE (35): Gravette rushes for 271 yards per game, with senior Austin O'Brien running for 1,152 yards and 10 TDs this year. Senior safety Blake Moorman paces the Lions with 58 tackles. Berryville has lost eight straight conference games after last week's 39-point setback to Lincoln. The Bobcats haven't scored in their three conference games in 2017.
HUNTSVILLE (1) at Lincoln: This likely decides a playoff spot. Huntsville junior QB Sean McCone has passed for 799 yards and 10 TDs this season, while rushing 323 yards and four scores. Lincoln hung with Pea Ridge two weeks ago before blasting Berryville 39-0 last week. The Wolves average 25 points per game.

2-4A
HEBER SPRINGS (21) at Baptist Prep: Heber Springs escaped winless CAC last week with a three-point victory (led 31-13 in the fourth quarter). Junior Blaze Nelson ran for three TDs, while junior Julian Cameron kicked a critical 27-yard field goal. Baptist Prep scored three TDs the past two weeks, their only TDs in 2017.
SOUTHSIDE BATESVILLE (7) at CAC: CAC has won its three matchups over the Southerners by a combined 98-41. But the undefeated Southerners are surging toward the first league title in school history, with key wins over Stuttgart and Riverview. Southside Batesville's Caden Huskey (361 yards) and Brayden Duncan (400 yards) pace a rushing attack that averages 222 yards weekly. Winless CAC played its best game of 2017 last week, losing to Heber Springs by three points. The Mustangs rallied with 15 unanswered points in the fourth quarter.
Lonoke at HELENA (6): It's homecoming in Helena, and the Cougars must refocus after losing their first game of the year last week, falling to Riverview by nine points. They trailed by two points in the fourth quarter before surrendering a late TD. Lonoke trailed unbeaten Southside Batesville by seven points in the fourth quarter last week before giving up a late TD. Senior QB Daniel Seigrist has thrown seven TDs this fall and ran for three more.
Riverview at STUTTGART (3): This game helps decide playoff seeding. Riverview impressed with last week's eight-point triumph at previously unbeaten Helena. The Raiders gain 361 yards weekly. Senior dual-threat QB Griffin Miller completes 53 percent of his passes for  552 yards and seven TDs, and he's the leading rusher with 539 yards and seven TDs. Stuttgart junior QB Tim Johnson threw two TD passes and ran for another in last week's 37-point win over Baptist Prep.

3-4A
JONESBORO WESTSIDE (1) at Brookland: Jonesboro Westside has won the five previous meetings over the Bearcats. The Warriors average 32 points weekly. Brookland has lost consecutive games by a total of 12 points. The Bearcats led Pocahontas 22-21 early in the fourth quarter last week and were tied 28-28 with three minutes left before losing by eight points.
POCAHONTAS (35) at Cave City: Pocahontas has won four of the past five over Cave City. The Redskins scored in the final minute last week to down Brookland 36-28. Winless Cave City gives up 47 ppg. Junior QB Jace Patterson has thrown four TD passes and ran for a TD this fall.
Highland at GOSNELL (14): Gosnell has won 12 straight conference games and 27 of the past 29. The Pirates ran for 376 yards in last week's 22-point decision over previously unbeaten Trumann. Junior Devin Burks picked up 107 yards and a TD, while sophomore Brian Denkins ran for a pair of TDs and a two-point conversion. Highland has won consecutive games after starting the season 0-4. Sophomore QB Dylan Tharp has passed for 586 yards and seven TDs and ran for 343 yards and four TDs. Senior Samuel Stowers paces the receivers with 21 receptions.
TRUMANN (11) at Harrisburg: Harrisburg usually plays well against its rival, beating Trumann by one point in 2015. The Hornets pass for 250 ypg, with senior Clay Wright throwing 18 TDs. Trumann can't hang its head after last week's disappointing 22-point loss to Gosnell. The Wildcats threw a pair of TD passes against Gosnell after the Pirates crowded the line of scrimmage to slow Cade Gartman and the rushing attack.

4-4A
Subiaco Academy at DARDANELLE (40): Dardanelle senior QB Elyas Carter ran eight times for 135 yards and four TDs in last week's 42-point shutout victory over West Fork. Carter has completed 45 of 65 passes this fall for 568 yards and eight TDs, with only one interception. He averages 12.1 yards per carry. Senior linebacker Tate Vestal paces the Sand Lizards with 74 tackles.
POTTSVILLE (6) at Dover: Pottsville broke open a close game in the second half last week, running to a 21-point win over Waldron. The Apaches average 307 yards on the ground weekly. Junior Kade England has rushed for 391 yards and four TDs. Dover gives up 21 ppg. Junior Blake Massingale ran for 53 yards in last week's 38-point loss at Booneville.
West Fork at OZARK (36): Ozark has won four of the past seven over West Fork, including by 33 points last season. The Hillbillies put up a balanced 379 yards weekly (186 rushing, 193 passing). Sophomore Daniel Woolsey has rushed for 405 yards and nine TDs. Winless West Fork averages seven ppg.
BOONEVILLE (21) at Waldron: Waldron coach Ricky May assisted at Booneville for more than a decade before turning around Waldron the past two seasons (broke a 43-game losing streak in 2016). Booneville passed for 255 yards in last week's mercy-rule win over Dover. Junior receiver Ethan Dobbs hauled in four catches for 134 yards and a TD. Junior QB Brandon Ulmer passed for 229 yards before leaving in the second half with an apparent knee injury. Booneville has 699 victories in program history.

7-4A
BAUXITE (4) at Fountain Lake: Bauxite locks a playoff spot with one more win. The Miners scored on their opening four possessions, recovered two onside kicks and intercepted a pass in the final two minutes to secure last week's four-point win over Mena. Fountain Lake gave up 57 points in the first half last week at Arkadelphia.
JOE T. ROBINSON (18) at Malvern: Joe T. Robinson has taken down Arkadelphia and Nashville the past two weeks. Senior Ceazar Warren ran for 211 yards and three TDs against Nashville and for 259 yards and two TDs against Arkadelphia. Malvern trailed Ashdown 27-0 at halftime last week before losing by 35 points. The Senators forced seven turnovers against Nashville.
ARKADELPHIA (16) at Mena: Arkadelphia junior running back Zion Hatley (concussion) didn't play Week 5 against Joe T. Robinson, but made up for it last week with seven carries for 144 yards and five TDs in a 63-point win over Fountain Lake. Mena likely must win out to make the playoffs. The Bearcats led Bauxite 28-25 in the fourth quarter last week before losing by four points. Mena senior Justin Dean ran for three TDs and caught a TD pass at Bauxite.
ASHDOWN (2) at Nashville: This is the 68th meeting between these schools, with Nashville winning 51 times. But Ashdown usually plays the Scrappers tough, winning by four points in 2013 and leading Nashville by double digits in the second quarter in 2015 before losing by 10 points. Ashdown's first-team D has allowed just 12 points this fall. Nashville has two conference losses this fall (didn't lose any in 2015 or 2016), the most since 2013. The Scrappers turned the ball over seven times (five interceptions, two fumbles) in last week's 24-point loss at Joe T. Robinson. Senior QB Tyler Hanson has thrown for 1,630 yards and 12 TDs.

8-4A
Dollarway at HAMBURG (26): Hamburg rallied in the second half but lost at Star City last week by one point. The Lions surrender 27 ppg, while winless Dollarway yields 33 ppg.
Crossett at MONTICELLO (13): Monticello failed to score twice in the red zone in last week's 22-point win over Dollarway. The Billies led 30-0 in the third quarter. Crossett notched its first win of 2017 with a three-point overtime triumph at DeWitt, when senior Adolfo Gonzalez nailed a 26-yard field goal (his first attempt of the season).
Dumas at STAR CITY (2): Star City led Hamburg 28-7 at halftime last week, didn't score in the second half, holding on for a one-point decision. Senior QB Sam Reed ran for a TD and passed for another against Hamburg. Dumas rushes for 268 yards weekly. Freshman Kylin James has 410 yards and five TDs in 2017.
DeWitt at WARREN (31): Warren has never lost a conference game to DeWitt. Junior Treylon Burks tallied five TDs (two rushing, one receiving, one interception return and one punt return) in last week's 31-point win at Dumas. DeWitt senior running back Donovan Starks has almost 500 yard and five TDs this season. The Dragons drove 93 yards for the tying TD in seven minutes during the fourth quarter of last week's overtime loss to Crossett.