Class 2A Week 7 Rankings, Notes & Picks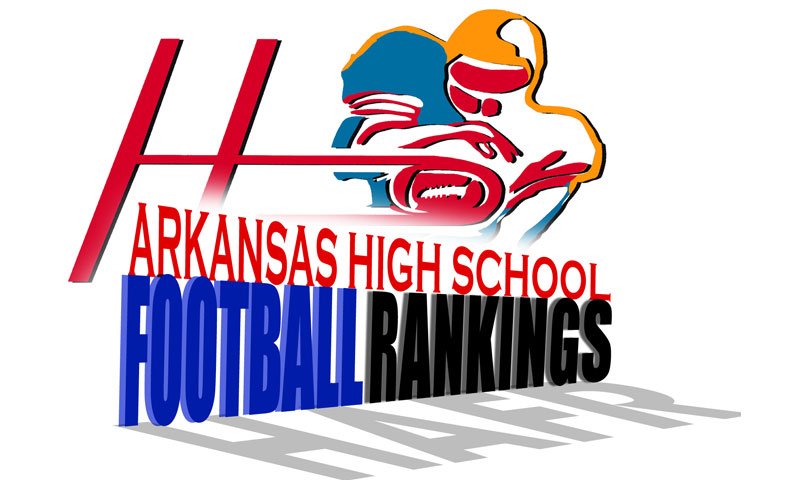 Hootens.com Rankings
Class 2A, Week 7, 2017
Copyright Hooten Publishing, Inc.
1. Mount Ida (6-0)
2. Rison (6-0)
3. C. Harmony Grove (3-3)
4. McCrory (5-1)
5. Hampton (4-2)
6. Hector (5-1)
7. Earle (5-1)
8. Foreman (5-0)
9. Conway Christian (5-1)
10. Danville (6-1)
11. Bearden (4-2)
12. Hazen (4-2)
13. Des Arc (3-2)
14. Parkers Chapel (4-2)
15. Mountainburg (5-1)
16. Hackett (4-1)
17. Strong (3-3)
18. Marked Tree (4-2)
19. E. Poinsett County (4-2)
20. Palestine-Wheatley (4-1)
21. Magnet Cove (3-3)
22. Mountain Pine (5-1)
23. Cross County (3-3)
24. Poyen (1-5)
25. England (2-4)
26. Salem (3-3)
27. Mineral Springs (1-5)
28. Quitman (2-4)
29. Carlisle (1-4)
30. Lavaca (2-4)
31. Magazine (3-3)
32. Cutter M. Star (2-4)
33. Spring Hill (2-4)
34. J.C. Westside (2-3)
35. Lafayette County (1-5)
36. Clarendon (1-4)
37. Bigelow (1-5)
38. Murfreesboro (0-6)
39. Dierks (0-6)
40. Marvell (0-5)
41. Woodlawn (1-5)
42. W. Yell County (1-4)
43. Midland (1-5)
44. Brinkley (0-6)
45. Rector (0-4)
46. Decatur (0-5)
47. Hermitage (0-9)

GAME OF THE WEEK
No. 8 Foreman at No. 1 Mount Ida
Two of the three unbeaten teams left in Class 2A clash for the 7-2A championship. Likely a short game with a pair of run-heavy offenses and two of the stiffer defenses in the state. Junior quarterback Cade Jackson operates defending state champion Mount Ida's Veer that averages 9 yards per carry. Jackson has rushed for 329 yards, passed for 321 yards and four touchdowns without an interception. Senior RB Cade Helms and junior Gage Dyer have rushed for 286 and 344 yards, respectively, behind senior linemen Caleb Woodfield, Gunner Gilbert and Brody Davis. Helms paces the a defense that allows 6.6 ppg with 48 tackles at linebacker, while Woodlfield has 30 stops (two sacks) from his tackle slot. For Foreman, junior QB Kyren Batey triggers a Flexbone that averages 360 yards per game (12.5 yards per rush) with a team-high 649 rushing yards and 14 TDs. Batey averages 19 yards per attempt, while junior fullback Chase Boyd covers 6.6 yards per tote behind senior center/DL Logan Lindsey, senior guard Tyler Nelson, freshman guard Bubba Kegley, senior tackle Darian Groves and senior tackle KJ Green. Seven Gators have posted more than 20 tackles for a defense that allows 7.2 ppg.

TV SHOW
Hooten's Arkansas Football airs at 10:30 Saturday mornings on KATV (ABC Little Rock) Ch. 7, covering the Razorbacks, high school teams and players to watch, including the Air Guard Scholar Athlete of the Week.

LAST WEEK
Hootens.com correctly picked 22 of 23 games (96 percent) involving Class 2A teams. For the year, hootens.com is 143-32 (82 percent).

WEEK 7 (favored team in CAPS followed by point spread)
3-2A
Rector at CROSS COUNTY (26): Cross County gets its shot at No. 7 and league front-runner Earle next week at home. The Thunderbirds have ripped off three straight wins against teams in the bottom half of the 3-2A. Make that four straight.
Midland at EARLE (49): No. 7 Earle likely owns the most team speed in Class 2A. Even when an opponent wins at the point of attack, getting past the second wave of Earle defenders is rare. Earle's defense allows 10.3 ppg.
Salem at E. POINSETT COUNTY (12): EPC gave up 222 passing yards and four passing TDs last week in a 19-point loss at 6-2A member Des Arc. Salem just allowed 367 rushing yards to Cross County in a 20-14 loss.
MARKED TREE is open.

4-2A
Hackett at DANVILLE (6): No. 16 Hackett can force a three-way tie atop the league standings with an upset of No. 10 Danville, which has improved weekly. Danville junior RB Quentin Tolbert ran for 313 yards and three TDs last week in a 47-12 win over Magazine behind 11 combined pancake blocks from junior linemen Jarrique Hinton and Doug Harper. Junior Evan Lane caught two TD passes and returned an interception 50 yards for a TD. Hackett counters with steady junior QB Brady Hester, who accounted for five TDs last week vs Decatur. Hester completed six of nine passes for 139 yards and three TDs and ran for two more scores. Junior LB Roland Smith (nine tackles, two TFL, one sack) paced a Hackett defense that limited Decatur to 59 yards. Danville won this slugfest 32-22 a year ago.
JC WESTSIDE (10) at Decatur: Decatur dresses 15 players, while J.C. Westside keeps its playoff hopes alive with Magazine and Western Yell coming to Coal Hill the next two weeks.
LAVACA (2) at Magazine: Magazine gave up 493 yards (267 in the first quarter) and threw three interceptions in last week's 35-point loss (trailed 27-0 at halftime) to league-leading Danville. The Rattlers need a much faster start this week against Lavaca and its senior playmaker, Ryan Dockery.
MOUNTAINBURG (22) at Western Yell County: If the 4-2A race plays out as expected, Mountainburg would earn the second playoff seed and enjoy a favorable first-round draw against the fourth seed from the 5-2A.

5-2A
POYEN (9) at Bigelow: No. 24 Poyen celebrated homecoming last week with a 38-6 win over Cutter Morning Star that could have been more lopsided. After an 0-5 start, Poyen can win three straight before playing host to league-leading Hector Week 9. Poyen ran away from CMS last week by averaging 7.7 yards per carry with senior Max Nannemann toting a team-high 20 times for 169 yards and a TD.
Quitman at CONWAY CHRISTIAN (12): It's homecoming at CC, which last week could not slow down England senior QB Darrius Clarkson (33 carries for 253 yards and two TDs). CC still won 37-32, but it misses junior feature 'back Luke Gates (ankle). Quitman counters with improving senior quarterback Donavon Foley and multi-purpose receiver Trey Lovelady (15 yards per reception).
ENGLAND (36) at Cutter M. Star: CMS dressed 15 last week in a 32-point loss at Poyen, while England's Darrius Clarkson accounted for 329 yards and two TDs in a five-point loss to Conway Christian. Tough matchup for CMS.
HECTOR (8) at Magnet Cove: Early-season non-conference tests vs Bearden and Class 3A Paris should pay off the next three weeks as Hector tries to claim its fourth conference title in the past five years. After a trip to MC, Hector plays host to England and travels to Poyen. Magnet Cove also played a difficult non-conference schedule with losses to upstart Parkers Chapel, and Class 3A Centerpoint and Harmony Grove Haskell. MC already owns a victory over defending league champ England, 31-30 Week 4. MC averages 318 rushing yards per game and 6 yards per carry, paced by senior RB James Butler (7.5 ypc, six TDs). Junior Grant Eskola has attempted 25 passes this year while quarterbacking first-year HC Caleb Carmikle's Flexbone.

6-2A
MCCRORY (36) at Clarendon: Clarendon has had two weeks to prepare, and the Lions deploy speedy playmakers, but can they slow McCrory's 5-11, 210-pound senior RB (running beast) Devin Taylor (1,401 yards, 23 TDs)?
Marvell at DES ARC (42): Des Arc returns to running the football this week after passing 3-2A member EPC 47-28 last week with 222 passing yards and four TDs.
Carlisle at PALESTINE-WHEATLEY (26): P-W eyes playoff positioning, while Carlisle tries to regroup after mustering just 26 yards and one first down (by penalty) last week in a 49-point loss to rival Hazen. Hazen has crushed Carlisle three of the past four years by a combined 144-26. 
BRINKLEY and HAZEN are open.

7-2A
Foreman at MOUNT IDA (2): See Game of the Week.
Spring Hill at MOUNTAIN PINE (24): The turnaround story of Class 2A, maybe the state, takes another step toward the No. 3 playoff seed after recording one win during the previous five seasons. Mountain Pine rallied from a three-point halftime deficit last week and surged past Murfreesboro 61-40. MP sophomore QB Collin Smith ran for 198 yards and two TDs, while senior RB Dafavioun Haywood rushed for 150 yards and two TDs. MP converted six of seven times on third down and never punted. Senior LB Carter Chapman paces the defense with 64 tackles.
Murfreesboro at MINERAL SPRINGS (2): Two proud programs and old rivals, but both enduring hard times. MS notched its first win last week by outscoring winless Dierks 40-22. Murfreesboro has not been able to outscore an opponent, yet, giving up the most points (51.5 ppg) in Class 2A.
LAFAYETTE COUNTY (8) at Dierks: Winless Dierks allows 44 ppg, while one-win LC surrenders 42 ppg.

8-2A
C HARMONY GROVE (19) at Bearden: No. 11 Bearden escaped Parkers Chapel with an 8-6 win last week with senior QB/S Tyler Berry (two INTs) and senior LB Gage Word (eight tackles) making just enough plays to avoid the upset. Third-ranked Camden Harmony Grove hammered Woodlawn 64-21. The HG starting defense has allowed 21 points since the season-opening loss to Class 3A No. 1 Prescott. Junior WR/S Kentrell Hill has intercepted five passes and forced four fumbles. H. Grove averages 50 ppg in league action. Junior QB Gannon Beard has run and passed for 1,000 yards with Hill hauling in four TD passes. Senior RB Jordan Hicks has topped 500 rushing yards, while classmate Jace Garcia has carried for 390 yards.
Parkers Chapel at RISON (24): No. 2 Rison defeated the Camden JV last week, but the win did not count on its record because Rison accepted 13 points from a forfeit from 8-2A member Hermitage. PC dropped a TD pass and hit the right upright on a 21-yard field-goal attempt in the fourth quarter, losing to Bearden 8-6.
HAMPTON (33) at Woodlawn: No. 5 Hampton plays two quarterbacks. Junior QB Browning Welch started and stayed behind center last week in a 33-16 win at Strong. Junior QB Evian Martinez has rushed for a team-high 420 yards and six TDs. Senior LB DD Stephens has collected a team-high 43 tackles, including 10 TFL.
STRONG is open.