RECRUITING: Class 3A No. 6 Centerpoint at No. 1 Prescott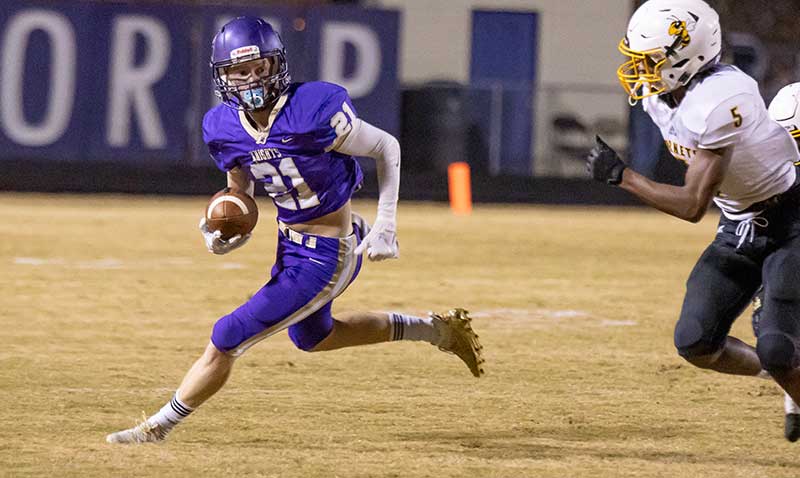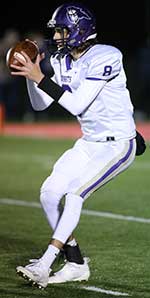 Sr QB Josh Lawson
By BARRY GROOMES
Class 3A upstart Centerpoint (5-0) must make history this week to win its first conference title in school history. The Knights travel to Class 3A No. 1 Prescott (5-0), a team they've never beaten.
Sixth-ranked Centerpoint, which formed in 1997 with the consolidation of Amity and Glenwood, lacks football tradition. Glenwood won the 1978 2A North title, but Amity never fielded a team in the modern era.
The senior-laden Knights have handled the preseason hype, winning their opening five games by an average score of 45-11.
"All the pressure is on Prescott," Centerpoint coach Cary Rogers says. "We've never beaten them, but our seniors have been winners all the way through the program. We have a lot of expectation placed on us by the community, and we're living up to them.
"Our guys are glad to have the chance to play them and look forward to the challenge."
Centerpoint team leader and senior quarterback Josh Lawson passes 17 times per game for 250 yards. In last week's 41-6 victory over Horatio, Lawson completed 10 of 13 passes for 225 yards and three first downs in the first half. "He could have much better stats, but we haven't had to throw it much," Rogers says.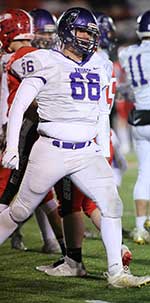 Sr LT Garrett Alexander
Most in-state Division II schools have inquired about Lawson, including Arkansas-Monticello, Ouachita Baptist and Southern Arkansas.
The in-state schools are also high in Centerpoint receiver/defensive end C.J. Fox (5-9, 150). Fox (4.6 speed) "takes the ball and goes with it," Rogers says. Fox (#21 in Adam Hatmaker photo TOP) averages more than 15 yards per catch this fall. Senior left tackle Garrett Alexander (6-3, 250) should again earn all-state honors at left tackle as one of the 5-3A's more dominant blockers. "He doesn't let anyone get around him," Rogers says. 
Senior receivers Dillon Fox (6-0, 170) and Kaden Owens (6-2, 175) "are great high school players and could play in college if they wanted," Rogers says. Both are members of Centerpoint's golf team, which placed in the Top 10 earlier this week at the state tournament. Dillon Fox finished sixth overall.
In contrast to Centerpoint's lack of tradition, Prescott oozes with previous success. Since 1970, the Curley Wolves have played in 10 state title games and won five. They've captured 13 conference titles in the past 25 years, including 10 since the state swelled from four to six classifications in 2006.
Nine Curley Wolves already have received college football scholarship offers, including senior receiver/tight end Caleb Harris (6-4, 230) with offers from Ole Miss, Middle Tennessee and Arkansas-Pine Bluff. 
Senior Jaylen Hopson (6-2, 200) owns offers from Arkansas State, Middle Tennessee and Texas State. "He's the most electric player in the state," Glass says.
Other Prescott players with offers include: senior receiver Jacaylon Zachery (5-9, 160), senior cornerback Omarion Dickens (6-0, 175) and senior linebacker Jason Patrick (6-1, 175) own offers from in-state D2's, along with junior QB/safety Carsten Poole and junior receiver/linebacker Travion Dickens.
Zachery has rushed 11 times this fall for 200 yards and caught 10 passes for 223 yards. Patrick has logged a team-best 41 tackles. Poole has completed 71 percent of his passes for 904 yards and 12 TDs. Travion Dickens averages 17 yards per carry. 
Senior defensive lineman Baylis Price (6-2, 210) and junior linebacker Eric Grigsby (6-0, 190) are receiving recruiting attention from most in-state programs. 
"We aren't big, but we are very quick and strong for our size," Prescott coach Brian Glass says.