Class 6A Week 6 Rankings, Notes & Picks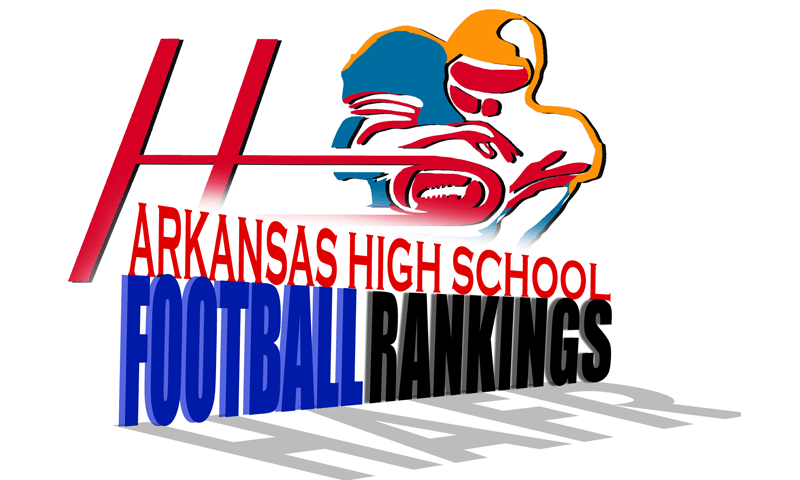 Hootens.com Rankings
Class 6A, Week 6, 2016
Copyright Hooten Publishing, Inc.
1. Greenwood (5-0)
2. Pine Bluff (3-1)
3. Jonesboro (5-0)
4. Russellville (5-0)
5. Benton (3-2)
6. Lake Hamilton (3-2)
7. El Dorado (2-3)
8. Searcy (4-1)
9. West Memphis (3-2)
10. Texarkana (1-4)
11. Marion (2-3)
12. Siloam Springs (1-4)
13. Mountain Home (0-5)
14. Sheridan (1-4)
15. Jacksonville (1-4)
16. LR Hall (2-3)

HOOTENS.COM GAME OF THE WEEK
No. 2 Pine Bluff at No. 3 Jonesboro
Pine Bluff has eliminated Jonesboro in the playoffs three times over the past four years, including the past two seasons inside Cooksey-Johns Memorial Stadium. Jonesboro coach Randy Coleman says this game often comes down to a handful of critical plays. "We've got to make big plays when it's time to make them," Coleman says. "They've done it, and we haven't."
Pine Bluff has won three in a row this season since a 28-27 loss at Cabot in the opener. Senior quarterback Simeon Blair has accounted for 1,064 total yards and 17 touchdowns this year, working behind a solid offensive line that could be as good or better than last year's unit. Junior middle linebacker Isiah Singleton paces the Zebras with 46 tackles. Senior tackle Demontae Smith (6-1, 275) spearheads the front four. "The interior of their defense is as good as we've seen," Coleman says.
Jonesboro is 5-0 for the first time in six years. The Hurricane average 544 balanced yards and 59 points per game this season. Junior QB Tyson Williams has completed 54 of 75 passes (72 percent) for 1,075 yards and 15 TDs with one interception. Williams distributes the ball to a trio of senior receivers with 4.6 speed or better, including Arkansas State commit Jonathan Adams, Jr., who leads Jonesboro with 32 catches for 643 yards and 11 TDs. "They're great at receiver," Pine Bluff coach Bobby Bolding says, "and their running backs run the ball hard."

LAST WEEK
Hootens.com correctly picked all eight games involving 6A teams. For the season, hootens.com has correctly predicted 51 of 63 winners (81 percent).

WEEK 6 PREDICTIONS (favored team in CAPS followed by point spread)
6A EAST
Jacksonville at MOUNTAIN HOME (6): Jacksonville won seven of 10 meetings with Mountain Home when both teams were in the same conference from 2002-2011. Mountain Home's three victories during that span were by an average of eight points. Senior two-way lineman Jonathan Fox (6-4, 294) has emerged as one of the league's top players.
PINE BLUFF (7) at Jonesboro: See Hootens.com Game of the Week.
WEST MEMPHIS (36) at LR Hall: West Memphis bounces back after last week's 27-20 loss to Searcy. The Blue Devils lost a fumble near midfield with four minutes left.
Marion at SEARCY (13): Searcy has won the past four meetings with Marion by an average of 24 points. Searcy senior RB Camron Washington ran 33 times for 163 yards and two TDs in last week's 27-20 win at West Memphis. Junior QB Mason Schucker passed for 192 yards and two scores. Two weeks ago, Marion lost to West Memphis 22-15.

6A WEST
Sheridan at EL DORADO (24): Both teams were mercy-ruled last week. Sheridan managed 97 total yards in a 35-6 loss to Russellville. El Dorado surrendered 508 total yards in a 49-21 loss to Greenwood. Greenwood led 49-14 with 5:05 left in the third quarter. A year ago, the Wildcats defeated Sheridan 48-15.
GREENWOOD (42) at Siloam Springs: Greenwood has gutted Siloam Springs the past two seasons by an average of 48 points. The top-ranked Bulldogs average 513 balanced yards and 46 ppg this year.
Lake Hamilton at RUSSELLVILLE (7): Lake Hamilton has held four of its five opponents to 20 ppg. The Wolves rushed for 344 yards in last week's 34-17 win at Texarkana. Russellville is 5-0 for the first time in eight years. The Cyclones allow 13 points weekly behind senior defensive linemen Layton Bicanovsky (39 tackles, 14 TFL), Matt Campbell (12 TFL, team-high seven sacks), Paul Chiolino (34 tackles, eight TFL) and Jacob Reed (36 tackles, 11 TFL).
BENTON (23) at Texarkana: Benton blasted Siloam Springs 63-0 last week. The Panthers have won the past four meetings with Texarkana by an average of 29 points. Texarkana threw three interceptions in last week's 34-17 loss to Lake Hamilton.