Class 5A Week 6 Rankings, Notes & Picks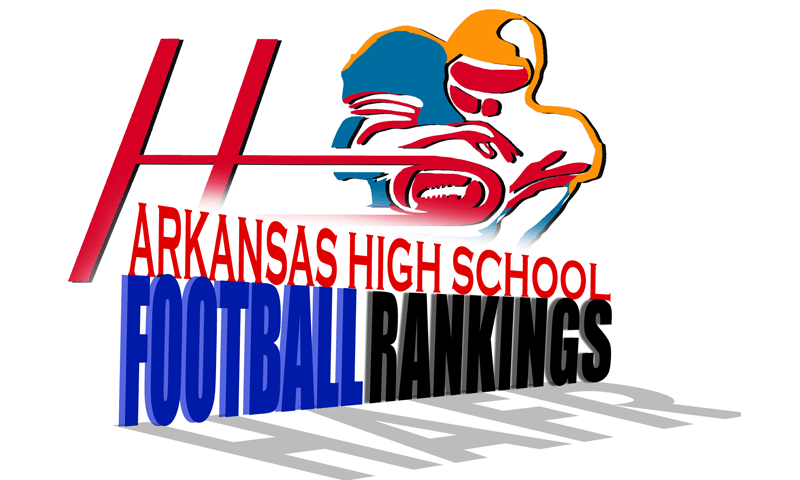 Hootens.com Rankings
Class 5A, Week 6, 2016
Copyright Hooten Publishing, Inc.
1. Pulaski Academy (4-1)
2. Batesville (3-2)
3. Wynne (5-0)
4. Alma (3-2)
5. Morrilton (4-1)
6. Sylvan Hills (5-0)
7. LR McClellan (3-2)
8. Watson Chapel (3-2)
9. Greenbrier (3-2)
10. White Hall (5-0)
11. Blytheville (3-2)
12. Forrest City (4-1)
13. HS Lakeside (2-3)
14. Vilonia (4-1)
15. Harrison (4-1)
16. Nettleton (3-2)
17. Valley View (3-2)
18. LR Christian (1-4)
19. Camden Fairview (1-4)
20. De Queen (2-3)
21. Hot Springs (1-4)
22. Beebe (1-4)
23. Farmington (2-3)
24. Maumelle (0-5)
25. Paragould (2-3)
26. Mills (2-3)
27. Magnolia (1-4)
28. LR Parkview (1-3)
29. Hope (0-5)
30. Clarksville (1-4)
31. Greene Co. Tech (0-5)
32. LR Fair (0-5)

GAME OF THE WEEK
No. 4 Alma at No. 5 Morrilton
The winner takes command of the 5A West. Morrilton's only loss this year was Week 1 to unbeaten Class 6A Russellville by three points, while Alma's losses were to Class 7A Springdale by one point and at Class 6A No. 1 Greenwood. Alma advanced to the Class 6A quarterfinals last year before losing by seven points at Jonesboro. "What scares everyone (in the 5A West) is Alma's level of competition," Morrilton coach Cody McNabb says.

The game reminds Alma coach Doug Loughridge of 2013, when the Airedales beat Morrilton in the Week 5, and Morrilton didn't lose again on its way to the state championship. "We've had this game circled for a while," Loughridge says.

Alma senior quarterback Noah Dotson has completed 59 of 109 passes for 924 yards and five touchdowns this fall, and he has 67 carries for 371 yards (5.5 yards per carry) and three TDs. Junior Brayden Johnson (6-4, 200) has emerged as a college prospect at receiver. Johnson has 37 catches for 573 yards and two TDs. "He's a match-up problem," Loughridge says. Junior linebackers Garrison Jenson (44 tackles, two sacks) and Tyler Alexander (41 tackles, three fumble recoveries) pace Alma's defense. Junior running back/linebacker Kaleb Pike sparks the Airedales after moving from Georgia last year.

Morrilton averages 351 yards per game, lead by dynamic senior receivers Grahm Heidenreich and Deiontae Duncan. Heidenreich has 20 catches for 342 yards and a team-high six TDs, while Duncan has 23 receptions for 400 yards and four TDs. Senior QB Caleb Canady completes 67 percent of his passes (64 of 95) for 938 yards and 11 TDs, while junior Danny Smith has 82 carries for 467 yards and seven TDs. Seniors Lane Grandberry and Corey Ferrell each average more than five tackles per game while helping form half of the "best linebacker corp in Class 5A," Loughridge says.

TV SHOW
Hooten's Arkansas Football TV show previews the Razorbacks on KATV (Channel 7) at 10:30 a.m. Saturday's this fall.

LAST WEEK
Hootens.com correctly predicted 14 of 16 games (88 percent), nailing the point spread of Alma by 21 at Farmington. For the season, Hootens.com has correctly predicted 103 of 121 games (85 percent).

WEEK 6 PREDICTIONS (favored team in CAPS followed by point spread)
5A CENTRAL
LR Parkview at BEEBE (3): Beebe trailed Pulaski Academy 8-7 in the first quarter last week before losing 51-21. The Badgers ground out 253 yards at PA. LR Parkview snapped a six-game losing streak last week, pounding winless LR Fair by 39 points.
PULASKI ACADEMY (25) at LR Christian: Pulaski Academy goes for its 45th straight conference victory. The Bruins have won six of seven meetings with LR Christian, including 42-7 last year in the semifinals. Bruin senior Jaren Watkins ran nine times for 181 yards and two TDs and threw a TD pass in last week's 30-point win over Beebe. LR Christian's four losses are by a TD or less. Junior running back Ladarius Burnes ran 18 times for 160 yards and three TDs in last week's 42-35 loss to Sylvan Hills.
LR MCCLELLAN (43) at LR Fair: LR Fair has scored three TDs in the past two weeks after not scoring in the opening three games. War Eagle junior Kalik Brazle has 17 carries for 174 yards and 12 catches for 155 yards this fall. LR McClellan senior Pierre Strong ran 23 times for 211 yards and five TDs in last week's 42-point win over Mills.
SYLVAN HILLS (17) at Mills: Sylvan Hills has won six of eight over Mills since the teams joined the same conference in 2008. Bears coach Jim Withrow compiled a 28-44 record in seven years at Mills before taking over at Sylvan Hills in 2007. Sylvan Hills senior QB Jordan Washington ran 7 yards on fourth down for the winning TD last week at LR Christian. He ran for 134 yards and passed for 131 yards.

5A EAST
Forrest City at BATESVILLE (11): Batesville has lost just two conference games (40-27 at Wynne in 2012 and 33-14 at Blytheville last season) since falling at Forrest City by seven points in 2009. Batesville has won three straight games since starting the season 0-2 (against teams with a combined record of 9-1). Pioneer senior Kylan Robinson ran nine times for 140 yards and two TDs in last week's 43-7 win at Paragould. Robinson has 45 carries for 464 yards and five TDs this fall. Forrest City sophomore QB Randal Moore threw six TD passes in last week's 40-14 win over Valley View. Moore has completed 55 of 80 passes (69 percent) for 588 yards and 17 TDs this season.
BLYTHEVILLE (21) at Greene Co. Tech: Blytheville must come down off last week's dominating 46-0 win at Nettleton. Greene County Tech usually plays well against the Chickasaws (lost by two points in 2014 and scored 26 points last season). Blytheville senior Demekko Clark ran for 240 yards and three TDS last week' at Nettleton, boosting his yearly totals to 95 carries for 880 yards and 10 TDs.
Paragould at NETTLETON (7): Nettleton must regroup after last week's 46-point loss to Blytheville. The Raiders gave up 361 yards, including 308 yards in the first half. Nettleton averages 384 yards per game, but struggled to move the ball against athletic Blytheville. Paragould senior QB Zach Hoggard ran for a TD last week against Batesville. Hoggard has passed for 253 yards and two TDs this fall, and rushed for 337 yards and six scores.
WYNNE (18) at Valley View: Wynne jumped on Valley View 28-0 last season and hung on for a 28-14 decision. The Yellowjackets start underclassmen at 15 positions (seven on offense, eight on defense). Junior fullback/noseguard Ta'von Hicks (300-pound power clean) ran for a pair of TD's in last week's 48-0 win over Greene County Tech. Valley View led Forrest City early last week before losing by 26 points.

5A SOUTH
Hot Springs at DE QUEEN (6): The winner stays in playoff contention. Hot Springs coach Chris Vereen compiled a record of 18-25 at De Queen from 2005-2008. De Queen mercy-ruled the Trojans 42-7 last season. Hot Springs earned its first victory of 2016 last week, hammering Hope 22-7. Trojan senior Trayvun Gordon (135 yards at Hope) and sophomore Chris Stewart (132 yards at Hope) have emerged at running back. De Queen gives up 30 ppg.
Hope at WATSON CHAPEL (24): Watson Chapel averages 35 points and 345 yards weekly. Wildcat senior safety Michael Williams spearheads an attacking defense. Williams has 66 tackles this season, including eight tackles for loss. He also has forced three fumbles and intercepted two passes. Hope scores 15 ppg.
WHITE HALL (6) at HS Lakeside: The teams have split the past six meetings. The winner stays in contention for the conference title (White Hall plays Watson Chapel next week and HS Lakeside plays the Wildcats Week 9). White Hall scored 27 points in the second half of last week's 15-point win over Camden Fairview. Bulldog senior Lance Smith accounted for four TDs against Camden Fairview (three rushing, one passing). HS Lakeside has won consecutive games after starting the season 0-3. The Rams forced three turnovers last week while beating Magnolia by eight points.
CAMDEN FAIRVIEW (3) at Magnolia: Camden Fairview has beaten its rival seven of the past 11 seasons, but two of Magnolia's better offensive outputs over the past 25 games are against the Cardinals (Magnolia won 29-0 in 2014, and Camden Fairview won 49-27 a year ago). Camden Fairview senior Chris Hargraves ran for three TDs last week at White Hall. Magnolia committed three red zone turnovers last week at HS Lakeside (21-13 setback), while missing a field goal and extra-point.

5A WEST
ALMA (1) at Morrilton: See Hootens.com Class 5A Game of the Week.
MAUMELLE (13) at Clarksville: These teams are a combined 1-9, and both were shutout last week. Winless Maumelle forfeited a Week 3 win over Mills and lost its past two games by a total of 14 points (41-34 against Greenbrier and Vilonia 7-0). Clarksville has scored just 26 points the past four weeks, after scoring 24 points Week 1 against Lamar. Clarksville seniors Diamante Polidore (54 carries, 255 yards) and Austin McPhillips (58 carries, 207 yards) are the leading rushers.
GREENBRIER (16) at Farmington: Morrilton had trouble tackling Greenbrier senior QB Carter Burcham last week. Burcham has passed for more than 900 yards this season. Farmington averages 214 yards weekly. Junior QB Trey Waggle has passed for 525 yards and seven TDs.
Vilonia at HARRISON (2): The winner takes a giant step toward the playoffs. Vilonia junior Isaiah Rocha has scored two game-winning TDs this season (at Booneville and against Maumelle). Eagle senior QB Luke Gordon has passed for 366 yards and five TDs this year (zero interceptions) and rushed for 166 yards and three TDs. Harrison averages almost 300 yards per game. Big-play junior receiver Daniel McCormick has seven catches for 284 yards (41 yards per catch) and four TDs.