Class 2A/8-Man Week 6 Rankings, Notes & Picks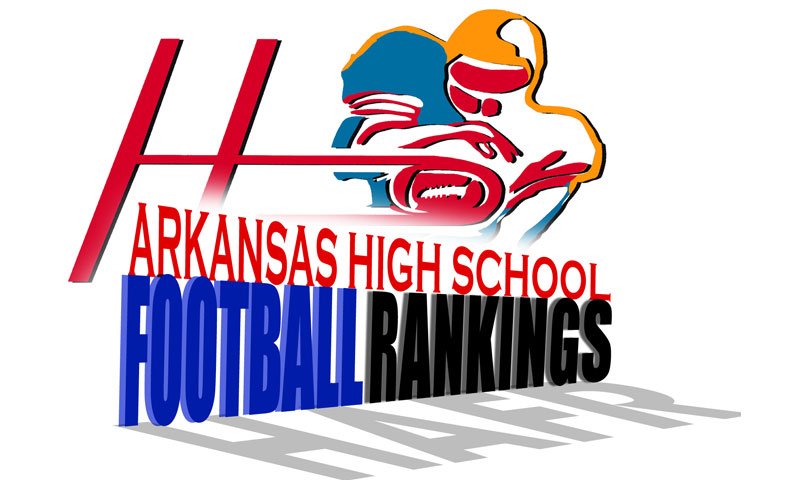 Hootens.com Class 2A Rankings
Week 6, 2022
Copyright Seventy Seven's Publishing
1. Hazen (5-0)
2. EPC (5-0)
3. Marked Tree (5-0)
4. Mount Ida (3-1)
5. Bigelow (4-1)
6. Carlisle (5-0)
7. Dierks (5-1)
8. Mineral Springs (5-1)
9. Clarendon (3-2)
10. Conway Christian (3-2)
11. Hector (3-2-1)
12. Episcopal (3-2)
13. Poyen (3-3)
14. England (3-2)
15. McCrory (1-4)
16. Hampton (2-3)
17. Des Arc (2-2)
18. Mountainburg (2-3)
19. Earle (2-3)
20. Cross County (1-3)
21. Magazine (2-3)
22. Murfreesboro (1-4)
23. J.C. Westside (1-5)
24. Lafayette County (0-5)
25. Bearden (0-5)
26. Baptist Prep (0-6)
27. Foreman (0-5)
28. Marianna (0-4)
29. Decatur (0-6)
LAST WEEK
Hootens.com correctly predicted 12 out of 14 (86 percent) games involving Class 2A teams and is 78 of 100 (78 percent) for the season.
WEEK 6 PREDICTIONS (Favored team highlighted in yellow and ALL CAPS).
HOOTENS.COM GAME OF THE WEEK
No. 8 Mineral Springs at NO. 7 DIERKS: Dierks Coach Paul Ernest goes against his former team in a matchup of high-powered offenses that has 3-2A title implications. Senior all-state playmaker Eli Sharp (101 rushing, 3 TDs), along with Rustin Simmons (77 rushing; 11 tackles) led Dierks against Murfreesboro last week. Mineral Springs averages 52.0 points per game after a 39-12 victory over winless Lafayette County. The Hornets racked up 556 yards (498 rushing) with seniors K.J. Hayes (11-118 rushing, 2 TDs), Vonderrick Stewart (12-164 rushing, 3 TDs) and K.T. Thomas (15-198 rushing, 2 TDs) leading the way. Romeo Lucero (11 tackles, 2 TFL, 1 fumble recovery, 1 forced fumble) and Jace Amerson (8 tackles, 4 TFL, 1 sack, 1 forced fumble) led the defense. Both teams are 2-0 in conference play, while fourth-ranked Mount Ida is 1-0.
1-2A
BIGELOW at Hector: Hector tries to bounce back from a 34-30 loss to No. 10 Conway Christian last week. Junior P.J. Henderson (4-115 receiving, 1 TD) and junior all-conference QB Jackson Taylor rushed for 2 TDs and threw another for Hector. Peter Waite (10 tackles) and Blaze Manrrique (8 tackles, 1 TFL, 1 FF, 1 sack) played well on defense. No. 5 Bigelow has had two weeks to prepare for Hector, a team Bigelow defeated Hector 35-0 last year.
Decatur at CONWAY CHRISTIAN: Conway Christian Coach Justin Kramer says he was proud of the way his team finished in a 34-30 victory over Hector. "It seems like we are maturing a bit," Kramer says. Sophomore QB Jeryn Thomas (273 yards, 4 TDs) connected with senior WR Cooper Johnson (6-156 receiving, 2 TDs).
Sophomore Coleton Loper and junior Miles Dickinson had 8.5 tackles each. Decatur (0-6) comes off a 38-0 loss to Mountainburg.
MOUNTAINBURG at Magazine: Mountainburg rushed for 198 yards in last week's win over Decatur with senior Kai Baldwin (48 yards), senior Blake Polly (49 yards, 1 TD) and junior Shay Pixley (39 yards, 1 TD) paving the way. Senior Zac Walker returned a punt for a TD in the win. Magazine looks to bounce back from a 30-28 loss to J.C. Westside. Mountainburg won this matchup last year, 37-0.
OPEN J.C. WESTSIDE
2-2A
MARKED TREE at Des Arc: Both teams are tied for first in the conference, along with second-ranked East Pointsett County. At least one team will drop out of the tie on Friday. The Indians of Marked Tree beat Earle 34-18 last week. Sophomore QB Kenyon Carter (108 passing, 2 TDs), senior Willie Marshall (35-yard TD reception, 73-yard TD run) and junior Cameron Marshall (65-yard TD reception) sparked the offense. Marked Tree has scored 8 defensive TDs on the year. Des Arc beat Marianna for its second win a row. Senior RB Trevion Reed (1 rushing TD; 30-yard TD reception) sparked the offense. Reed returned a fumble 95 yards for a TD. Senior all-state FB Jack Kearby, Hayden Brown and Mason Hogue also found the end zone.
Cross County at E. POINSETT COUNTY: No. 2 EPC (5-0 overall, 2-0 in 2-2A) looks to take control of the conference race. The Warriors defeated reigning state champion McCrory 68-42 last week. Senior QB Carter Smith (10-14 passes, 245 yards and 5 TDs), junior RB Dennis Gaines (177 rushing yards, 3 TDs), junior WR Omar McCustion (100 receiving yards, 3 TDs) and junior playmaker Tyler Moore (152 total yards, 4 TDs) contributed to last week's 68-point performance. Michael Collins (13 tackles), Gaines (7 tackles, 1 interception) and McCustion (1 interception) led the defense. Cross County hasn't scored more than 6 points since its Week 0 win over Class 4A Harrisburg.
CLARENDON at McCrory: Clarendon got back on track against Cross County last week behind senior RB Tranell Black (193 rushing, 2 TDs) and senior Antonio Fletcher (6-49 rushing, 1 TD). McCrory (1-4) scored 7 TDs in a 26-point loss to No. 2 EPC. Junior Landon DeWitt (88 rushing yards, 2 TDs), sophomore Leevi Tucker (139 total yards, 2 TDs) and junior QB Reece Rushing (3 passing TDs) led the way. Tucker (12 tackles, 1 TFL, 1 FR), Rushing (11 tackles, 1 punt block), Stacy Mitchell (12 tackles, 1 FR) and Clay Hollowell (7 tackles, 1 TFL, 1 interception) played well on defense.
EARLE at Marianna: Earle's 34-18 loss to Marked Tree last week was its largest margin of defeat. The Bulldogs have kept it within one score in the rest of their games. Both of Earle's wins came against teams from higher classifications. Marianna scored a season-high 16 points against Des Arc last week, but still lost by 36.
3-2A
Foreman at POYEN: Poyen (3-3) lost to fourth-ranked Mount Ida 28-0 last Friday, a week after shutting out Murfreesboro. The Foreman Gators (0-5) were off last week.
Lafayette County at MOUNT IDA: Mount Ida (3-1, 1-0) looks to move up in the conference rankings this week against 0-5 Lafayette County. Senior RB Jacob Woodfield (170 rushing yards, 3 TDs) and Drayton Standridge (150 rushing yards, 1 TD; 21 tackles) did it all for the Lions in a 28-0 win over Poyen, 28-0. Chandler Perkins converted 4 of 4 extra points and made 12 tackles on defense. Lafayette County, coming off a 66-30 loss to Mineral Springs, is currently tied last in the conference.
Class 3A HORATIO at Murfreesboro: Horatio (1-3) is trying to break a 3-game losing streak. Senior Kevin Quiroz leads the Lions with 359 rushing yards and 3 TDs. Murfreesboro's losses have come to teams ranked in the top 15 of 2A or 3A. Junior LB Malachi Sanders and junior DL Andrew Howard picked up 6 tackles a piece in a loss against No. 7 Dierks last week.
4-2A
England at HAZEN: Can top-ranked Hazen be stopped? Not as long as senior all-state QB Luke King is in the backfield. King passed for 208 yards and 3 TDs against Baptist Prep last week. Junior Kolton Tosh (7-90 receiving, 1 TD) and classmate Justin Schlenker (47-yard TD catch; 52-yard rushing TD; 75-yard punt return TD) pitched in. Schlenker has touched the ball 25 times and has scored 14 times. England lost to Class 3A Quitman 43-22 last week, but the Lions racked up 363 yards of offense. Senior QB Chandler Cheek accounted for 338 yards and 3 TDs in the loss. Demario Carter led the Lions with 131 receiving yards and a TD.
Baptist Prep at HAMPTON: Hampton beat Bearden 28-27 last week, and the Bulldogs can get back to .500 Friday with a win. Senior QB Jonah Phillips ran for 76 yards and completed a 35-yard TD pass to set the Bulldogs up to take the lead on the ensuing 2-point conversion. Junior Jack Cole (88 rushing yards, 1 TD) and senior Zy Johnson (113 rushing yards, 1 TD; 9 tackles) carried the offense and on defense, Connor Rowland led the team with 2.5 sacks and 6 stops. Baptist Prep (0-6) struggled in a loss to top-ranked Hazen, 51-0.
Bearden at EPISCOPAL: Episcopal comes off a  48-21 loss to No. 6 Carlisle (5-0). Senior QB Gray Lee completed 14 of 20 passes for 145 yards and a TD in the loss. Junior Elijah Mason (63 reception yards), senior Jack Harbour (66 reception yards, 1 TD) and freshman Kollin Robinson (50 rushing yards) played well on offense. Harbour returned a kickoff 70 yards for a TD and Todd McCormick was 3 for 3 on extra points. Senior John Robert Bateman had 10 stops. Bearden dropped a 28-27 decision to Hampton last week.
OPEN CARLISLE
Hootens.com 8-Man Rankings
Week 6, 2022
Copyright Seventy Seven's Publishing
Class 2A
1. Mountain Pine (5-0)
2. Spring Hill (6-0)
3. Woodlawn (4-0)
4. Brinkley (4-1)
5. Izard County Consolidated (3-2)
6. Rector (2-2)
7. Strong (1-2)
8. Marvell (1-2)
9. Augusta (0-3)
10. Midland (2-2)
11. Hermitage (0-4)
12. Dermott (0-2)
13. KIPP Helena (0-2)
CLUB TEAMS
1. Mountain View (5-0)
2. Fountain Lake (4-1)
3. Genoa Central (3-2)
4. Subiaco (3-2)
5. Cedar Ridge (2-3)
6. Marshall (1-5)
7. Rose Bud (1-4)
8. Cutter Morning Star (0-4)
9. Parkers Chapel (0-5)
LAST WEEK
Hootens.com correctly predicted 12 out of 14 (86 percent) games involving 8-Man teams and is 36-9 (80 percent) for the season.
 WEEK 6 PREDICTIONS (Favored team highlighted in yellow and ALL CAPS)
HOOTENS.COM GAME OF THE WEEK
NO. 1 MOUNTAIN PINE at No. 2 Spring Hill: Mountain Pine's potent duo of Jermaine Dobbins (30-495 rushing, 10 TDs; 5-193 receiving, 3 TDs) and Isiah Miles (14-340 rushing, 3 TDs; 11-330 receiving, 6 TDs) face off against the stingy Spring Hill Bears, who are allowing 9 points per game. TJ Tipton (659 rushing, 11 TDs) and Alex Arriaga combined for 270 yards on 21 carries for the Bears last Friday in a 34-0 win over Dermott.
Rector at BRINKLEY: Jeremiah Harris ran for 124 yards and 3 TDs for Brinkley in its 50-22 win over Augusta, including a 50-yard run in which he dragged a defender for 22 yards. Mitchell Hicks (4-147 rushing, 2 TDs; 3-56 receiving, 1 TD) was another major contributor. Rector was held to 80 yards in a 38-8 setback to Izard County Consolidated.
Rose Bud at GENOA CENTRAL: Rose Bud put up 64 points in win over Cutter Morning Star. Genoa Central (3-2) lost to Fountain Lake 45-8.
KIPP Helena at IZARD COUNTY CONSOLIDATED: Izard County (3-2) upset Rector 38-8. Wyatt Buchanan made his first  start since suffering an injury in Week 0 and accounted for 4 ICC TDs. KIPP Helena scored twice in the program's second game, a 46-14 loss to Midland.
Hermitage at WOODLAWN: Jaxon Martin and Caleb Martin accounted for 180 of Woodlawn's 327 yards on the ground against Strong. Jaxon Martin also completed 4 passes for 80 yards and a score. Fisher Hale (13-78 rushing) was Woodlawn's second-leading rusher. Hermitage enters off a 52-0 loss to Mountain Pine.
Subiaco Academy at FOUNTAIN LAKE: Fountain Lake senior Juan Diggs did a little bit of everything in Fountain Lake's 45-8 win over Genoa Central. Diggs (7 touches, 263 yards, 3 TDs) also returned an interception for a TD and a kickoff 88 yards for score. Subiaco Academy ran for 300 yards against Cedar Ridge, with junior Brody Koch accounting for 143 yards and 2 TDs. Koch added 19 tackles on defense, bringing his season total to 81.
MOUNTAIN VIEW at Cutter Morning Star: Mountain View (5-0) is averaging 345 yards rushing per game and junior QB Drew Shelton completes 75 percent of his passes. Trampas Stubbs (9-158 rushing) and Rush Sullivan (34 rushing) led Mountain View last week. Kenner Gray led the Mountain View defense with 7 unassisted tackles. Cutter Morning Star (0-4) set season highs in points scored and yardage in a 64-42 setback to Rose Bud.
Marvell at STRONG: Strong comes off a 50-20 loss at No. 3 Woodlawn last Friday. Marvell (1-2) is allowing 44.8 points per game.
Hillcrest Christian (Miss.) at PARKERS CHAPEL: Parkers Chapel (0-5) plays host to Hillcrest Christian for homecoming. This will be the first game for Parkers Chapel that has not come against a top 3 opponent in either class of 8-Man football.
Cedar Ridge at MARSHALL: Marshall (1-5) mustered 90 yards against a salty Mountain View defense. Cedar Ridge (2-3) allowed 480 yards in a 50-0 loss to Subiaco Academy.