RECRUITING: Foreman flush with talent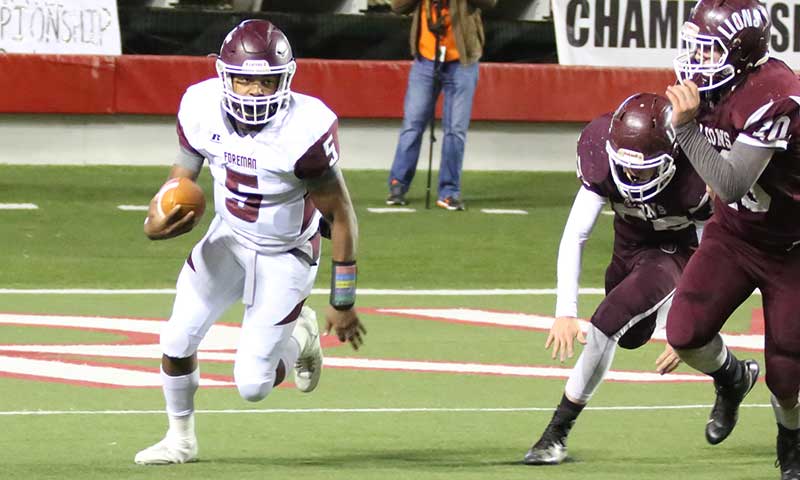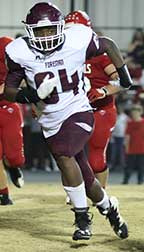 Soph CHRIS HAYWOOD
By BARRY GROOMES
Class 2A Foreman captured its first football state championship in 2017.
But this Little River County school located 10 minutes from Oklahoma and Texas borders covets another title. The Gators eye their first conference crown in 31 years.
A victory next week over visiting Mount Ida might secure the 7-2A title. Mount Ida won the league championship last year (beat Foreman 36-7 in Week 7), but Foreman reversed the finish with a thrilling 24-21 triumph in the state title game.
Like most championship-caliber teams, college prospects dot the Foreman roster.
Senior Kyren Batey (5-9, 190) gained notoriety after his sophomore season by clocking a 4.3 in the 40-yard dash at the University of Arkansas camp. Batey ran for 2,043 yards and 34 touchdowns last season. This fall, the unselfish senior gets teammates more involved in Foreman's triple option Flexbone.
"Sometimes, Kyren tries too hard to distribute the ball," Coach Mark King says. "He wants everyone to score touchdowns and get some credit. But in crunch time, we want the ball in his hands."
Batey has 49 carries this season for 565 yards (11.5 yards per carry) and 15 TDs, and he's returned a punt for a TD. Batey shines on defense as a shutdown cornerback, "but nobody knows it because we don't play teams who challenge him," King says. "He's a great defensive player."
Most schools are recruiting Batey to play in the secondary, but the University of Central Arkansas has evaluated him at slot receiver. "He's a (former University of Florida and Minnesota Vikings receiver) Percy Harvin type," King says. "He has great hands and can create space." Arkansas and Iowa State have evaluated him, while Arkansas Tech and Henderson State offered Batey a scholarship.
Arkansas State hasn't shown interest in Batey, yet, "but he would be a great fit for them," King says. "I know the Ashdown (Montaric Brown and LaDarrius Bishop) who signed with Arkansas the past two years, and he's every bit the athletes they are. I guess his height is all that's stopping Division I's from offering."
Two-way senior lineman Jeremy Jones (6-1, 280) could develop into a Division II or NAIA caliber prospect after impressing this summer at Harding University's camp.
Versatile junior Isaac Carver (5-8, 160) lines up at QB, slotback, linebacker and safety. He could emerge as a small-college prospect over the next two seasons. Carver ran 10 times for 73 yards and completed both of his pass attempts in the opening two games before injuring his hamstring. Carver could return against Mount Ida.
King expects college coaches to flock to Foreman the next three years to recruit sophomore linemen Chris Haywood (6-4, 240) and Bubba Kegley (6-4, 260).
Haywood has already garnered national attention and is scheduled to attend a photo shoot and recruiting session with CBS Sports' Tom Lemming early Saturday morning in Fayetteville, then attend Alabama's game at Arkansas. Haywood (300-pound bench press) started on both lines last season as a sophomore, racking up 98 tackles and six sacks.
Haywood, a straight-A student, registered 22 tackles and a pair of sacks in the opening five games this year. "He's a college coaches' dream because they might get him a full-ride academically and save an athletic scholarship," King says. "Once he learns to use his leverage, I don't see anyone in the state blocking him."
Haywood projects another one or two inches taller before graduating in May 2021. He runs track "and is the prototypical defensive end," King says. "He's long and rangy. But I could see a college converting him to outside linebacker."
Kegley started every game last year as a freshman and will play on both sides of the ball against Mount Ida and in the playoffs, the coach says. Kegley slid from guard to center in the spring, but he missed most of the summer after injuring his knee at a team camp in June. He didn't return until the week of Foreman's 2018 opener, a loss to Class 3A Smackover that was later declared a forfeit victory.
"He'll be a left tackle in college because he moves so well," King says. "He's making himself into a player." The athletic Kegley plays basketball and could grow two-plus inches in the next two years.