RECRUITING: DeWitt setting new standards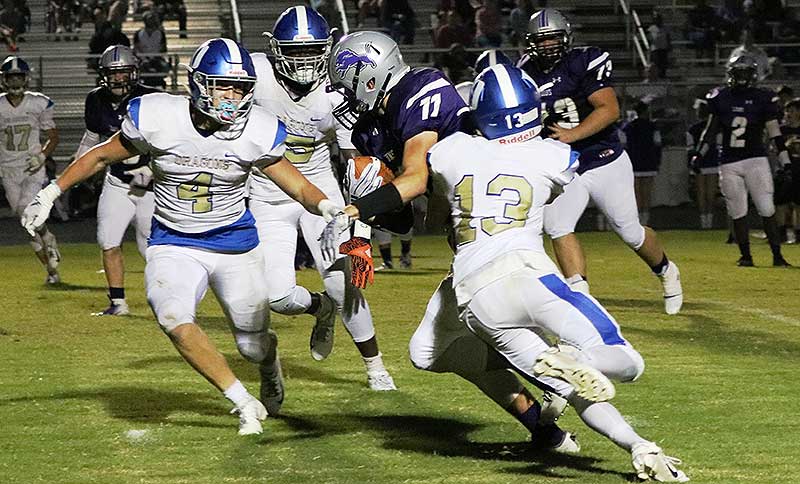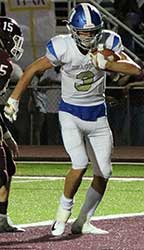 DAX COURTNEY
By BARRY GROOMES
DEWITT (4-0) plays its most meaningful home game in almost 30 years this week, hosting undefeated Helena. This is the latest in a regular season two undefeated teams have played in DeWitt. 
DeWitt has made the playoffs six times in the modern playoff era that began in 1968. The last playoff appearance came in 2000. DeWitt hasn't won a conference title since 1997 when it finished 8-3, losing in the first round to Rivercrest.
DeWitt's last outright league title came in 1991 with an 9-3 record. The Dragons dumped Hamburg by six points in the first round that year, which marks their last playoff victory.
With a strong group of seniors this fall, these Dragons expect to set new standards for DeWitt football.
The Dragons have won games that likely would've been narrow losses in previous seasons. They slayed Arkansas County rival Stuttgart 36-33 in the opener (video highlights HERE) before taking down upstart Riverview 46-35 the next week, handing the Raiders their only loss of the season. DeWitt fended off Hamburg 50-42 last week for its first win in the series in more than 20 years. It led 50-28 in the fourth quarter before allowing two late touchdowns.
DeWitt has led by double digits in every game this fall, "but we are still learning how to put teams away," Coach Mark Courtney says. 
This standout senior class is led by quarterback Seth Courtney (6-3, 195), the coach's son and possibly DeWitt's first Division I signee since 2009.
Seth Courtney passed for a season-high 260 yards and three touchdowns at Stuttgart and threw a pair of TDs against Riverview. He passed for 206 yards and three TDs against Carlisle and for 224 yards and three TDs last week at Hamburg.
Seth Courtney will start his 28th straight game for the Dragons this week.
Harvard and Arkansas-Monticello have offered him scholarships this fall, while UCA and Memphis continue to evaluate. Seth Courtney wants to play at Arkansas State, and the Red Wolves are looking at him as a receiver/safety.
"He's a different type of dude," Mark Courtney says. "He wants to stay close to home for college. He's a true leader. He gets in teammates' ears and tells them what they've done wrong." 
Senior Johnta Wright (5-9, 155) has a team-high 15 receptions for 306 yards and four TDs, and with 4.7 speed, has two carries for 58 yards and a TD.
Due to his lack of size, Wright will likely play Division II football. He enjoyed a good camp at Ouachita Baptist in June and his quickness drew praise at the UCA camp in July. Most in-state Great American Conference schools are evaluating him. 
Wright caught three passes, all for TDs, last week at Hamburg. On a wheel route, he broke stride, jumped to catch the ball, then made a cut on his first step to speed for a TD. 

"He's so good at the intangibles," Courtney says. "He does things you can't coach."
Senior receiver Tarence Ticey (5-11, 180) started six games last season and every game this fall. He could play college football after impressing in the first month of the season. Ticey grabbed four passes for 111 yards against Riverview and caught two TDs against Carlisle.
DeWitt's defense has made timely plays and stops this fall. Junior Logan Moss (6-0, 210) (#4 in LeeAnn Morgan photo above) paces the Dragons with 34 tackles, including 2.5 tackles for loss.
Sophomore Dax Courtney (6-6, 210) should develop into one of the state's top receivers/tight ends over the next three seasons. Dax Courtney has 11 catches for 142 yards this year, catching a TD pass in his varsity debut against Stuttgart. After impressing against Stuttgart, teams double-teamed Dax, which allowed teammates to exploit defenses.
Dax Courtney "runs great routes and is physical. He's one of our best blockers," the coach says. "He needs to get a quicker first step. When he does, he'll be a college receiver."
Another sophomore, tight end/linebacker Owen Luebke (6-0, 175), has started every game this year and collected 33 tackles and one interception. Owen's brother, Wyatt, walked on at Arkansas State and the offensive lineman had played in every ASU game this year. Mark Courtney projects Owen Luebke to develop into a D2 prospect. 
Will Moss (6-2, 275), Logan's brother, starts for the varsity this year as a 14-year-old freshman and could develop into a major college recruit. Moss was named the outstanding lineman at an April combine in Dallas. "I have to take a step back sometimes and not be so hard on him, because he's so young. He'll be a good one," the coach says. 
Helena's defensive front will test Will Moss and three other sophomore linemen this week. "They are strong and quick off the ball," the coach says. "But this is a challenge we've looked forward to for a while. I'm not surprised we are 4-0, and every week we've gotten better. I'm excited to see what we can do the next six games."