RECRUITING: Hoxie Mustangs running wild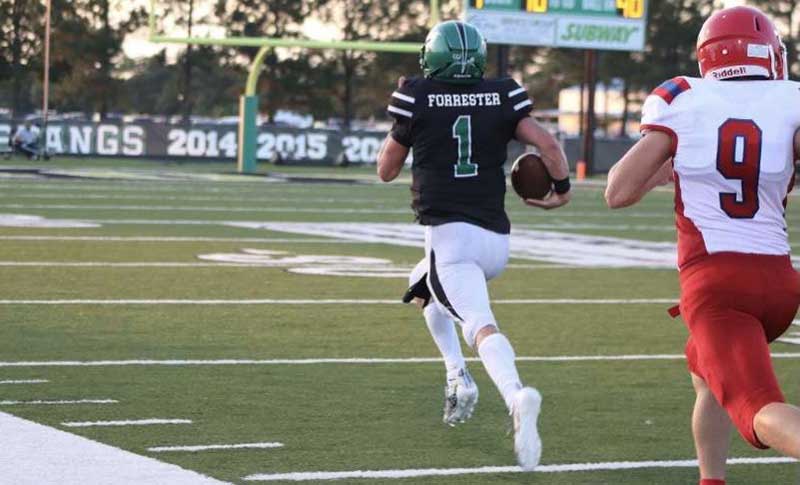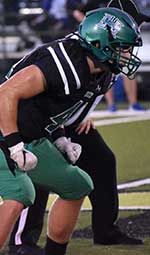 Sr LB Jace Benesch
By BARRY GROOMES
Hoxie won a school-record 12 games last fall while advancing to the playoff semifinals for the first time in school history.
The Mustangs, ranked No. 9 in Class 3A, haven't slowed this fall, outscoring four opponents by a combined 175-74. "I felt this group of seniors would be able to step into the shoes and take off," Coach Tom Sears says. "It hasn't been a surprise at all."
Making his first varsity start at quarterback Week 0 at Cave City, senior Cade Forrester (6-0, 185) completed nine of 13 passes for 219 yards and a touchdown.
He's been as efficient ever since, connecting on 34 of 52 passes this season for 698 yards and 12 TDs. More importantly, he hasn't thrown an interception. Under the guidance of offensive coordinator Cole Sears, the dual-threat Forrester averages 7.2 yards per cary. He has run for six TDs. "I said last year that he could start for almost any team around here," the head coach says. "He's that good."
On defense, Forrester (in Jaecie Brown photo TOP) starts at safety after playing cornerback a year ago, "but he can go wherever we need him to go in the secondary," the coach says. Forrester has made seven tackles this year.
The University of Arkansas-Monticello and NE Oklahoma have extended scholarship offers to Forrester. Every D2 school in the Great American Conference has inquired about him, and UT-Martin plans to attend a Hoxie game later this fall.
Senior running back Seth Brooks (6-1, 185) started at receiver a year ago (15.5 yards per reception). This fall, the versatile Brooks "moves all around," Sears says. "Because he's played receiver, it gives us a lot of options. We put him in motion and line him up in every spot."
Brooks has carried 44 times this fall for 216 yards (4.9 yards per carry) and a pair of TDs. He's caught seven passes for 86 yards and three TDs. On defense, he has collected 19 tackles, two interceptions and two fumble recoveries. D3 Powerhouse Mount Union (Ohio) offered him a chance to play college football in the spring, and he's received an offer from NE Oklahoma.
Senior middle linebacker Jace Benesch (6-0, 215) is the centerpiece of Hoxie's defense and recruiting class. Benesch amassed 143 tackles a year ago and is on pace to shatter that number this fall (57 tackles in four games). Benesch (in Jaecie Brown photo) committed to UCA and plans to enroll in January. He also owned scholarship offers from Arkansas State and Southeastern La. All three service academies (Army, Air Force and Navy) wanted him, while New Mexico and Tulane also offered scholarships.
"He's phenomenal, the best linebacker in Class 3A," Sears says. "He's so physical and can play with anybody."
Senior left tackle Jalen Chappell (5-10, 295) "would be on everyone's radar if he were taller," the coach says. "I think he'll be the perfect center in college, but he plays tackle for us because we need him more on the edge." Chappell owns offers from Southern Nazarene, William Penn and Lyon. Several in-state D2's have looked at him.
Senior Jarrett Thompson (5-10, 225) took over at center in the spring and owns an offer from Lyon College. The coach expects more schools to recruit the first-year starter after more video gets to college coaches. 
Sophomore Kayden Glenn (5-10, 155) should garner plenty of recruiting attention the next two seasons. Glenn starts at receiver this fall (team-high 13 receptions, 369 yards and seven TDs). Glenn played QB last year for the undefeated junior high, tallying more than 1,400 yards. "Everyone will hear about him," Sears says.