Hogs vs. New Mexico St.: Ags aren't scared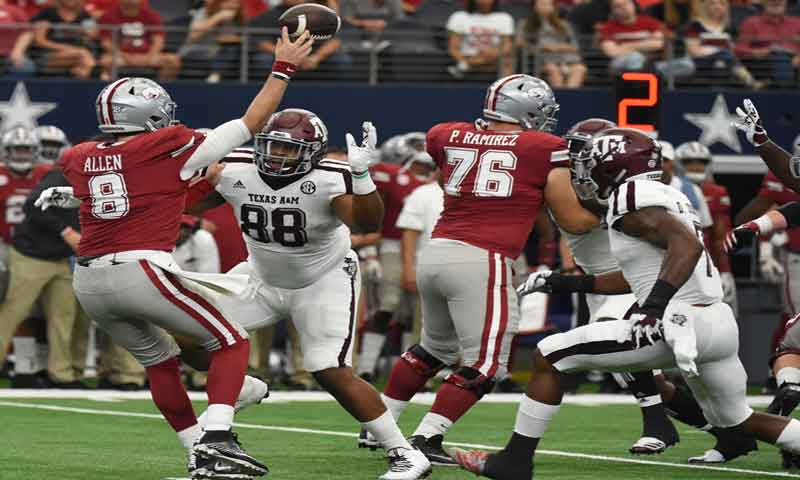 FAYETTEVILLE - Seems nearly impossible for the Arkansas Razorbacks to pump the adrenaline Saturday for the New Mexico State Aggies as they did a week ago for the Texas A&M Aggies.
In fact, adrenaline may be in short supply for Arkansas after a  third overtime heartbreaker (50-43 loss) in six consecutive SEC losses to A&M.
Yet, Arkansas coach Bret Bielema insists his 1-2 Razorbacks will be emotionally sharp for the 11 a.m. non-conference game with Coach Doug Martin's 17-point underdog Aggies (2-2) of the Sun Belt Conference.
Three weeks ago at a near-capcity Reynolds Razorback Stadium, undefeated TCU manhandled the Razorbacks 28-7. Bielema says his Hogs have practiced angrily this week after another close loss to A&M.
"Tuesday was actually one of our more spirited, live practices since we started fall camp," Bielema said. "They obviously are very, very upset and angered that we are a 1-2 team and realize we could have done some different things to get to a different spot, but you live the life you are in right now."
That life is lived losing to Texas A&M again but knowing they gave it all.
"No one can usually say anything (negative) about the efforts of our kids or their demeanor of their attitude," Bielema said. "So I think the group you saw respond on Saturday is going to be the same group that responds this week."
They may need to respond more than oddsmakers think, especially if going strictly by the 53-10, 45-13 and 42-11 whippings Arkansas administered when New Mexico State visited the Razorbacks in 1977, 1985 and 1986 at Little Rock and the 48-20 and 63-23 floggings in 2003 and 2004 in Fayetteville.
Those beatings are ancient history; Martin's Aggies are impressing in 2017.
They've topped in-state archival New Mexico and trashed UTEP (Texas-El Paso) 41-14. Their losses are 27-24 to Troy, always a Sun Belt power and Power Five conference's non-conference nightmare, and most impressively, a 37-31 loss at Pac 12 power Arizona State. ASU defeated then 25th-ranked Oregon last week.
"They are a good football team," Bielema said. "Offensively their quarterback (senior Tyler Rogers) makes it go. He's a guy who last year split time but this year 17 has been their guy."

Rogers threw three touchdowns against Arizona State and completed 65 percent of his passes, netting 1,413 yards and 12 touchdowns against four picks.
"He has got great composure and a good cast of characters all around him," Bielema said. "The receiver (Jaleel) Scott is a really, really good player (26 catches for 369 yards and four TDs). Long, athletic, catches the ball well."
Bielema said Rogers helps his offensive line by "getting the ball out" to beat pressure.
Senior running back Larry Rose III has rushed for 3,990 career yards. Rose has averaged 6 yards per carry this fall.
Defensively, Bielema says New Mexico State blitzes from anywhere and everywhere and are "opportunistic."
The Sun Belt named NMSU cornerback Shamad Lomax as its Defensive Player of the Week after he intercepted three passes vs. UTEP, returning one for a TD.
Martin said it was "huge" beating rivals New Mexico and UTEP but cautions that playing Arizona State close in Tempe doesn't necessarily translate into upsetting or even playing close to Arkansas in Fayetteville.
"Arkansas would beat Arizona State pretty good, I think, just the size and the strength," Martin said. "It's like comparing apples and oranges. But I think our guys are excited about playing this game. We played Texas A&M and Kentucky last year, so we've been in this arena before. We played Kentucky pretty good. We weren't close to Texas A&M. So it's going to be a challenge."