Recruiting: Talented Nettleton on rise w/new attitude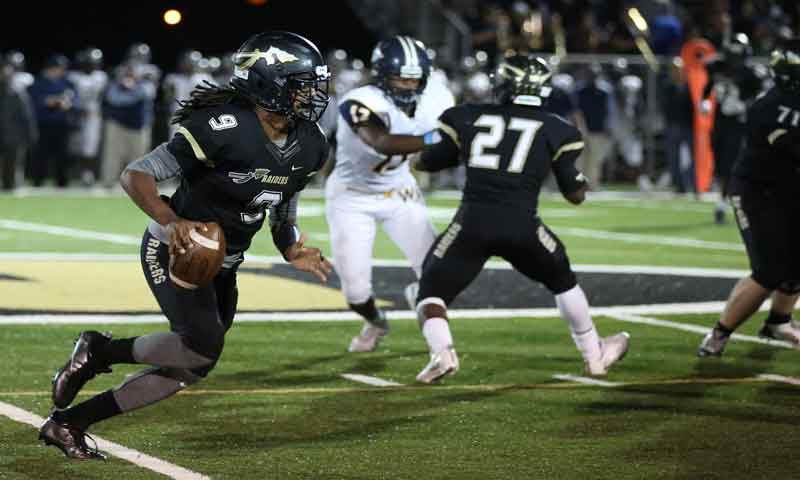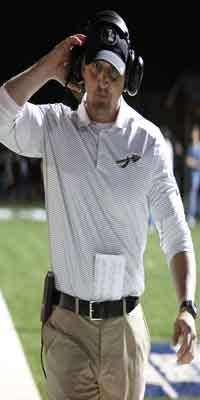 Nettleton HC Hampton
JONESBORO - Nettleton's 48-21 win last week over Batesville could rocket the ninth-ranked Raiders to new destinations in 2017.
It marked their first win in the series since 2000. The victory puts the Raiders (4-0) in contention for the 5A East title. They've never won a league title in  Class 5A (nor its equivalent) since moving 20 years ago from Class 4A. The Raiders' last conference title came in 1997, when they went 11-2 before losing to eventual state runner-up Osceola in the quarterfinals.
Making the playoffs causes celebration in Jonesboro. The Raiders haven't qualified for the playoffs since 2014, haven't won a playoff game since advancing to the 2006 semifinals and haven't hosted a home playoff game since 1994.
They didn't make the playoffs last year after losing at Batesville by two touchdowns and eventually dropping the final three games of the season by a combined 112-46.
But the undefeated Raiders expected a fast start in 2017. "No surprise," Coach Steven Hampton says. "We were left with a bad taste in our mouths last year. We let some games get away from us, and the season spiraled."
The off-season work ethic was different than the  previous four.
"It's a lot of the same faces and names as last year, but not the same team," Hampton says. "It's totally a different chemistry. They genuinely like each other and hang out outside of football. I've seen these kids come together as a team."
While the Raiders embrace the team concept, they also enjoy outstanding play by key individuals.
Senior quarterback Deondre Henry (6-1, 195) earned All-5A East honors as a junior, passing for more than 1,300 yards. But the playmaking Henry (#9 in Rhonda Sharp photo) grew more agile and quicker in the off-season, and it showed in September. He's completed 46 of 76 passes (61 percent) for 764 yards and 11 touchdowns with only one interception.
The Raiders allow Henry (4.6 speed) to run more this year. He has 13 carries for 93 yards (7.1 yards per carry). Henry converted three third downs against Batesville on designed draws.
Henry opened the season with three TD passes and a TD run against Pocahontas, and followed the next week by passing for 194 yards and two TDs in an 42-0 triumph over Class 6A Mountain Home.
Jackson State offered him a scholarship in May, and UAPB expressed interest during summer camps. Every in-state Division II school has noticed Henry this year.
"The more success he has, the more success our team will have, and everyone will notice," Hampton says. "Colleges will come in to look at him, and it's going to help every player in our program. We have others who may not have gotten the looks, but because we are having success and colleges are coming in, they'll get noticed."
One of those players may be senior linebacker Terrian Neal (5-9, 195). Neal earned all-state honors last season with almost 100 tackles. He'll likely eclipse that barrier this year, possibly by late October. Neal has 49 tackles in four games. Henderson State, Ouachita Baptist and Harding are among the schools to inquire about Neal over the past four weeks. "They like his ability and instincts," Hampton says.
Division II schools identified senior Drew Friar (6-2, 280) last season, and they've amped intensity this fall. Friar (360-pound bench press) "can lock up and drive people off the ball," Hampton says. UCA and Missouri State recently inquired about Friar.
Most in-state Division II schools are inquiring about senior running back Detavian Turner (5-8, 215). Turner (4.7 speed) ran for 296 yards and four TDs last week against Batesville. He also scored two TDs against Pocahontas and Mountain Home. Turner has 76 carries this season for 563 yards and nine TDs.
Senior receiver Will Joyner (5-11, 150) has three TD receptions this fall, including a 42-yarder against Mountain Home. Joyner (4.5 speed) has gained traction with local Division II coaches after his fast start in 2017, but he'll likely play football next season at a junior college.
Joyner's classmate and fellow receiver, Jaron Northern (5-7, 140), could play in college "with the right situation," Hampton says. "They are two different types of players and individuals, but both are college material." The ultra-quick Northern snagged a pair of TDs this season after earning all-conference honors a year ago.
Athletic junior lineman Jamarius Pigram (6-3, 280) could develop into Nettleton's most highly recruited player since running back Derek Lawson signed with Arkansas State after the 2006 season.
Pigram (300-pound bench press) "is physical and can dominate," Hampton says. He attended an invitation-only camp at the University of Arkansas in June. Pigram is also regarded as one of the state's better basketball prospects for 2019. "He's a tremendously talented athlete," the coach says. "He can do anything he sets his mind to."
The Raiders travel this week to Blytheville with revenge on their minds after the Chickasaws clobbered them 46-0 last season.
"A lot of our players have friends and relatives from Blytheville, and they haven't let us forget about last year," Hampton says. "We still have a lot of goals left to accomplish, but our guys are focused on getting a win at Blytheville."