Hogs: Nance surges at receiver; more notes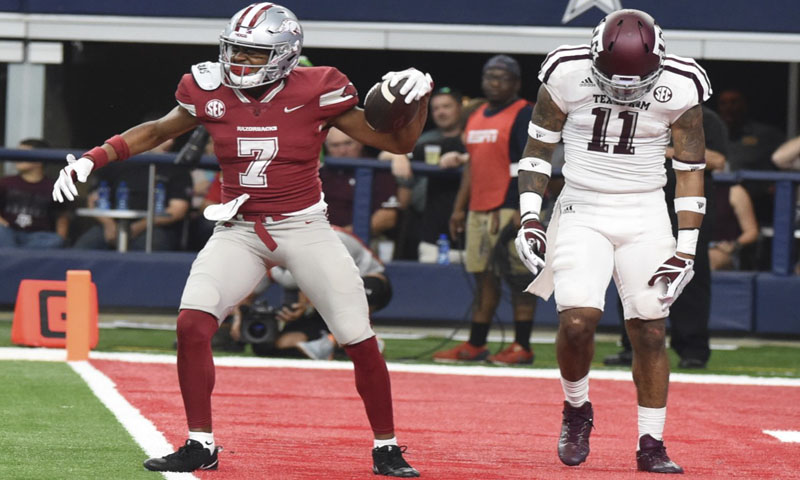 FAYETTEVILLE - Arkansas head coach Brett Bielema commented Wednesday on defensive coordinator Paul Rhoads' assessment of the Razorbacks' 50-43 SEC-opening loss to Texas A&M.
Arkansas (1-2) plays host to New Mexico State (2-2) of the Sun Belt Conference at 11 a.m. Saturday at Reynolds Razorback Stadium.
The Hogs actually aligned quicker and better and committed just half as many mental errors against Texas A&M than they did vs TCU. On Sept. 9 the Razorbacks trailed now 15th-ranked TCU 14-7 with under three minutes left before losing 28-7.
"You go back to No. 1 (against Texas A&M) where we only had seven busts (14 vs. TCU) on the day," Rhoads said. "Four  of those seven busts accounted for 223 yards and 24 points. Against any opponent, you don't give yourself a chance to win when that's the case."
What did Bielema make of committing less errors but yielding more points?
"I think that was a point we went through in detail on Sunday and Monday," Bielema said. "I would say a step in the right direction is getting lined up. I believe there were seven critical mental errors that we put out there, and they capitalized on four of them four touchdowns. Life in the SEC West is that. It can't be three out of five, four out of five. It's got to be five out of five, otherwise they are going to find that hole. Obviously there are a lot of things as far as (improving upon) alignment and missed tackles. But the No. 1 key to success is the number of points allowed. That's the No. 1 emphasis on Saturday."

NANCE STEPS UP
Unheralded junior college transfer wide receiver Jonathan Nance (in Craven Whitlow photo) has stepped up to lead Arkansas' receivers with nine receptions for 200 yards and two touchdowns, taking command with senior mainstay Jared Cornelius (Achilles tendon surgery) lost for the season.
"You know maybe for the outside world," Bielema said of Nance surprising as a transfer from Gulf Coast (Miss.) Community College. "But I would say this:  Jonathan Nance popped out right away on the film. We recruited three or four kids from that team offensively. Just to be around him, his composure, demeanor and maturity was very, very clear. And good football. He wasn't that involved in special teams in the past, but he's been very good on our special teams and is just an impressive guy."
Bielema said he's pleased with running backs Chase Hayden, a true freshman, senior University of South Carolina graduate transfer David Williams and returning sophomore Devwah Whaley and true freshman cornerback Kamen Curl, who is replacing injured starting cornerback Ryan Pulley.
"When we lost a running back, we had three new guys step into that role and do a good job," Bielema said.  "We lost a corner and we had a couple of guys step up and Kamren Curl jump up. And at receiver we lose J-Red (during the Texas A&M game) and everyone is 'woe is me,' but Jonathan Nance stepped up and made some huge plays in that second half. It's one thing to lose someone, but it's another when someone answers the bell. That's a big deal."
MORE AGGIES AFTER ALLEN
Texas A&M sacked Arkansas senior quarterback Austin six times last week and hit him several more times. New Mexico State owns 12 sacks this season.
"Obviously a very important aspect is to keep our quarterback clean," Bielema said. "They bring a variety of pressures, outside, inside. So it's been a huge point of emphasis since we started game-planning. Our kids are aware of it."
Allen among them, Bielema said.
"I think Austin also has to be aware," Bielema said.  "I think there were a couple of them (vs. A&M) where he understood he might have hung on to that ball a little longer than needed."
Against Texas A&M, Arkansas improved its blocking for the running game, netting 226 yards against Texas A&M   compared to 129 against TCU.
"As long as we all keep getting better, I'm excited where that group is," Bielema said.
The Razorbacks held a closed practice into Wednesday evening and wrap preparations with a light closed practice Thursday.