Hogs: O line better than 2nd half vs. A&M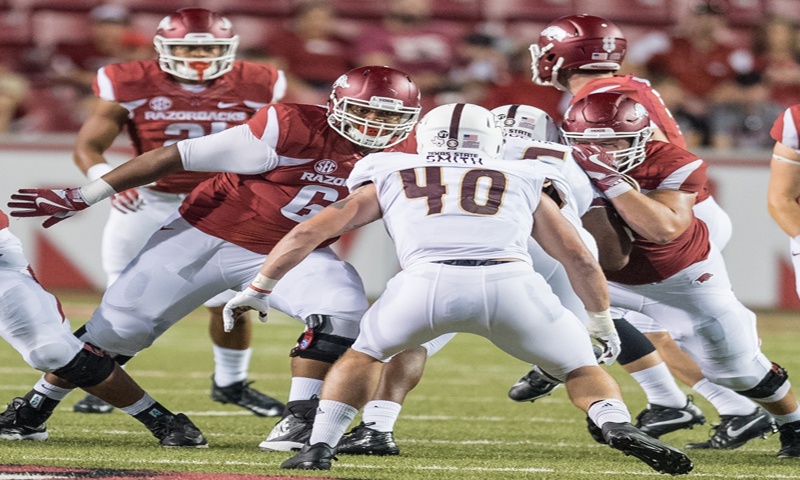 FAYETTEVILLE - Arkansas' struggles on the goal-line against No. 9 Texas A&M emphasize that its offensive line isn't where Coach Bret Bielema wants it to be.
But Bielema asserts the line, which returned only two starters in Dan Skipper and Frank Ragnow at new positions, has progressed pretty well.
Until the Razorbacks (tied 17-17 at half) fell so far behind in the fourth quarter that they were throwing almost every down in their 45-24 SEC loss to A&M, the line protected quarterback Austin Allen.
The Arkansas line gave A&M star defensive ends Myles Garrett and Daeshon Hall some problems throughout the first half, Bielema said, though the Aggies got the better of it in the second half.
The running game and the play-action pass created off the running game are Arkansas' offensive staples and a tremendous deterrent from defenses bringing a full-fledged pass rush.
That deterrent was missing in the fourth quarter. Allen paid a price, pounded time after time upon releasing his passes. A&M officially sacked Allen once, a blindside, fumble-causing jolt for his lone turnover.
"We did a really nice job in the first half," Bielema said. "We were whacking those D-ends every way known to man, getting a lot of people involved and really embracing it and having a lot of fun with it. The kids were enjoying the plan and went out and executed it."
Then A&M executed big offensive plays and all but executed Allen, though the gutsy QB (28 of 42 for 371 yards without an interception) still completed a fourth-quarter touchdown.
"When we got down. We knew it was going to turn into a throw game," Bielema said. "That obviously fits their (Aggies') cup of tea a little better. Especially when the play-action game wasn't there.
The Hogs wouldn't have been in such a deep hole had they tallied more than three points on three opportunities deep in A&M territory.
Sophomore running back Rawleigh Williams lost one, stripped of the ball 1 yard away from what seemed a certain TD.
On the other two, the Hogs failed to convert after achieving first-and-goal at the 2, settling the first time for Cole Hedlund's 25-yard field goal and then failing to finish a 19-play, 89-yard drive with a score after first-and-goal at the 2 with the final three attempts from the 1.
"We're not as stout as I'd like to be, especially on the goal line," Bielema said. "You'd like to feel that you can move - up front you'd like to get a bigger push from tackle to tackle. Right now we just don't have it. We can and we will, and we'll continue to develop it. But right now we don't."
He still sees progress in the line for his still nationally (No. 20) 3–1 Hogs.
And after once swapping center Ragnow and right guard Raulerson for the 42-3 rout of Texas State, Bielema seems sets.
Ragnow will be the center and Raulerson the right guard Saturday for Arkansas' 11 a.m. SEC Network Alternate Channel televised non-conference game with Alcorn State at War Memorial Stadium in Little Rock,

"I think Raulerson at guard is the best makeup for us with Frank at center," Bielema said. "Frank and Skip played again a pretty solid game."

Offensive coordinator Dan Enos seconded Bielema's motion regarding where Ragnow and Raulerson fit best.
Junior  Ragnow was the backup center in 2014 and starting right guard in 2015 and is very familiar with the calls the center must make.
"I think that was a good combination for us," Enos said.  "Frank does a great job in the middle there making calls. And he understands what we're doing."
Third-year sophomore  right tackle Brian Wallace logged his first-ever Arkansas start Saturday against the Aggies. Wallace apparently will start at right tackle again, while senior Skipper continues at left tackle and sophomore Hjalte Froholdt continues at left guard.
"You know it was his first start and to play against two guys (Garrett and Hall) that may be in the top 10-15 in the draft, is saying something," Bielema said. "But he isn't satisfied with his performance. I think Raulerson at guard is the best makeup for us with Frank at center. Frank and Skip played again a pretty solid game."
Enos also was encouraged by Wallace's play.
Redshirt freshman Colton Jackson of Conway moved ahead of Wallace last spring and started the season's  first three games at right tackle, though Wallace did split the right tackle time in the 42-3 victory over Texas State.
"Brian Wallace played pretty well," Enos said. "He played against Texas State, but then to go play against (Texas A&M) and in the environment he played, that was a taller order.  I really, really respect the way he stepped up and did a nice job."