Class 7A Week 5 Rankings, Notes & Picks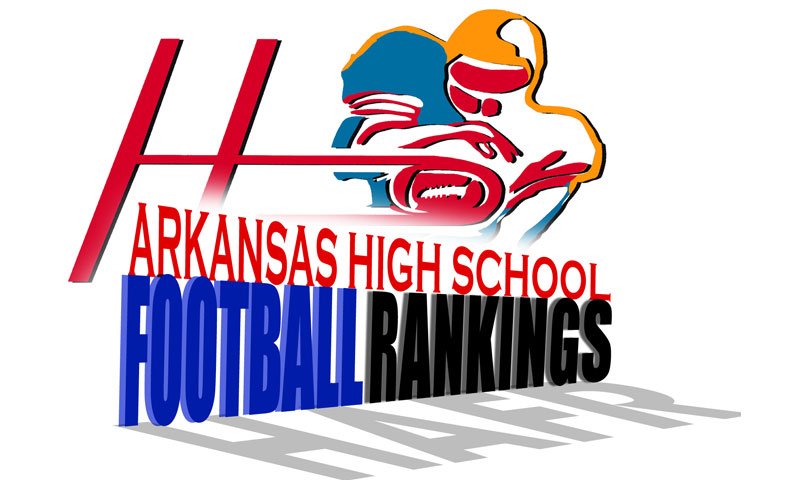 Class 7A Rankings
Week 5, 2022
Copyright Seventy Seven's Publishing 
1. Bryant (3-0)
2. Conway (4-0)
3. Cabot (3-1)
4. Bentonville (3-1)
5. Fayetteville (3-1)
6. Bentonville West (2-2)
7. Rogers (4-0)
8. North LR (2-2)
9. FS Northside (1-3)
10. FS Southside (1-3)

11. Jonesboro (1-3)

12. Springdale (1-3)
13. LR Southwest (1-3)
14. Rogers Heritage (2-2)

15. Har-Ber (0-4)

16. LR Central (0-4)

WEEK 5 PREDICTIONS (favored team highlighted in yellow and ALL CAPS)
LAST WEEK 
Hootens.com predicted 6 of 8 games involving Class 7A teams and is 25-6 (79 percent) for the season in games involving Class 7A teams.
HOOTENS.COM GAME OF THE WEEK
North LR at CONWAY North LR might not have the best record going into the game, but that doesn't mean much to Conway Coach Keith Fimple. "It's a heavyweight battle between two great teams," he said. North LR (2-2) leans heavily on its defense, yielding 22 points per game, and Coach Randy Sandefur says he loves the way the defense is playing. "Going into the fifth game of the year, our defense has really stepped it up," he said. The Charging Wildcats are led by linebacker Delkarai Davis. Conway has one of the state's most explosive offenses, led by the 1-2 punch of QB Donovyn Omolo and RB Jamarion "Boogie" Carr. Omolo has passed for 1,233 yards and 12 TDs, while Carr has rushed for 455 yards and 5 TDs. 
7A CENTRAL
BRYANT at Jonesboro: The Hornets' 41-10 win over FS Northside was their 45th consecutive win against an in-state opponent. QB Jordan Walker threw 3 TD passes in the first half. Jonesboro is 1-3 in its return to the state's largest classification and is coming off a 37-6 loss to No. 3 Cabot. Brock McCoy scored Jonesboro's touchdown on an 18-yard run in the third quarter. 
CABOT at LR Southwest (Thursday): Cabot (3-1) bounced back from a loss against Ruston, La., to open 7A-Central action with a 37-6 rout of Jonesboro. The Panthers are using a running attack under Coach Scott Reed, which is reminiscent of the 38 years Mike Malham was coach. Southwest could only manage 117 yards in a 42-0 loss to Conway last week.
FS NORTHSIDE at LR Central: Northside has lost three in a row after beating FS Southside in Week 0. Grizzlies QB Daemarion Savoy passed for 143 yards against Bryant last week. Central lost to North LR 53-8 last week. Central led 2-0 on a safety one play into the game. The Tigers' lone TD came on an interception return by Jaden Carter. 
7A WEST
BENTONVILLE at FS Southside: Bentonville has won two in a row after losing to Conway in the second game of the season. Josh Ficklin rushed for 141 yards and 3 TDs on 14 carries in the Tigers' 45-17 win over Har-Ber. "I think he's the best back in the state," Bentonville Coach Jody Grant said. Southside's lone win was over Van Buren in the second game of the season. Carter Zimmerman scored the Mavericks' lone TD in a 35-7 loss to Rogers. 
Springdale at BENTONVILLE WEST: Springdale beat Rogers Heritage 40-28 last week to end a 9-game losing streak. Tajon Sparks scored 5 TDs while Jack Pounders threw for 203 yards and rushed for 108. Bentonville West lost for the second time in three weeks, falling 42-28 to Fayetteville after trailing 28-0. QB Jake Casey completed 24 of 39 passes for 374 yards and 2 scores. 
FAYETTEVILLE at Rogers: Fayetteville has won 3 consecutive after losing to Cabot in Week 0. The Bulldogs jumped out to a 28-0 lead on Bentonville West last week before winning 42-28. QB Drake Lindsey threw for 354 yards and 4 TDs. Rogers (4-0), one of three undefeated teams in Class 7A, is off to its best start since 2012.
Har-Ber at ROGERS HERITAGE: Har-Ber has lost its past 7 games after falling to Bentonville 45-17. The Wildcats have been outscored by an average of 48.3 to 14 during the skid. Heritage is 2-2 after starting the season 2-0. That includes a 30-29 loss to LR Southwest in the third game of the season. QB Carter Hensley threw for 315 yards and 3 TDs in a 40-28 loss to Springdale last week.