Class 6A Week 5 Rankings, Notes & Picks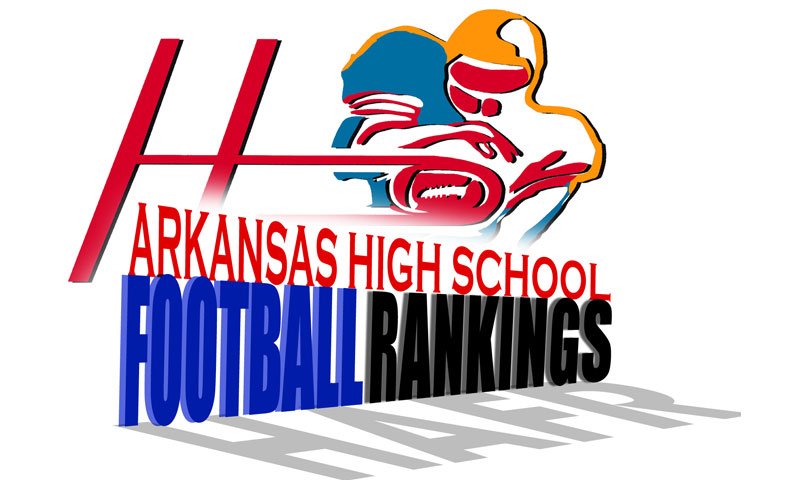 Hootens.com Class 6A Rankings
Week 5, 2022
Copyright Seventy Seven's Publishing
1. Pulaski Academy (4-0)
2. Greenwood (4-1)
3. Lake Hamilton (5-0)
4. LR Catholic (4-0)
5. West Memphis (4-0)
6. LR Christian (3-2)
7. Benton (2-2)
8. Marion (3-1)
9. El Dorado (1-3)
10. Van Buren (1-3)
11. Greenbrier (2-2)
12.  Sheridan (2-2)
13. Searcy (1-3)
14. Russellville (1-3)
15. Sylvan Hills (0-4)
16. Greene Co. Tech (1-3)
17. Siloam Springs (0-5)
18. Mountain Home (0-5)
19. Jacksonville (0-4)
WEEK 5 PREDICTIONS (favored team highlighted in yellow and ALL CAPS)
LAST WEEK 
Hootens.com predicted correctly all nine games involving Class 6A teams and is 34-11 (76 percent) in 6A games.
HOOTENS.COM GAME OF THE WEEK
West Memphis at LR CATHOLIC This classification's two surprise teams clash with 4-0 records. West Memphis QB Keland Mills has passed for 787 yards and 10 TDs to start the season. "We get to see where we stack up against one of the better teams in the state," West Memphis Clach Robert Hooks said. The Blue Devils have averaged 34 points per game while giving up an average of 16.3.
Catholic is undefeated after dropping down from Class 7A. QB Sam Sanders has passed for 700 yards and 6 TDs and rushed for 200 yards and 7 TDs through 4 games. "We're battling through it now," Catholic Coach John Fogleman said. "If you look at our team stats, everybody is contributing. We don't know much about any of our opponents this year. It's been a unique thing."
6A-EAST
Searcy at EL DORADO: Searcy has gotten off to a slow start this season despite the presence of senior RB Dede Johnson, who has rushed for 701 yards in 4 games. El Dorado, the defending state champion, is 1-3 after losing to Benton 56-28 last Friday. De'Andra Burns caught a 70-yard touchdown pass and returned a kickoff 95 yards for another TD for El Dorado. 
BENTON at Marion: Benton totaled 441 yards in its 56-28 win over El Dorado. "Our guys played with a lot more energy," Coach Brad Harris said. Marion is 3-0 in league play for the first time since 1989 after beating Greene Co. Tech 34-8. Sophomore QB Jalen Smith, making his first career start, accounted for 234 yards and 3 TDs. 
SHERIDAN at Sylvan Hills: Sheridan notched its first shutout since 2016 when the Yellowjackets blanked Jacksonville 49-0. Jarrett Atchley and CJ Dollarhide scored two TDs each. Sylvan Hills is averaging 23.8 points per game but is yielding an average of 38.8 points in its 0-4 start.
Jacksonville at GREENE CO. TECH: Jacksonville has scored 32 points during an 0-5 start while allowing 47.8 points per game. Greene Co. Tech has dropped three in a row after beating Paragould in Week 0. Camden Farmer scored all 8 points for the Eagles in a 34-8 loss to Marion. 
6A-WEST
PULASKI ACADEMY at Mountain Home: Pulaski Academy pulled away from LR Christian 49-26 last week. The Bruins converted two onside kicks early in the game, the first time they've done that this season. Kel Busby rushed for 96 yards on 23 carries. Mountain Home is 0-5 after falling to Russellville 38-28 last Friday. QB Cade Yates completed 9 of 23 passes for 152 yards and a score. Jett Hanford caught 4 passes for 113 yards and a TD. 
GREENWOOD at Greenbrier: Greenwood broke open a close game late in the second quarter en route to a 63-21 win over Van Buren. Hunter Houston passed for 302 yards and 5 TDs. Greenbrier was idle last week after having its two-game winning streak snapped by Van Buren.  
RUSSELLVILLE at Siloam Springs: The Cyclones beat winless Mountain Home 38-28 for their first win. Tracy Daniels (27-197 rushing, 2 TDs) and David Reed (2 TD passes) led the offense. Siloam Springs' only score against Lake Hamilton was a fumble return by Mikey McKinley. 
LAKE HAMILTON at Van Buren: Lake Hamilton relied on the arm of QB Easton Hurley, who passed for 230 yards and 6 TDs. Justin Crutchmer caught 5 passes for 197 yards and 4 TDs. Van Buren gave Greenwood all it wanted for a half before falling 63-21. Malachi Henry returned a kickoff 96 yards for a TD. 
OPEN LR Christian