Class 5A Week 5 Rankings, Notes & Picks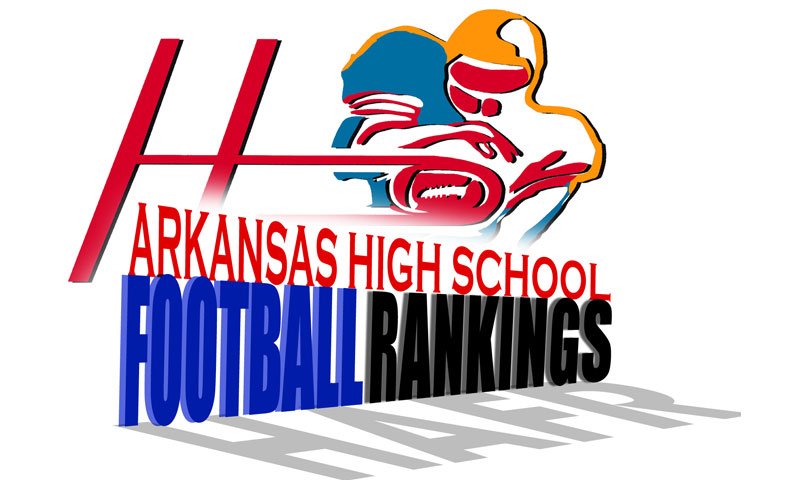 Hootens.com Class 5A Rankings
Week 5, 2022
Copyright Seventy Seven's Publishing
1. LR Parkview (2-2)
2. Joe T. Robinson (3-1)
3. Shiloh Christian (3-1)
4. Magnolia (4-0)
5. Wynne (3-1)
6. Camden Fairview (3-1)
7. Mills (5-0)
8. Batesville (3-1)
9. Harrison (3-1)
10. Farmington (2-2)
11. Beebe (4-1)
12. Nettleton (3-1)
13. Valley View (3-1)
14. Alma (4-0)
15. Hot Springs (2-2)
16. White Hall (2-3)
17. Morrilton (3-2)
18. Vilonia (1-3)
19. Prairie Grove (3-1)
20. Pine Bluff (3-1)
21. Maumelle (2-2)
22. HS Lakeside (0-3)
23. Southside (3-1)
24. Watson Chapel (1-4)
25. Brookland (1-3)
26. Pea Ridge (2-2)
27. Dardanelle (2-2)
28. Texarkana (1-3)
29. Hope (1-3)
30. Clarksville (0-4)
31. Paragould (1-3)
32. De Queen (0-4)
33. Forrest City (0-4)
WEEK 5 PREDICTIONS (favored team highlighted in yellow and ALL CAPS)
LAST WEEK
Hootens.com correctly predicted 12 of 16 games (75 percent). Hootens.com has correctly predicted 80 of 102 games (78 percent) this season.
HOOTENS.COM GAME OF THE WEEK
No. 9 HARRISON at No. 19 Prairie Grove
These teams haven't played since 2003. Prairie Grove bounced back from a loss to Tulsa Metro Christian in Week 3 to down Pea Ridge 47-31 last week. Coach Danny Abshier, a former Harrison assistant, credits his defense and special teams for key roles. Junior Conner Hubbs returned a kickoff for a TD and intercepted a pass, while senior ILB Rhett Marrell led the Tigers in tackles. Seniors RBs Ethan Miller and Coner Whetsell each ran for more than 150 yards and 2 TDs. Harrison rebounded from a last -second Week 2 loss to Batesville to down Farmington last week 21-14.Junior QB Mason Ketterman threw a TD pass and ran for another vs. Farmington, while senior Talon Stephens blocked a field goal and intercepted a pass in the end zone.
5A CENTRAL
Maumelle at MILLS: Maumelle recovered an onside kick on the opening play last week vs. Pine Bluff  but failed to capitalize deep in Zebras territory and the Hornets, with 4 subsequent turnovers, never scored in a 26-0 setback. Hornets senior QB Weston Pierce was injured in the first half and didn't return. Mills totaled 436 yards in last week's 34-32 come-from-behind victory at White Hall. The Comets trailed 19-0 in the second quarter, but senior WR/S Anton Pierce's interception and TD catch a few plays later sparked the rally. Junior QB Achilles Ringo threw 4 TDs, 2 to Pierce and 2 to senior Q.J. King.
Watson Chapel at MORRILTON: Watson Chapel trailed Joe T. Robinson 46-14 at halftime last week. Wildcats senior Daniel Nelson caught a 29-yard TD pass from junior Marquez Bentley, who filled in at QB. Morrilton led Beebe 14-0 in the first half last week before losing 20-14 in OT.
Beebe at PINE BLUFF: Pine Bluff overcame 4 turnovers in last week's 26-0 win at Maumelle. The Zebras controlled the line of scrimmage and WR/CB Courtney Crutchfield caught 2 TD passes and had 2 interceptions. Beebe scored the final 14 points of last week's 20-14 OT win over Morrilton. Sophomore Kiandrea Barker ran 20 times for 109 yards, while senior Jayden Smith caught 8 passes, including the winning TD in OT. Junior LB Jaxcen Marsh tallied 15 tackles.
Vilonia at JOE T. ROBINSON: Vilonia didn't play last week and two weeks ago the Eagles notched their first victory, 30-12 over Pine Bluff. Vilonia senior Jack Vines leads the Eagles with 139 yards receiving per game. Joe T. Robinson has won conference games over Morrilton and Watson Chapel by a combined 116-34. Sophomore QB Quentin Murphy, Jr., has thrown 9 TDs this season, including 4 in the first half last week at Watson Chapel.
OPEN White Hall
5A EAST
VALLEY VIEW at Forrest City: Valley View junior QB Carson Turley threw 3 TD passes and ran for a TD in the first half of last week's 42-0 win over Paragould. Winless Forrest City has been shutout twice this season, including last week at Southside 36-0.
Brookland at NETTLETON: Nettleton gave up 2 defensive scores and 1 special teams score in last week's 34-28 loss at Batesville. Junior receiver Quordarius Thompson caught 9 passes for 136 yards and 2 TDs and ran for a TD, while senior Ke'Andre Pope ran 29 times for 147 yards. Brookland trailed Wynne 14-11 in the second quarter a week ago, before losing 59-27. Brookland senior Joseph Wright ran for 3 TDs.
BATESVILLE at Paragould: Paragould has failed to score in three of four games this season. Batesville's defense and special teams each scored in last week's 6-point win over previously unbeaten Nettleton. Junior DB Jaden Henderson broke up 3 passes, then scooped up a blocked field goal and returned it 86 yards for the winning TD as time expired. Junior RB Gabe Witt returned after missing two games with an injury and went 40 yards for a TD after a blocked punt by DL Isaiah Garcia.
Southside at WYNNE: Wynne tallied 508 yards, including 441 rushing, in last week's 32-point win at Brookland. Junior FB Cobey Davis paced the attack with 16 carries for 164 yards and 4 TDs, and he ran in a 2-point conversion. The Yellowjackets defense didn't allow a 3rd or 4th down conversion. Southside recorded its second shutout in the past three games, 36-0 over Forrest City last week. The Southerners forced 3 TDs, while junior Seth Case ran for 121 yards and 3 TDs.
5A SOUTH
HOT SPRINGS at Hope: Hot Springs junior QB Matt Contreras passed for 206 yards and 3 TDs in last week's 33-21 setback to LR Parkview. Junior Octavion Rhodes caught 4 balls for 81 yards and a TD, while junior T.J. Brogden hauled in 9 passes for 54 yards. Hope snapped a 4-game losing streak with last week's 16-point win over De Queen. Junior QB Tyler Patterson threw 4 TD passes, including 3 to junior Isaac Love.
MAGNOLIA at HS Lakeside: These teams have split the past 20 meetings. Magnolia led Texarkana 43-8 at halftime last week. Senior Garrion Curry ran 11 times for 185 yards and 4 TDs in the first half, while QB Dalen Blanchard completed 5 of 6 passes for 81 yards and ran 9 times for 51 yards. Winless HS Lakeside has lost its 3 games this season by an average of 25 points. Coach Jared McBride says sophomore receiver Ben Vincent played well in last week's 42-14 setback at Camden Fairview.
De Queen at LR PARKVIEW (Thursday/War Memorial Stadium): LR Parkview upended Hot Springs 33-21 last week after rallying from a 14-7 halftime deficit. Parkview QB Eric McGehee threw 2 TD passes to sophomore Monterrio Elston. De Queen played well in last week's 45-29 setback to Hope. The Leopards trailed 13-6 in the second quarter but surrendered 318 yards passing.
CAMDEN FAIRVIEW at Texarkana: Texarkana has won 7 of the past 11 meetings over Camden Fairview, but the Cardinals shut out Texarkana 33-0 a year ago. Texarkana junior QB Nate Wall has passed for 407 yards and 4 TDs this season, including a 37-yarder in last week's 45-8 loss at Magnolia. Camden Fairview senior QB Martavious Thomas completed 12 of 16 passes for 229 yards and 2 TDs and rushed for 119 yards and 3 TDs in last week's 42-14 victory over HS Lakeside. WR A.J. Alsobrook returned a punt for a TD and averaged 13 yards per reception, while DE Kameron Easttam continues playing well, Coach Nick Vaughn says.
5A WEST
SHILOH CHRISTIAN at Clarksville: Shiloh Christian blanked Dardanelle 55-0 last week, its first shutout since beating Ashdown 21-0 in the second round of the 2021 playoffs. The Saints rolled up 518 yards vs. Dardanelle, with senior QB Eli Wisdom passing for 251 yards. WR Bodie Neal caught 8 passes for 115 yards and 1 TD, while Carter Holman had 3 grabs for 82 yards. Clarksville generated 217 yards (all rushing) in last week's 42-13 setback to Alma.
Pea Ridge at DARDANELLE: Pea Ridge tallied 346 yards (222 passing, 124 rushing) in last week's 16-point Homecoming loss to Prairie Grove. Dardanelle CB Blake Thomas broke up 4 passes and held Shiloh Christian's top receiver to 2 receptions last week.
Alma at FARMINGTON: Alma has won 4 of the past 6 over Farmington, and the Airedales are 4-0 for the first time since 2004. The Airedales didn't allow a completed pass and gave up 70 yards in the first half of last week's 41-14 triumph over Clarksville. Ian Rhoads caught 4 passes for 76 yards and 1 TD. Farmington junior Cameron Vanzant broke his ankle Week 2 at Rogers but hopes to return in late October. Sam Wells, a converted cornerback, played quarterback in last week's 21-14 loss at Harrison, hitting senior Peyton Funk on a TD pass in the middle of the fourth quarter.