Class 4A Week 5 Rankings, Notes & Picks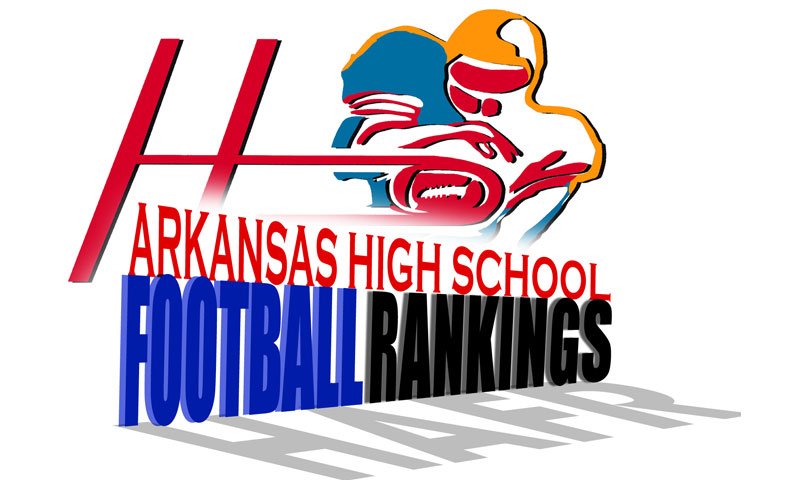 Hootens.com Class 4A Rankings
Week 5, 2022
Copyright Seventy Seven's Publishing
1. Arkadelphia (4-0)
2. Harding Academy (4-0)
3. Warren (3-1)
4. Star City (4-1)
5. Stuttgart (3-2)
6. Ashdown (5-0)
7. Malvern (3-1)
8. Pocahontas (3-1)
9. McGehee (2-1)
10. Ozark (2-2)
11. Lamar (4-0)
12. Nashville (3-2)
13. Rivercrest (1-3)
14. H.G. Haskell (5-0)
15. Elkins (3-1)
16. Lonoke (3-1)
17. Gosnell (4-0)
18. Gentry (4-0)
19. Clinton (4-1)
20. Trumann (2-2)
21. Bauxite (3-2)
22. Blytheville (3-1)
23. Pottsville (2-3)
24. Mena (3-1)
25. DeWitt (3-2)
26. Heber Springs (2-2)
27. Lincoln (3-1)
28. Monticello (2-3)
29. Crossett (1-3)
30. Hamburg (2-3)
31. Waldron (2-3)
32. Jonesboro Westside (1-3)
33. CAC (1-4)
34. Mayflower (1-3)
35. Gravette (1-3)
36. Dumas (1-3)
37. Huntsville (0-4)
38. Dover (2-2)
39. Helena (1-4)
40. Cave City (0-5)
41. Riverview (1-4)
42. Highland (1-3)
43. Bald Knob (1-3)
44. Berryville (1-3)
45. LR Hall (0-4)
46. Green Forest (1-3)
47. Harrisburg (1-3)
WEEK 5 PREDICTIONS (favored team highlighted in yellow and ALL CAPS)
LAST WEEK
Hootens.com correctly predicted 20 of 22 games (91 percent) involving Class 4A teams. Hootens.com has correctly predicted 121 of 141 games (88 percent) this season.
HOOTENS.COM GAME OF THE WEEK
No. 14 H.G. Haskell at NO. 11 LAMAR
This could decide the 4-4A championship. Haskell has never won a title, and Lamar hasn't since sharing the 4-3A in 2008. Lamar (4-0) didn't play last week and two weeks ago knocked off Bauxite 28-21. Senior Damien Hendrix has rushed for more than 600 yards in 4 games this fall.
Haskell ran for 356 yards in last week's 42-21 win over Clinton, and two weeks ago the Cardinals ran for 497 yards in a 21-point win over CAC. The Cardinals alternate six running backs. Last week, Landon Matthews ran for 149 yards and a TD, while Payton Potter led the Cardinals two weeks ago with 143 yards. The offensive line "is really impressive," Lamar coach Josh Jones says. The Cardinal defense held Clinton to 64 yards rushing a week ago.
 1-4A
GENTRY at Berryville: Berryville hasn't beaten Gentry since 2016. The Bobcats led Ozark 7-6 in the second quarter last week before fumbling inside the 10-yard line. Gentry rallied from 13-6 second-quarter deficit last week to down Huntsville 49-13. Senior Jonathon Corter registered 7 tackles, 2 forced fumbles and 1 interception. Senior QB Chris Bell passed for 349 yards and 4 TDs and senior Dillon Jarnagan caught 4 passes for 140 yards and 2 TDs, as the Pioneers rolled up 628 yards.
OZARK at Green Forest: These teams haven't played since Ozark registered a 12-8 victory in the 1998 playoff quarterfinals. Ozark senior QB Landon Wright completed 11 of 12 passes for 251 yards and 3 TDs and ran 3 times for 131 yards and 2 TDs last week vs. Berryville. Green Forest gave up 350 yards through the air in last week's 28-point loss to Lincoln.
LINCOLN at Gravette: Lincoln rolled up 401 yards and forced 2 turnovers in last week's 40-12 triumph over Green Forest. Gravette trailed Elkins 21-14 at halftime last week but failed to score again in a 14-point setback. Senior QB Rhett Hilger passed for 176 yards and 2 TDs, while sophomore Gabriel Holmes caught 9 passes for 105 yards and a TD.
ELKINS at Huntsville: Huntsville led Gentry 13-7 in the second quarter last week. The Eagles average less than 10 points per game. Elkins junior Da'Shawn Chairs ran 16 times for 205 yards and 2 TDs and caught 4 passes for 46 yards against Gravette, while Landon Haney contributed 11 tackles and 1 sack to the defense.
2-4A
Bald Knob at HEBER SPRINGS: Heber Springs has won 8 of the past 13 in the series. Heber Springs has won consecutive games over Jonesboro Westside and Cave City by a combined 78-35. Junior Parker Brown tallied 216 all-purpose yards (175 rushing) in last week's 55-22 triumph over Cave City. Seniors LBs Kenan Sneed (22 tackles) and Chris Edwards (17 tackles, 3 TFL) led the defense. Bald Knob beat Magnet Cove 8-3 for its first wins. Bald Knob gave up 173 yards.
HARDING ACADEMY at Lonoke: Harding Academy looks to take control of the conference following last week's 45-23 victory over Stuttgart. Sophomore Owen Miller threw 5 TD passes, including 3 tosses to Kyler Hoover. Landon Koch caught 2 TDs, including a 62-yarder in the first quarter. Senior DL Levi Mercer and junior LB Wyatt Simmons continue playing well on Harding Academy's defense. Lonoke needed 35 snaps last week to compile 493 yards and 60 points in a 40-point victory over Riverview. Sophomore RB Marquez Jackson, Jr., ran 9 times for 130 yards and 2 TDs. Linebackers Cody Amato, Zhorion Gipson and Latrell Burnett combined for 31 tackles.
Cave City at RIVERVIEW: These teams have never played. Riverview gave 271 yards rushing in last week's loss to Lonoke. The Raiders trailed 27-14 in the third quarter. Winless Cave City gets outscored by an average of 29 points. The Cavemen led Heber Springs 15-14 in the third quarter last week before yielding 4 TDs in an 8-minute span to lose 50-22.
OPEN Stuttgart.
3-4A
Jonesboro Westside at BLYTHEVILLE: Blytheville jumped on Harrisburg 38-0 in the second quarter last week, costing to an easy win. The Chickasaws rolled up 471 yards, most of it in the first half. Ladarrius Reed ran 24 yards for a TD. Jonesboro Westside lost to Trumann last week by 26 points. Senior Darvin Fowler scored the only Warriors TD.
POCAHONTAS at Gosnell: Pocahontas senior QB Connor Baker scored 4 TDs in last week's 28-21 win over Rivercrest. Gosnell led Highland 34-0 in the first quarter last week before easing to a 48-14 decision. Cam Williams returned 2 interceptions for TDs and caught 6 passes for 169 yards and 3 TDs. QB Reid Shelton completed 11 of 15 passes for 301 yards and 4 TDs, while Floyd Williams ran 8 times for 116 yards and a TD. Mason Moore led the Pirates defense with 16 tackles.
Harrisburg at RIVERCREST: Harrisburg's two-game win streak was halted last week in a mercy-rule loss to Blytheville. The Hornets finished with minus-9 yards rushing. Rivercrest can't get too emotionally down after last week's 7-point loss to Pocahontas. The Colts must get more production on offense (had 215 yards vs. Pocahontas). Junior Michael Rainer caught 6 passes for 64 yards and a TD.
Highland at TRUMANN: Highland, under interim coach Sterling Stowers, gets outscored by an average of 31-25. Trumann has two losses this season by a TD or less. The Wildcats beat Jonesboro Westside 34-8 a week ago. Jake Osment ran 6 times for 99 yards and 2 TDs, while senior QB Murphy Williams ran 9 times for 116 yards and a TD and completed 6 of 7 passes for 26 yards and a TD. Eli Evett had 10 tackles.
4-4A
MAYFLOWER at Central Arkansas Christian: CAC won its first game of the season last week, downing LR Hall 21-19. The Mustangs started 3 freshmen, including WR Jackson Hampton (2 catches, 29 yards, 1 TD). Mayflower gave up 351 yards rushing in last week's 30-point loss to Pottsville.
LR Hall at DOVER: LR Hall intercepted 2 passes in last week's 2-point loss to CAC. Dover trailed Bauxite 27-6 in the third quarter last week before losing 41-12. Senior Brandley Craig and sophomore Timmy Callans each had 69 yards rushing for Dover.
BAUXITE at Pottsville: Bauxite won its only other meeting in Pottsville's first year of varsity football (2003). Bauxite blasted Dover by 29 points last week on homecoming. QB Hunter Ferrell and sophomore Marcus Wimberly each played well, along with RB Noah Britton (80-yard TD run). Pottsville's Nico Yabara ran 15 times for 105 yards and 4 TDs last week at Mayflower, while senior Bricen Villareal ran 22 times for 134 yards and a TD. Villareal also recovered a fumble and intercepted a pass.
OPEN Clinton.
7-4A
Mena at ARKADELPHIA: Arkadelphia held Nashville scoreless in the second half of last week's 49-12 win. Junior Chase Vantilborg (11 tackles) and junior safety Nick Williams (11 tackles, 1 interception) paced a defense that had 5 players with at least 10 tackles. Senior QB Donovan Whitten passed for 328 yards and 2 TDs and ran for a TD while senior LaTonnieo Hughes caught 3 passes for 108 yards and 2 TDs and returned a kickoff for a TD. Mena didn't play last week, so the Bearcats players picked sides and scrimmaged each other Friday morning. The Bearcats offensive line, with 4 sophomore starters, improves weekly.
MALVERN at Waldron: Malvern didn't play last week, and two weeks ago the Leopards lost at Hernando, Miss. Senior QB Cedric Simmons has passed for 930 yards and 5 TDs this fall and rushed for 400 yards and 12 TDs. Junior RB Jalen Dupree averages 179 yards per game. Waldron has scored 7 points the past two weeks. The Bulldogs trailed Ashdown 43-0 in the second quarter a week ago.
OPEN Ashdown, Nashville
8-4A
Hamburg at DEWITT: DeWitt's defense played well in last week's 34-7 loss to Star City. Carl Hudson forced and recovered 2 fumbles, and sophomore safety Justin Ross and sophomore CB J.J. Daniels played well, Coach Tommy Cody says. Senior OT Will Moss performed well up front for the Dragons. Hamburg's Willis Robinson ran for 120 yards and a TD in last week's 19-13 win at Dumas, while Zane Johnson recorded 7 tackles.
Dumas at MONTICELLO: Dumas has improved over the past month, beating Lake Village two weeks ago and losing a heartbreaker last week to Hamburg by 6 points. Monticello DE Hayden Carter collected 12 tackles, while sophomore LB Jagger Hines registered 13 tackles, 3 TFL, 1 interception and 1 blocked punt in last week's 53-20 win at Helena. Senior Jontavion Lambert ran 23 times for 253 yards and 3 TDs.
McGehee at STAR CITY: Both teams lost to Warren in the final minutes the past two weeks. McGehee senior Tyrique Newman never came off the field in last week's 14-point loss to Warren. He returned a kickoff for a TD and ran for a TD. Star City, which lost to Warren by one point in overtime two weeks ago, returned to beat DeWitt 34-7. Senior Colorado commit C.J. Turner ran for 195 yards and 3 TDs, while QB Mason Taylor completed 9 of 11 passes for 190 yards. Senior Austin Wilkerson grabbed 5 passes for 154 yards.
Crossett at WARREN: Warren rallied past McGehee 40-26 last week. Senior QB/LB Maddox Lassiter and junior QB/RB Trey Jackson played well, along with LBs Delphino Rivera and Lee Johnson. Senior Malik Day returned an interception for a TD late in the fourth quarter to seal the win. Crossett beat Ashley County rival Hamburg 13-0 two weeks ago. Junior QB Max Brooks tallied 228 yards and 1 TD vs. Hamburg, and he has 710 yards and 7 TDs this fall.
OPEN Helena