Class 7A Week 5 Rankings, Notes & Picks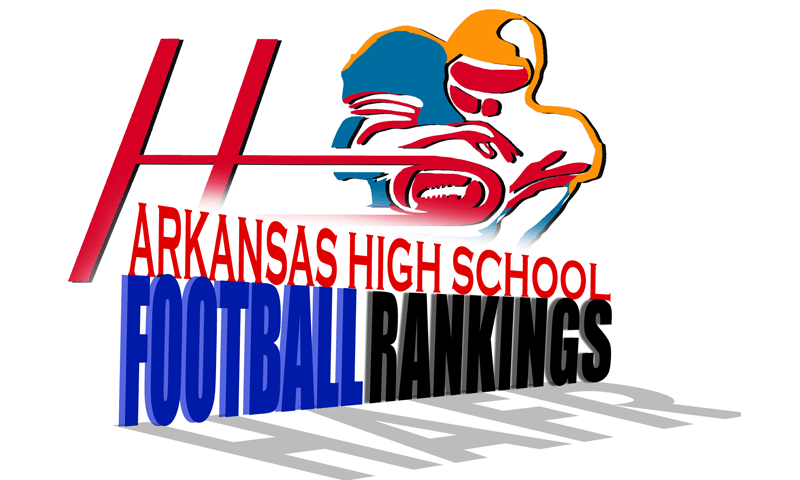 Hootens.com Rankings
Class 7A, Week 5, 2016
Copyright Hooten Publishing, Inc.
1. North LR (4-0)
2. Springdale Har-Ber (3-1)
3. Cabot (4-0)
4. FS Northside (2-1)
5. Bentonville (3-1)
6. Fayetteville (3-1)
7. FS Southside (2-2)
8. Bryant (2-2)
9. Rogers (3-1)
10. Springdale (3-1)
11. LR Central (3-1)
12. Conway (0-4)
13. LR Catholic (1-3)
14. Bentonville West (1-3)
15. Rogers Heritage (0-4)
16. Van Buren (1-3)

GAME OF THE WEEK
No. 3 Cabot at No. 7 FS Southside.
Playoff positioning likely on the line in this match-up between teams that have previously met in postseason play. Southside stoned Cabot in the 1997 state championship, but the Panthers got payback in the 2000 title game. Southside also beat Cabot in the 2002 semis and in the 2010 and 2015 playoffs. Cabot won in 1998 postseason.

Southside QB Graves Schmidley completed 11 of 21 passes for 206 yards, including a 64-yard TD to Dylan Wyatt last week to rally the Mavericks past winless Conway 23-20. Southside has committed just two turnovers since giving it away six times in a 47-0 loss at Springdale Har-Ber to start the season. Southside rotates three running backs but just got Parker Dixon (856 yards as a junior) back healthy last Friday. They run behind Maverick linemen averaging 299 pounds.
It took almost three quarters for undefeated Cabot to put away LR Catholic last weeek. Elusive Cabot senior QB Jarrod Barnes has committed to the University of Arkansas. 
"We've got to find a way somehow to get (Barnes) on the ground," Southside coach Jeff Williams says. "He reminds me of (former Pine Bluff High and 5-year NFL kick returner) Mark Bradley. We've got to be in our gap, play disciplined, assignment football and do it fast."

TV SHOW
Hooten's Arkansas Football TV show airs on KATV (Channel 7) at 10:30 a.m. Saturday's this fall.



LAST WEEK
Hooten's Arkansas Football correctly predicted six of eight games (75 percent) involving Class 7A teams. For the season, hootens.com is 35-13 (73 percent).

WEEK 5 PREDICTIONS (favored team in CAPS followed by point spread)

7A CENTRAL
CABOT (7) at FS Southside: hootens.com Class 7A Game of the Week. 

NORTH LR (14) at Conway: New No. 1 North LR travels for the first of just three times this season after a 42-7 win over previously undefeated LR Central last Friday. Cabot at North LR in the regular-season finale likely decides the conference title and top seed in postseason. Conway has lost its four games by 5.5 points, including last week's 23-20 heartbreaker at FS Southside. The Wampus Cats gain 180.8 yards rushing and 127 yards passing to score 23.75 points weekly.  Conway's defense made six tackles for loss and two QB sacks at FS Southside.
BRYANT (3) at LR Catholic (Thurs.): Bryant blanked by FS Northside 29-0 last week and has failed to score in the first half of three games. That likely changes against a LR Catholic defense allowing 39.5 points despite holding Class 6A Jacksonville (1-3) to 6 points Week 2. Bryant has won six of the past seven over Catholic, including the past two by a combined 64-17.
FS NORTHSIDE (7) at LR Central: Northside playmaker Tre Norwood returned a punt 60 yards and Chuy Parga kicked 27- and 44-yard field goals in last week's 29-0 win at Bryant. LR Central scored 28.3 points to win its three non-conference games before losing 49-7 last Friday at North LR. Northside whipped LR Central by a combined 67-22 the past two seasons in non-conference play.

7A WEST
Van Buren at BENTONVILLE (29): A week after squeaking by Class 6A Siloam Springs to end a 9-game losing skid, Van Buren committed three turnovers and allowed 302 yards passing to lose last Friday at first-year program Bentonville West, 42-14. Tradition-rich Bentonville made five QB sacks, junior Kam'ron Mays-Hunt caught a 65-yard TD on the final play of the first quarter and senior Hayden Goehring's 46-yard field goal with 3:14 remaining proved to be the difference in the Tiger's upset at defending state champion Fayetteville last Friday. Bentonville senior Jacob Clark carried 20 times for 100 yards and a TD at Fayetteville. It's was Bentonville's 11th consecutive regular-season win over Fayetteville.
Bentonville West at FAYETTEVILLE (16): First-year program Bentonville West totaled 425 yards offense (302 passing) to score its first win last Friday over Van Buren, 42-14. Previously top-ranked Fayetteville led 21-14 at halftime and totaled 60 yards more than Bentonville last week but lost at home 24-21. Fayetteville's Terrance Rock totaled almost 200 yards offense. but standout QB Taylor Powell was sacked five times. It was Fayetteville's 11th consecutive regular-season loss to Bentonville.
Springdale at SPRINGDALE HAR-BER (21): Har-Ber has won nine straight over Springdale by an average score of 36-14 since losing to the Bulldogs 40-8 in its inaugural season (2006). Har-Ber hadn't totaled more than 58 yards passing in a game this season before rocking Rogers with 279 in last week's 56-14 win. Har-Ber averages 7.4 yards per rush and has held three opponents to two TDs or less. Springdale, just 8 points shy off a 4-0 start, celebrated homecoming last Friday with Kyler Williams setting the school's all-time receiving record in a 42-21 win over winless Rogers Heritage. Facing a third-and-6, caught a 68-yard TD on what would be his final play. Williams (31 catches for 578 yards and seven TDs this fall) died in a one-car accident Saturday night.
ROGERS (7) at Rogers Heritage: This series is tied 4-4 with neither winning more than two years in a row. Rogers beat Heritage last season 28-6. Rogers allowed 12 points weekly to win its non-conference games this fall before giving up 56 last Friday to Springdale Har-Ber. Winless Heritage scored on its first possession of the game and third quarter in last week's 42-21 loss at Springdale.