HOGS: Boyd boosts running game; notes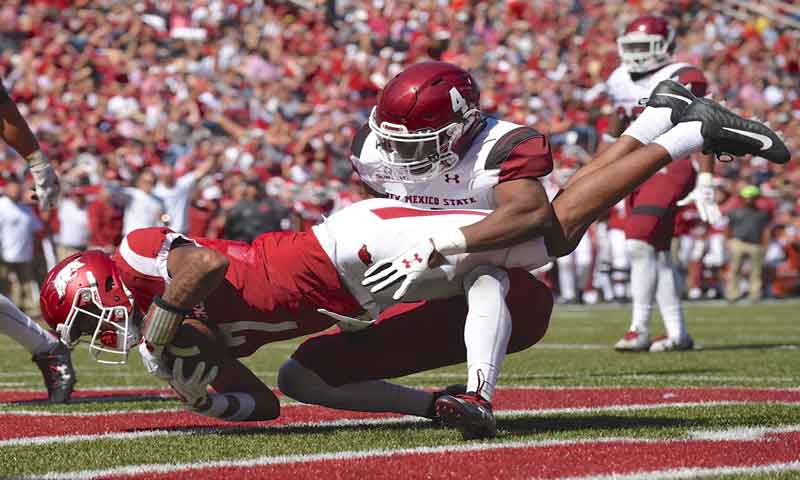 FAYETTEVILLE - Arkansas head coach Chad Morris and offensive coordinator Joe Craddock commented Monday on senior receiver Jonathan Nance's decision to pursue opportunities to play elsewhere in 2019 as a graduate transfer.
Nance has logged one catch this fall for minus-2 yards after leading the Razorbacks in 2018 as a junior college transfer with 37 catches for 539 yards and five touchdowns. 
The Razorbacks (1-3, 0-1) are coming off a 34-3 loss last week in their SEC opener to Auburn. They take on Texas A&M (2-2, 0-1) at 11 a.m. Saturday on ESPN in an SEC West game at the Dallas Cowboys' AT&T Stadium in Arlington, Texas.
"Jonathan Nance has chosen to step back from football here at the University of Arkansas and focus on earning his degree," Morris said. "And we want to wish him the best of luck. You don't ever want anyone to leave your program, but that's what he felt was in the best interest for him."
Morris said Nance's 2018 stats were deceptive because he was targeted more often than his one catch and caught one deep pass negated by a penalty.
"As you know, we've struggled with consistency offensively," Morris said. "It wasn't anything he's done, it was just struggling to be consistent in all phases offensively."
Morris and Nance indicated the parting comes on good terms.
"He came to me, and we had a great discussion yesterday (Sunday), Morris said.
Nance posted on Twitter: "I want to thank Arkansas and my coaches for giving me a opportunity to compete on this level. It has been a great ride and have made life long friends that I will never take for granted. Unfortunately, I will use this year as my redshirt year and transfer in December to fulfill my dream to play football. Again, thank you for understanding this difficult decision."
NEXT UP
Nance has started every game, leaving a spot open against the Aggies.
"We are going to start Deon Stewart there, and Jordan Jones will be right behind him as the starting rotation guys and move forward from there," Craddock said.
Stewart, a junior from Hardy Highland, has caught four passes for 22 yards and taken over punt returning duties. Jones, the sophomore from Smackover, is Arkansas' second leading receiver with seven catches for 147 yards and a TD.
INJURY UPDATES 
Junior running back T.J. Hammonds and sophomore kick returner D'Vion Warren left home with injuries last week, and previously injured junior college transfer defensive end Dorian Gerald should rejoin the Razorbacks this week, Morris said.
Injured cornerback Britto Tutt and injured kick returner Gary Cross remain out, Morris said.
Sophomore cornerback Chevin Calloway, out the past two games for what Morris has called family related "personal reasons" remains not practicing, Morris said. The availability of junior running back Devwah Whaley, removed late from the Auburn game after absorbing a hellacious hit, is "day to day," Morris said.
EX-AGGIE BOYD STEPS UP
Sophomore transfer running back Rakeem Boyd, a redshirting freshman at Texas A&M in 2016 before transferring in 2017 to Independence (Kan.) Community College, becomes Arkansas' featured back this week and not just because of Whaley's injury.
Boyd couldn't report to the UA until late summer while completing his academics at Independence, but emerged at Auburn by netting 66 yards, including a 45-yarder, on eight carries after not playing against North Texas.
Craddock said lack of conditioning from being forced to miss Arkansas' summer workouts has hampered Boyd, but that he's catching up fast.
"He's working out hard, and he's eating right," Craddock said. "He's probably gained 10 or 15 pounds since he's gotten here and gotten more into game shape, and I think that showed the other night. I think he'll be very excited to play against his old team this week."

NO MORAL VICTORIES
Morris, Craddock and defensive coordinator John Chavis all lauded the effort and effectiveness of the Razorbacks vs.  No. 9 Auburn compared to their 44-17 loss to North Texas in Fayetteville.
But all fiercely followed Morris' lead that "losing is not accepted in this program. There's no moral victories. That's totally not accepted."
Junior quarterback Ty Storey offensively, and the entire defense, other than not forcing a turnover, earned Morris' praise.
NOT-SO-SPECIAL TEAMS
Special teams, disastrous for consecutive weeks, did not.
"It was unacceptable," Morris said. "We've got to get better in all phases of special teams."
Arkansas fans can get used to 11 a.m. kickoffs. The Razorbacks' Oct. 6 SEC game at Reynolds Razorback Stadium against No. 1 Alabama will kick off at 11 a.m. on ESPN.