Class 6A Week 5 Rankings, Notes & Picks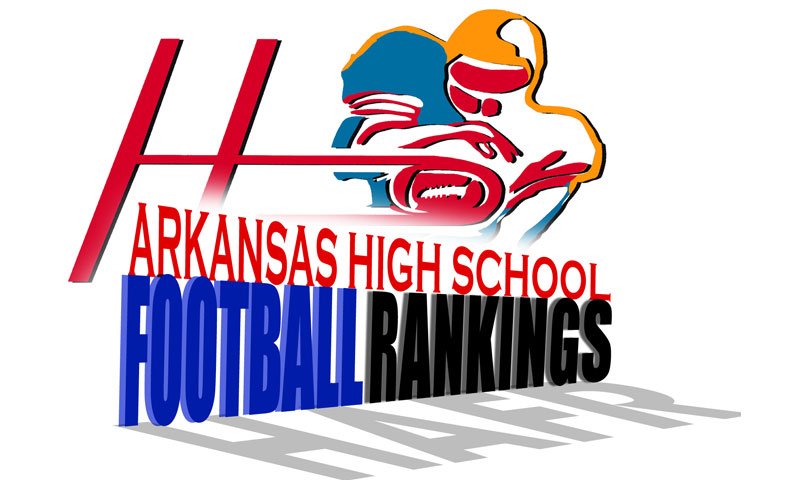 Hootens.com Rankings
Class 6A, Week 5, 2018
Copyright Hooten Publishing, Inc.

1. Greenwood (3-1)
2. Benton (3-1)
3. Pine Bluff (1-2-1)
4. West Memphis (4-0)
5. Searcy (4-0)
6. El Dorado (2-2)
7. Russellville (2-2)
8. Marion (3-1)
9. Lake Hamilton (3-1)
10. Jonesboro (2-2)
11. Sylvan Hills (1-3)
12. Siloam Springs (3-1)
13. Sheridan (1-3)
14. Jacksonville (2-2)
15. LR Hall (1-3)
16. Mountain Home (0-4)

HOOTENS.COM GAME OF THE WEEK
No. 1 Greenwood at No. 6 El Dorado
One of the premier matchups in 6A football. Teams met in the playoffs in 2012 (42-39 Greenwood win), 2014 (24-14 El Dorado win) and 2016 (20-3 Greenwood win). Greenwood won the past two years as league rivals by a combined 59 points. The schools dueled this summer at team camp at Ouachita Baptist.  Last week, El Dorado senior playmaker Shun Levingston returned the opening kickoff 80 yards for a touchdown in a 28-6 win at Lake Hamilton. Levingston also scored on a 30-yard screen pass, and the Wildcats led 21-0 at halftime. The El Dorado defensive line controlled the line of scrimmage against Lake Hamilton, limiting the Wolves to a season-low 189 yards rushing.  Greenwood, the defending Class 6A state champ, earned a 41-6 mercy-rule win on homecoming last over Little Rock Hall. The Bulldogs scored on four consecutive first-half drives for a 35-0 halftime lead. Greenwood's starting defense has surrendered 43 points (10.7 points per game) this year. Sophomore Hunter Wilkinson (six carries for 61 yards and three TDs against Hall) has emerged as a threat at running back.

TV LAND
Hooten's Arkansas Football airs 10:30 a.m. Saturdays on KATV (ABC Little Rock) Channel 7, covering the Razorbacks, high school teams and players to watch.

LAST WEEK
Hootens.com correctly predicted eight of eight winners (100 percent) of games involving Class 6A schools. Hootens.com has correctly picked 42 of 51 winners (82 percent) of games involving Class 6A schools for the season.

WEEK 5 PREDICTIONS (favored teams in CAPS followed by point spread)
6A EAST
JONESBORO (14) at Jacksonville: Jonesboro scored a 35-7 victory last week at Mountain Home by racking up 369 yards and committing zero turnovers for the first time this year. Dynamic sophomore QB Cross Jumper paces Jonesboro in passing (953 yards and 11 TDs) and rushing (204 yards and a score). Jacksonville averages just 9.5 PPG in its past four conference games. 
Sylvan Hills at MARION (6): Schools have not met since 2007, a 28-18 Sylvan Hills victory. Sylvan Hills rides a three-game losing skid into this game, scoring just 19 points. Sylvan Hills four-year senior kicker Tito Mendoza booted a field goal in last week's 14-3 loss against Pine Bluff. Marion must recover after an emotional two-point loss to West Memphis. The Patriots led 14-7 for most of the first half before the Blue Devils took a 15-14 halftime lead. Marion scored a fourth-quarter TD on a double-reverse pass to get within two points. The Patriots held the Blue Devils to 183 total yards on 70 snaps (2.6 yards per play). 
Mountain Home at PINE BLUFF (14): Pine Bluff outscored Mountain Home 72-16 the past two years. Mountain Home trailed Jonesboro 21-0 last week when it lost a fumble inside the Jonesboro 10-yard line, part of a 28-point loss to the Golden Hurricane. Mountain Home committed four penalties and lost three fumbles before halftime. MH sophomore QB Dawson Tabor piloted a 16-play, 80-yard drive and capped it with a 6-yard TD run in the fourth quarter. Pine Bluff struggled on offense in a 14-3 victory over Sylvan Hills, dropping a TD pass and failing to finish another long drive. 
SEARCY (1) at West Memphis: Homecoming at West Memphis. Searcy has won five of six against West Memphis, three straight at Hamilton-Shultz Field. These are the top two scoring defenses in Class 6A, and both are 4-0. Searcy last week surrendered 43 yards to Jacksonville and just two completions in a 37-0 win. "I was really proud of how our defensive backs played," Searcy coach Mark Kelley says. "Our defensive line has been great, making teams throw it, and the secondary has done their job, too." The shutout was Searcy's second of the year, and the Lions allow just 10.2 points per game. Senior quarterback Peyton Wright (63 percent completion percentage for 1,198 yards and 12 touchdowns) triggers Searcy's top-scoring offense (41.3 points per game) in Class 6A football. Senior Tony Young shifted in the spring from safety to running back and has sprinted for 368 yards and six scores, while junior Tanner Leonard (28 catches for 281 yards and three TDs) and senior Tim Williams (22 catches for 379 yards and seven scores) run slick routes.  West Memphis is 4-0 for the second straight year following a 22-20 win at Marion. The Blue Devils snuffed out a potential game-tying two-point conversion with less than four minutes in regulation. West Memphis junior QB Owens McConnell has impressed in four starts, while the Blue Devil receiving corps (self-proclaimed Get Money Wideoutz) features Jimmy Phillips and Barton transfer Devin Olloway.

6A WEST
GREENWOOD (3) at El Dorado: See Hootens.com Game of the Week.
Siloam Springs at BENTON (21): Siloam Springs last week erased a 14-point deficit to Sheridan by allowing just 97 yards in a 10-point win. Benton recorded its second shutout in the past six games with a 27-point win at Russellville. Senior TB Zak Wallace ran for 242 yards and three TDs (6, 6 and 48 yards), while senior Garrett Body caught an 82-yard TD pass from Garrett Brown. 
LAKE HAMILTON (22) at LR Hall: Hall playmaker Quinn Dotson zipped 63 yards for a TD last week at Greenwood. Lake Hamilton surrendered too many big plays to El Dorado and coughed up three turnovers in a 22-point home loss. 
RUSSELLVILLE (17) at Sheridan: Sheridan bolted to an early 14-point lead last week at Siloam Springs but committed three turnovers in a 24-14 loss. Senior Montana Korte and junior Alden Lucas ran for TDs at Siloam. Russellville absorbed its first shutout since 2015 in a 27-point loss to Benton. The Cyclones recorded 182 yards and committed two turnovers.