Class 4A Week 5 Rankings, Notes & Picks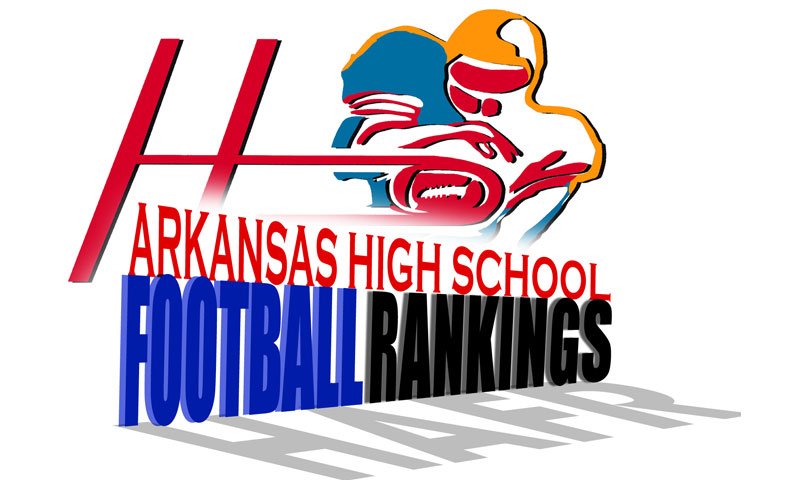 Hootens.com Rankings
Class 4A, Week 5, 2018
Copyright Hooten Publishing, Inc.
1. Warren (3-0)
2. Joe T. Robinson (3-1)
3. Nashville (4-0)
4. Rivercrest (4-0)
5. Shiloh Christian (3-1)
6. Arkadelphia (0-4)
7. Hamburg (3-1)
8. Dardanelle (4-0)
9. Ozark (2-2)
10. Dumas (4-0)
11. Stuttgart (2-1)
12. Southside Batesville (2-2)
13. Pea Ridge (2-2)
14. Prairie Grove (2-2)
15. Bauxite (4-0)
16. Gosnell (2-2)
17. Bald Knob (3-1)
18. Haskell Harmony Grove (3-1)
19. DeWitt (3-1)
20. Mena (2-2)
21. Ashdown (2-2)
22. Pocahontas (2-2)
23. Jonesboro Westside (3-1)
24. Elkins (4-0)
25. Heber Springs (1-3)
26. Lincoln (4-0)
27. Helena (3-1)
28. Fountain Lake (3-1)
29. CAC (2-2)
30. Pottsville (1-3)
31. Star City (2-2)
32. Lonoke (1-3)
33. Highland (1-3)
34. Trumann (1-3)
35. Crossett (0-3)
36. Mills (0-4)
37. Monticello (0-4)
38. Riverview (1-3)
39. Malvern (0-4)
40. Berryville (2-2)
41. Brookland (0-4)
42. Dover (1-3)
43. Green Forest (1-3)
44. Gravette (0-4)
45. Gentry (0-4)
46. Waldron (1-3)
47. Subiaco Academy (1-3)
48. Cave City (0-4)

HOOTENS.COM GAME OF THE WEEK
No. 16 Gosnell at No. 4 Rivercrest
These Mississippi County rivals could determine the 3-4A title. Rivercrest won three straight 3-3A titles before bumping to Class 4A this fall. The undefeated Colts have beaten Paragould, Valley View, Osceola and Trumann by an average of 31-16 this season while adjusting to first-year head coach Johnny Fleming. Senior quarterback Demilon Brown has completed 15 of 28 passes for 231 yards and a pair of TDs this season, and rushed for 170 yards and four TDs. The Colts rely on senior Kentavious Robinson (averages 22 touches per game). Robinson has rushed 82 times for 783 yards and four TDs, and has seven catches for 89 yards. The Colt defense held the past three opponents to two TDs each. Junior linebacker Easton Elder (31 tackles, seven tackles for loss, three forced fumbles) paces the defense, while opposing coaches game plan to neutralize aggressive junior tackle Logan Gray (28 tackles, six TFL, one forced fumble and one interception).
Gosnell has won four of the past five conference titles. The Pirates beat Kennett, Mo., and Cave City this fall, while losing at Class 5A Nettleton by eight points and to Osceola by five points. Junior Amarion Partee emerged at QB the past two weeks, passing for two TDs in last week's 33-point win over Cave City. Senior Cadarius Young has been limited this season with an ankle injury, but averages 4.4 yards per carry. His brother, junior JyDarian Young paces the Pirates with 28 carries for 429 yards and six TDs. JyDarian Young ran for a pair of long TDs in the first half last week against Cave City, while senior receiver Bradley Fields caught two TD passes.

TV SHOW
Hooten's Arkansas Football airs 10:30 a.m. Saturdays on KATV (ABC Little Rock) Channel 7, covering the Razorbacks, high school teams and players to watch.
LAST WEEK
Hootens.com correctly predicted 13 of 16 games (81 percent). For the season, Hootens.com has correctly predicted 82 of 100 games (82 percent).

WEEK 5 PREDICTIONS (favored team in ALL CAPS)
1-4A
Gentry at BERRYVILLE (2): It's homecoming in Berryville and the Bobcats must correct special team's gaffes. They failed to recover three straight kickoffs in last week's 36-0 loss to Shiloh Christian. Gentry averages 11 points per game and the Pioneers beat Berryville last year by three TDs.
PRAIRIE GROVE (21) at Gravette: Prairie Grove has won six straight over Gravette, including last year by 24 points. After starting 0-2, Prairie Grove hasn't allowed a point the past two weeks, outscoring Pottsville and Green Forest by a combined 82-0. Winless Gravette averages just five points per game.
SHILOH CHRISTIAN (35) at Green Forest: The Saints led Berryville 29-0 in the first quarter a week ago, and held Berryville to 46 yards. The Saints pass for 299 yards weekly, with junior QB Eli Reece throwing five TDs and no interceptions in 2018.
Lincoln at PEA RIDGE (7): Pea Ridge has won consecutive games after an 0-2 start. Junior QB Tate Busey has seven TD passes and five TD runs this fall. Undefeated Lincoln is 4-0 for the first time since 2013. The stingy Wolf D gives up 10 points a game.

2-4A
LONOKE (2) at Bald Knob: Lonoke has won five the past eight over Bald Knob. The Jackrabbits led Heber Springs by two TDs in the first half last week, but they failed to score again. Bald Knob relies on the accurate arm of junior QB Johnson Capps (averages two TD passes per game).
Riverview at SOUTHSIDE BATESVILLE (17): These teams have split the past six meetings. Both are looking for positives after Southside Batesville's 35-15 loss at Stuttgart and Riverview's 40-14 setback to CAC. Riverview led 14-0 in the first quarter but failed to score again once CAC's defense adjusted to Riverview's spread.
Mills at CAC (12): This is the first meeting between these team who located just 15 miles apart. CAC trailed Riverview 14-0 in the first quarter last week but won by 26 points. The Mustang passing attack improves weekly. Winless Mills has scored just 26 points in four games.
STUTTGART (10) at Heber Springs: Stuttgart has won nine of the past 12 over the Panthers. But the Ricebirds need to move on emotionally after last week's 20-point win over favored Southside Batesville. Senior David Walker sparked the win with four TDs. Heber Springs rallied from a 14-point deficit last week to down Lonoke by 14 points.

3-4A

Gosnell at RIVERCREST (3): Hootens.com Class 4A Game of the Week.
TRUMANN (7) at Brookland: Trumann has one of the smaller 4A rosters in the state with just 26 players, but the Wildcats could make the playoffs for the third straight season if they win at least two of their next four games, all on the road. Brookland has scored just four TDs this past two games, and the Bearcats yield 39 ppg.
HIGHLAND (18) at Cave City: Highland has improved over the past month, almost winning last week at Jonesboro Westside. Senior QB Tristan Hudson has passed for 733 yards and six TDs this year and rushed for 274 yards and five scores. Struggling Cave City gets outscored 29 points per game.POCAHONTAS (4) at Jonesboro Westside: Pocahontas has won 15 of the past 17 in the series. Expect a high scoring game this season, with Pocahontas scoring at least 45 points in each of its two wins this season. High-flying Jonesboro Westside scores 45 ppg.
POCAHONTAS (4) at Jonesboro Westside: Pocahontas has won 15 of the past 17 in the series. Expect a high scoring game this season, with Pocahontas scoring at least 45 points in each of its two wins this season. High-flying Jonesboro Westside scores 45 ppg.
4-4A
Waldron at DARDANELLE (24): Dardanelle has won eight of the past nine in the series. The Sand Lizards pounded Pottsville 52-6 on Saturday at Russellville's Cyclone Stadium. Dardanelle junior QB Jordan Metcalf ran for three TDs and threw another against Pottsville. Waldron tries to control the clock with its running attack (average 183 yards per game).
ELKINS (10) at Dover: Undefeated Elkins averages 376 yards weekly. Junior QB Quinn McClain could develop into one of the state's top players over the next two years. He's rushed for 354 yards and seven TDs in 2018 and passed for 716 yards and 10 TDs. Dover's 6-0 win last week at Subiaco Academy snapped a five-game losing streak.
OZARK (25) at Subiaco Academy: Subiaco Academy's defense played well in last week's 6-0 loss to Dover. Ozark gets another tune up before facing undefeated Dardanelle and Pottsville the next two weeks. Hillbilly senior QB Dawson Dietz has passed for 642 yards and six TDs this year and rushed for 243 yards and three TDS.
MENA (2) at Pottsville: Pottsville has never lost to Mena. But the Apaches have dropped consecutive games to Prairie Grove and Dardanelle (teams that feature tough running attacks) after starting the season 2-0, and Mena was shutout last week to Ozark. Mena junior Zane Stephens has 23 catches this year for 310 yards and four TDs.

7-4A
JOE T. ROBINSON (7) at Arkadelphia: Defending state champion Arkadelphia seeks its first win of the year and the Badgers look to avenge their only setback last season (lost at Joe T. Robinson 21-17). Joe T. Robinson beat Fountain Lake 28-6 last week in a game called at halftime because of the weather. Senior Mekel Kentle ran four times for 142 yards and two TDs (14 and 87 yards). Senior QB Greyson Tackett passes for 97 yards weekly, with five TDs and one interception. Arkadelphia junior QB Cannon Turner passes for 140 yards a game. Robinson has won six of the past nine over Arkadelphia.
Ashdown at BAUXITE (3): Ashdown has won seven of the past eight meetings over the Miners. But the Panthers were shocked last week by Haskell Harmony Grove. Bauxite rushes for 275 yards weekly, with senior QB Seth McDowell (424 yards and eight TDs) and halfback Dawson Dabbs (354 yards, three TDs) getting the bulk of the work.
NASHVILLE (10) at Fountain Lake: Nashville has lost only once to Fountain Lake. The Scrappers put up 460 yards weekly. Junior receiver Ty Basiliere has six receptions for 194 yards and a pair of TDs this year, while junior LB Devonte Witherspoon averages 10 stops per game. Fountain Lake junior QB Ian Lacy has completed 23 of 34 timely passes this year for 379 yards and four TDs.
Malvern at HASKELL HARMONY GROVE (7): This is the first meeting between these teams. Haskell Harmony Grove looks to go to 2-0 in the league after ambushing Ashdown by 16 points a week ago. The Cardinals' physical running attack (320 yards per game) tests Malvern's defense. The Leopards average just seven ppg.

8-4A
Crossett at DUMAS (16): Undefeated Dumas rushes for 273 yards per game. Junior QB Chris Harris paces the Bobcats with 435 yards and seven TDs, while sophomore Kylin James has 330 yards and four TDs this year. Winless Crossett averages 10 ppg. Junior Jaylan Lawson ran for 140 yards and a TD in last week's 25-point loss to Warren.
Monticello at HAMBURG (21): Hamburg has won six straight over Monticello by a combined 173-34. The Lions forced three turnovers in last week's 24-point win at DeWitt. Struggling Monticello averages less than seven points per game.
DeWitt at HELENA (6): Both teams coming off their first loss of the year (Helena by eight points to Dumas, DeWitt by 24 points to Hamburg.) Helena average 358 yards per game. DeWitt gets big plays in the run game from junior QB Seth Courtney.
Star City at WARREN (24): Star City hasn't beaten Warren since 2010. Warren scored four TDs in the firstr half of last week's mercy-rule win over Crossett. Star City allows 25 ppg. The Bulldogs controlled the clock with their running game in last week's mercy-rule decision over Monticello, holding the Billies to just 12 first downs.