Class 6A Week 4 Rankings, Notes & Picks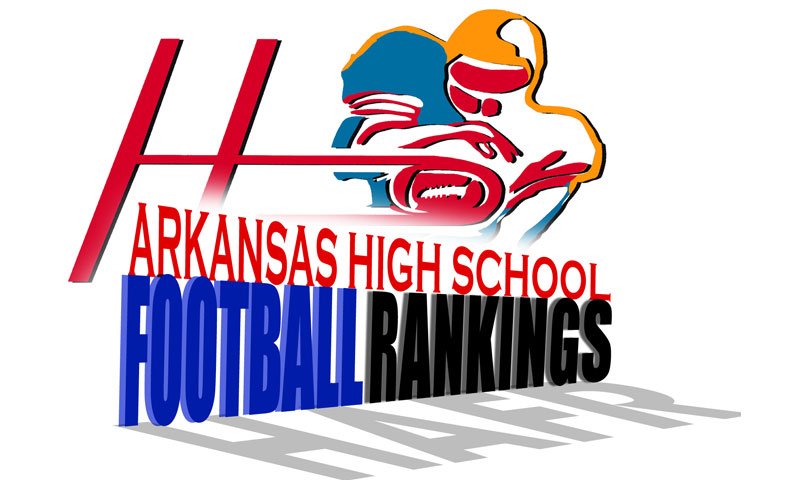 hootens.com Rankings
Class 6A, Week 4, 2020
Copyright Hooten Publishing, Inc.
1. Greenwood (3-0)
2. LR Parkview (3-0)
3. Lake Hamilton (3-0)
4. Benton (1-2)
5. Van Buren (2-1)
6. Jonesboro (1-2)
7. Sylvan Hills (1-2)
8. Siloam Springs (2-1)
9. Searcy (1-2)
10. West Memphis (1-2)
11. Marion (0-3)
12. Pine Bluff (1-1)
13. Mountain Home (2-1)
14. Russellville (1-2)
15. El Dorado (0-3)
16. Sheridan (1-2)

HOOTENS.COM GAME OF THE WEEK
No. 13 Mountain Home and No. 3 Lake Hamilton
Mountain Home attempts to snap a 16-game conference losing streak after rising above .500 for the first time since 2011 with last week's 49-45 win over Class 5A Batesville. The Bombers recorded the third-most yards in school history, out-gaining the Pioneers 546-317. Senior QB Bryce McKay ran 26 times for 232 times and three touchdowns and he completed 14 of 27 passes for 236 yards and two scores. McKay entered on defense for the game's final play and intercepted Batesville's Hail Mary attempt.  Lake Hamilton is 3-0 for the second straight season following a 38-28 win last week at Class 5A Hot Springs. The Wolves rolled up 396 yards (322 rushing) at Hot Springs behind an improving offensive line, which features Chase Jessup, Dylan Horton and Bradley Reiman, who pave the way for potent running backs Tevin Woodley Owen Miller. Lake Hamilton senior QB Layne Warrick is out indefinitely with a broken collarbone. Seniors Iziah Clenney (team-high 26 tackles) and Trent Singleton (24 stops) pace a Lake Hamilton defense that allows 20 points per game.

LAST WEEK
hootens.com correctly predicted seven of nine winners (78 percent) in games involving Class 6A teams. Hootens.com correctly predicted 37 of 46 winners (81 percent) in games involving 6A teams this season.

WEEK 4 PREDICTIONS (favored teams in CAPS followed by point spread)
6A EAST
WEST MEMPHIS (1) at Marion: West Memphis is 17-0 all time against Marion and 14-0 in conference meetings since 2006. Only five meetings have been decided by one score or less, including a one-point West Memphis victory last season in overtime. Class 5A Wynne owns wins over Marion (35-19) and West Memphis (39-6) this season. Marion is 0-3 for the first time since 2014 and the Patriots were idle a week ago. Marion scores just 14.3 points per game through three weeks. The West Memphis defense kept it in it for a half a week ago in a 35-0 loss at North Little Rock, allowing the Charging Wildcats to gain only 142 yards on 22 plays in the first half. West Memphis junior QB Bryson Jenkins completed eight of 20 passes for 83 yards at North LR.
Pine Bluff at SYLVAN HILLS (7): Pine Bluff scores just nine points per game through two outings. Pine Bluff sophomore QB William Howell completed 13 of 22 passes for 145 yards last week in a 28-6 loss to Little Rock Parkview. Sylvan Hills limited Class 5A Jacksonville to 147 yards two weeks ago in a 48-16 victory. Sylvan Hills scored TDs on five straight first-half possessions against Jacksonville and led 35-0 at halftime. Sylvan Hills rolled up 296 yards against Jacksonville but committed four turnovers.
Sheridan at SEARCY (8): Searcy beat Sheridan the past two seasons in non-conference games by a combined 81-7. Sheridan downed Class 5A Jacksonville 36-18 last week behind senior running back Peyton Edwards' 162 rushing yards and four TDs. Searcy beat Class 5A Batesville 41-25 two weeks ago for Coach Kenny Simpson's first win at the school. Searcy rushed for 314 yards (6.8 yards per carry) and three scores at Batesville. Junior QB Ckyler Tengler completed 11 of 16 passes for 139 yards and three scores. Junior Braden Oliver racked up 12 tackles to pace the defense.
JONESBORO (3) at El Dorado: CANCELED. This game was canceled Thursday. El Dorado is 0-3 for the first time since 2013 after losing last week at Class 5A Magnolia 27-23. The Wildcats recorded 337 yards against Magnolia, led by senior QB Eli Shepherd's 218 passing yards, including eight completions to sophomore Deandra Burns, covering 84 yards and a TD. Jonesboro turns to junior QB Rykar Acebo following a season-ending leg injury to senior signal-caller Cross Jumper in Jonesboro's 49-28 loss two weeks ago to Class 7A Conway. Jonesboro played Conway with three players in quarantine and all are expected to return for this game.

6A WEST 
BENTON (8) at Russellville: Benton has won three straight in this series, including 36-31 a year ago. Russellville has lost two straight games by a combined nine points following a 28-23 defeat last week at Class 5A Vilonia. Russellville rolled up 312 yards at Vilonia but trailed 28-13 at halftime. Senior QB Brayden Whitford completed 16 of 28 passes for 202 yards and two TDs at Vilonia. The Cyclones rushed for a season-high 110 yards (first time to rush for positive yardage this season). Benton trailed Little Rock Catholic 35-21 in the fourth quarter last week in a seven-point loss. The Panthers out-gained the Rockets 421-407, but Benton rushed for just 69 yards on 22 carries (3.1 yards per carry). Benton senior QB Garrett Brown completed 27 of 51 passes for 352 yards and two TDs. Opponents outscore Benton 36-16 in the second quarter this season.
Mountain Home at LAKE HAMILTON (2): See Hootens.com Game of the Week.
VAN BUREN (2) at Siloam Springs: Each team was idle last week after starting 2-1. Siloam Springs out-gained Class 5A Harrison 414-300 two weeks ago in a 34-14 victory. Siloam senior Elijah Coffey snagged five passes against Harrison for 92 yards and intercepted a pass in the end zone in the third quarter. Van Buren lost 28-10 two weeks ago at Choctaw, Oklahoma, the school's first win over an Arkansas program. Choctaw racked up 348 yards against Van Buren. Van Buren played at Choctaw without senior QB Gary Phillips, who could return this week. Junior safety Connor Brady, Van Buren's backup QB, suffered a season-ending injury Week 0 against Class 7A Springdale, which forced senior receiver/cornerback Jaiden Henry to start at QB at Choctaw. All-league tackle Doug Giron returns to the lineup this week for Van Buren.
Bentonville West at GREENWOOD (10): Greenwood downed Choctaw, Okla. 23-12 a week ago despite playing without senior QB L.D. Richmond and senior tailback Hunter Wilkinson after the first quarter. Sophomores Hunter Houston and Joe Trusty split reps for Richmond. Extended game highlights HERE. Greenwood owns wins this season over Class 7A teams Fort Smith Southside (42-3) and Har-Ber (33-0). Greenwood must clean up its 16 penalties committed against Choctaw. Class 7A Bentonville West senior QB Dalton McDonald has completed 60 of 102 passes for 677 yards and four TDs with three interceptions. Senior inside receiver Stephen Dyson caught 15 balls for 185 yards in the opening loss to Broken Arrow, Okla. Senior RB Carlos Hall paces the Wolverines with 183 rushing yards and three TDs.